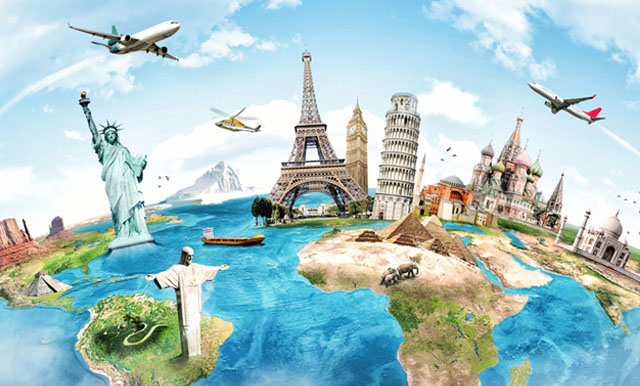 (Right-click and choose "Save as…" to download to your device.)
Ciao a tutti da Melissa! Benvenuti nel podcast "Tutti matti per l'italiano". Scrivo il Blog "Matta" nel quale esploro la lingua e la cultura italiana. Nel podcast "Tutti Matti" vi presento ospiti madrelingua provenienti da tutta l'Italia per far pratica con il linguaggio e l'ascolto. Ogni mese scelgo un nuovo tema e chiedo agli amici di dare il loro punto di vista.
Ciao a tutti da Melissa! Benvenuti sul podcast "Tutti matti per l'italiano". I write the Studentessa Matta blog in which I explore Italian language and culture. In the Tutti Matti podcast I introduce my listeners to native Italian guests from all over Italy, to practice auditory skills and listening comprehension. Each month I choose a new topic and ask Italian friends to chime in with their thoughts on the subject.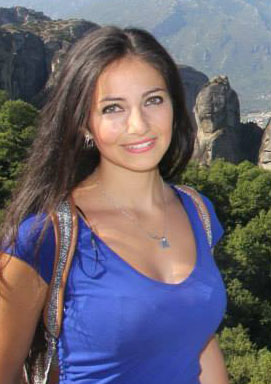 In today's episode we are going to be talking about traveling to a foreign country for the first time and what it is like to live there for an extended period of time. We will be hearing from two young Italian girls – Antonella from Napoli in Campania and Marta from Lecce in Puglia. Both young Italian adventurers who during the past year have travelled to the U.S and have lived in the states for several months. They will talk about their experiences, the things they discovered, the myths they dispelled, the things they liked and the things they missed about Italy. They also tell us about their future plans, and what they now want to do with their lives after having lived abroad in the United States.
Nella puntata di oggi parleremo del viaggiare all'estero per la prima volta e com'è vivere lì per un lungo periodo. Sentiremo due ragazze italiane, Antonella di Napoli (Campania) e Marta di Lecce (Puglia). Tutte e due, giovani avventuriere italiane, hanno vissuto negli Stati Uniti per diversi mesi. Parleranno delle loro esperienze, delle cose che hanno scoperto,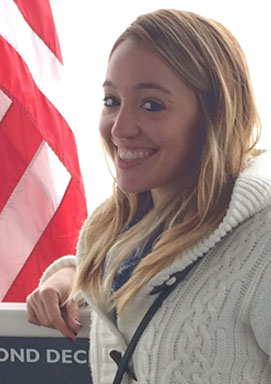 dei miti che hanno sfatato, delle cose che a loro sono piaciute e delle cose che a loro sono mancate. Ci racconteranno anche dei futuri progetti e di quello che ora vogliono fare delle loro vite dopo aver vissuto negli Stati Uniti.
Buon ascolto!
Cari ascoltatori, secondo me, non c'è niente di più incoraggiante per la crescita di una persona e per una visione più completa del mondo, che vivere all'estero per un periodo prolungato. L'esperienza ci insegna che noi e le nostre culture non sono il centro dell'universo. Mangiare cibi nuovi, sviluppare nuove abitudini e conoscere nuove persone con diverse priorità, insegna ad ogni viaggiatore ad essere più tollerante e aperto a nuove idee. Esplorare il mondo e vivere al di là delle zone di comfort, ci insegna che il mondo è un posto pieno di contraddizioni. Queste peculiarità non sono necessariamente migliori o peggiori, sono solo diverse. 
Cari ascoltatori, If you ask me, nothing encourages a person to grow and have a more comprehensive world view, than living abroad for an extended time period. The experience teaches us that we and our cultures are not the center of the universe. Eating new foods, developing new habits and meeting new people with different priorities and agendas teaches each traveler to be more tolerant and open to new ideas. Exploring the world and living outside of our comfort zones, teaches us that the world if full of contradictions. These peculiarities are not necessarily better or worse, just different.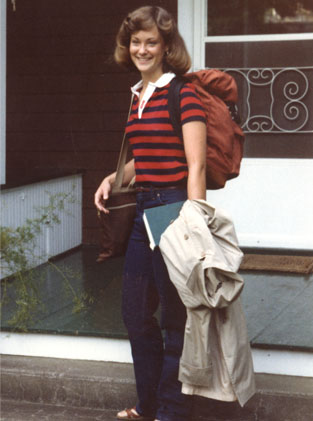 Viaggiare all'estero è anche un ottimo modo per conoscere meglio noi stessi. Ci insegna ad essere forti e indipendenti e flessibili…e ci cambia quasi sempre in modo impercettibile, aiutando a definirci in una migliore versione di noi stessi, dandoci nuova direzione e scopo.
Traveling abroad is also an excellent way to get to know ourselves better. It teaches us to be strong and independent and flexible…and it almost always changes us in imperceptible ways, helping to shape us into a better versions of ourselves, giving us new direction and purpose.
La prima volta che ho vissuto all'estero per conto mio è stata a Firenze durante l'università. Ho vissuto con una famiglia italiana nella periferia della città, nei dintorni di Fiesole. Ero già stata in Cile e in Giappone con la mia famiglia, ma questa era la prima volta che mi trovavo da sola in un paese straniero per un soggiorno prolungato. È stata un'avventura dal momento in cui sono atterrata a Bruxelles, dove ho dovuto trovare la x strada per la  stazione ferroviaria dove mi aspettava il treno notturno per l'Italia. Non dimenticherò mai quando ho visto l'Italia per la prima volta all'alba, con i primi raggi di sole, la mattina seguente. Mi sono affacciata fuori dal finestrino del treno per guardare i campi dorati che scivolavano via. Sono anche rimasta subito sconcertata e incantata dalla cacofonia delle conversazioni italiane che mi hanno avvolto quando mi sono ritrovata in piedi sul binario nella stazione ferroviaria di Santa Maria Novella con la mia pesante valigia in mano. Adattarmi alla nuova routine e farmi capire in un paese che non funzionava come quello a cui ero abituata è stata una sfida, come quando ho provato la trippa per la prima volta. Ho chiesto alla mia famiglia di avvertirmi prima di servire questa pietanza fiorentina perché non avevo mai intenzioni di mangiarla. Ma ho scoperto che l' avevo mangiata dopo aver visto i grandi sorrisi sui volti della mia famiglia italiana dopo la cena. È stato solo allora che mi sono resa conto che mi avevano ingannato! Forse e' stato meglio così! 
The first time I lived abroad on my own was when I lived in Firenze during college. I lived with an Italian family in the suburbs of the city, in the direction of Fiesole. I had travelled earlier to Chile and Japan with my family but this was the first time I was alone in a foreign country on my own for an extended stay. It was an adventure from the moment I landed in Brussels and had to find my way to the Belgium train station to board and overnight train to Italy. I will never forget when I saw Italy for the first time at dawn with the first rays of sunlight the following morning. As I hung out the train window I watched the golden fields slip by. I was also quickly bewildered and enchanted by the cacophony of Italian conversation that immediately enveloped me when I found myself standing on the train platform in the Santa Maria train station with my heavy suitcase in hand. Adapting to new routines and making myself understood in a country that didn't operate like the one I was used to was a challenge, as was tasting tripe for the first time. I only discovered that I had eaten it after I saw the big grins on the faces of my Italian family after dinner. It was only then that realized that they had tricked me! Perhaps it was for the best!
Ma ben presto mi sono innamorata di un paese che non era il mio. Mi sono innamorata del suo cibo, del ritmo e delle infrastrutture diverse. Vivere in Italia mi ha insegnato ad essere indipendente e che c'e un mondo molto più grande oltre la porta della mia casa in America. L'esperienza di vivere all'estero in Italia ha arricchito la mia vita in molti modi ed è la ragione per cui ora mi immergo nella sua lingua e nella  sua cultura e scrivo il blog "Matta" e parlo con tutti voi in questo podcast.
But, soon I fell in love with a country that was not my own. I grew to love its food, it rhythms and its funky infrastructure and bureaucracy. Living in Italy taught me to be independent and that there was a much bigger world beyond my doorstep. The experience of living abroad enriched my life in so many ways, and is the reason I now immerse in Italian language and culture and write the Matta blog and talk with you all here in the Podcast!
Dunque, è ora di ascoltare la mia prima ospite del podcast – Antonella Marano. Antonella è di un piccolo paese vicino a Pompei. L'anno scorso ha vissuto qualche tempo a New York, dove ha lavorato come insegnante d'italiano nella Grande Mela. Da allora è tornata a casa, ma la sua passione per l'insegnamento della lingua e per i viaggi continua ad ispirarla. Ha iniziato un nuovo blog chiamato "The Travel Gazette" che ha come scopo quello di coltivare l'interesse degli stranieri di visitare l'Italia. Ecco Antonella che ci racconta la sua esperienza. 
So, it is now time to hear from my first podcast guest-  Antonella Marano. Antonella is from a small town near Pompei. Last year she spent some time in New York where she lived and worked as an Italian teacher in the Big Apple. Since then she has returned home, but her passion for teaching Italian and traveling continues to inspire her. She has started a new travel blog called The Travel Gazette and it is her desire to cultivate interest among foreigners to travel to her neck of the woods and discover the area around Napoli, Pompeii and Vesuvius. Here is Antonella to tell us about her experiences in her own words.
Ciao a tutti, sono Antonella, ho 24 anni e vengo da una piccola città a pochi passi da Pompei, alle falde del Vesuvio.
Studio chimica ma, nella vita, vorrei fare tutt'altro: mi piacerebbe tanto lavorare nel campo del turismo.
Chiaramente, quindi, amo viaggiare e mi ritrovo almeno quattro cinque volte l'anno con lo zainetto in spalla, pronta per una nuova avventura!
Durante l'anno appena trascorso, sono stata per un mese a New York con il mio fidanzato. Oltre che per divertimento, mi sono recata nella Grande Mela anche per svolgere un tirocinio come insegnante di italiano: ero in una scuola ad insegnare la mia lingua madre ad americani e americane, ed è stata veramente un'esperienza indimenticabile, che mi ha formata molto, fatta crescere e, soprattutto, fatto incontrare alcune persone splendide con le quali mi mantengo in contatto ancora oggi.
Vivere per più di un mese in una città come New York è stato fantastico: avevo la sensazione di essere capitata nel vero e proprio centro del mondo!
Ho alloggiato in una piccola casetta, molto carina, nel Bronx. Non nascondo di avere avuto un po' di paura all'inizio, soprattutto prima della partenza: quando viene nominato il Bronx, nei film e al telegiornale, lo si fa solo per parlare di crimini e violenza. Invece, appena arrivata, mi sono dovuta subito ricredere, perché, almeno nel quartiere dove vivevo, il clima era calmo e rilassato.
Tutto è andato bene durante la mia permanenza, le mie aspettative non sono state deluse; l'unica cosa che, però, mi ha fatto sentire un po' nostalgia di casa è stato il cibo: per un italiano, abituato a mangiare ogni giorno pasta e prodotti freschi, abituarsi alla dieta americana non è semplice. In ogni caso, comunque, sono sopravvissuta e, ad essere del tutto sincera, devo dire che ho anche scoperto alcuni piatti della tradizione americana veramente gustosi!
Il mio viaggio a New York è stato frenetico: ho cercato di vedere quante più cose possibili! Mi sono anche spostata in alcune città vicine: Washington, Philadelphia, Atlantic City. Tra le gite fuori New York, la città che ho preferito è stata senza dubbio Washington: un vero e proprio gioiello!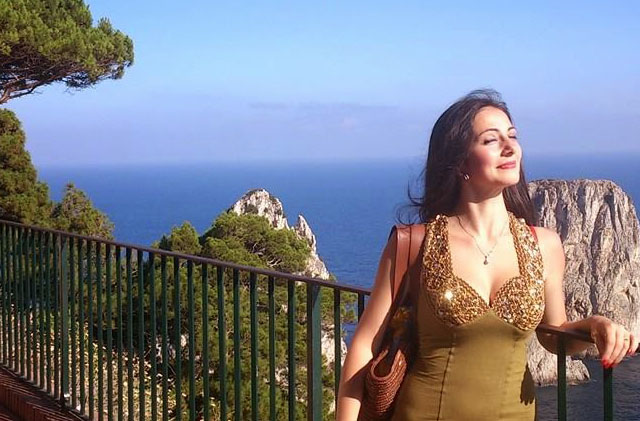 La vita a scuola, invece, mi ha fatto entrare in contatto con tante realtà nuove e interessanti: non solo ho potuto conoscere la quotidianità di americani e italo-americani, ma anche quella di miei tanti connazionali che si sono trasferiti nella metropoli americana. Le classi erano piene di persone simpatiche e cordiali e le ore di lezione volavano senza che me ne rendessi conto!
Questa piccola esperienza lavorativa mi ha fatto capire che, un domani, insegnare italiano agli stranieri potrebbe essere un lavoro veramente interessante e pieno di soddisfazioni.
Mi piacerebbe insegnare la mia lingua madre proprio nel mio territorio, in modo da far conoscere le bellezze naturali, la cultura e le tradizioni della mia magnifica regione: la Campania (proprio a tale proposito, ho da poco aperto un blog-The Travel Gazette-che può essere utile per tutti coloro interessati a scoprire le tante meraviglie campane: come Napoli, Pompei, Capri, la Costiera Amalfitana).
Beh, spero di non avervi annoiati.
Vi saluto affettuosamente e vi auguro tante nuove belle avventure per i vostri prossimi viaggi!
Grazie Antonella! È un vero piacere ascoltarti! Non vedo l'ora di seguire il tuo blog per vedere dove andrai la prossima volta.
Grazie Antonella! What a treat to hear from you! I look forward to following your blog and where you will travel to next.
Ed ora vorrei presentarvi Marta Guerrieri, di Lecce. Marta è venuta a trovarmi all'inizio di dicembre e tornerà in Italia la seconda settimana di febbraio. Lei vive "la vita americana" e sta perfezionando il suo inglese. Ho incontrato Marta l'anno scorso durante uno dei Workshop di Lingua e Cultura in Puglia. Lei è la figlia della direttrice di Suite Palace Castromediano. Durante il mio soggiorno in Puglia siamo diventate amiche. A quel tempo stava frequentando l'ultimo anno di liceo e mi aveva confidato l'interesse di viaggiare all'estero. Naturalmente l'ho invitata a venire a trovarmi per vivere con la mia famiglia dopo essersi diplomata. 
And now I would like to introduce Marta Guerrieri from Lecce Italy. Marta has been staying with me since the beginning of December and she returns to Italy the second week in February. She is living "la vita Americana" and working on her English. I met Marta last year during one of my Language & Culture Workshops in Puglia. She is the daughter of the manager of the Suite Palace Castromediano. During my stay we became friends. At the time she was about to graduate from high school and expressed an interest in traveling abroad after she graduated. Naturally I invited her to come and visit me and live with my family for a while. 
Prima di questo viaggio Marta non era mai stata lontana da Lecce e questa era davvero la prima volta che prendeva l'aereo. Nonostante tutto questo, dopo appena un mese negli Stati Uniti ha deciso che le piace vivere qui e vuole rimanere pi¡u a lungo. Insieme stiamo cercando un modo per trasformare questo sogno in realtà e lei adesso sta facendo domanda per un lavoro come ragazza alla pari attraverso un'agenzia di Portland, Oregon. Sono molto orgogliosa di Marta. Lei è una ragazza coraggiosa e indipendente e so che ha un futuro meraviglioso davanti a sé. Ecco Marta che parla della sua esperienza americana.
Prior to this trip Marta had never traveled far from Lecce and this was really the first time she had been on a plane. Despite all that, after just a month living in the U.S. she has decided that she really likes living here and wants to find a way to stay longer. Together we are working on making that dream come true and she is applying for work as an Au pair through an agency in Portland Oregon. I am very proud of Marta. She is a strong, independent girl and I know she has a wonderful future ahead of her. Here is Marta to talk about her American experience.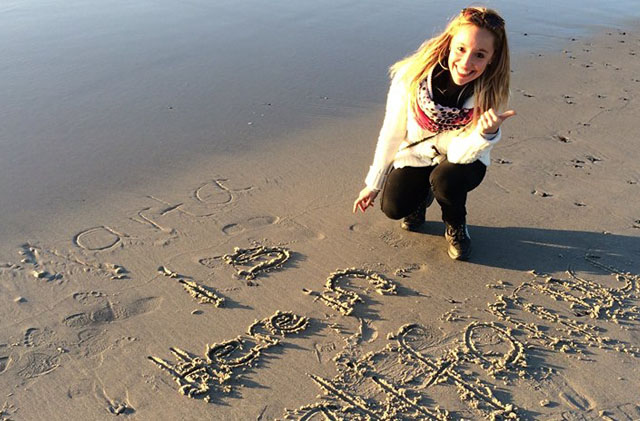 Ciao! Sono Marta ho 20 anni e vivo nel Sud dell'Italia in Puglia nella citta' di Lecce.
Attualmente mi trovo in California, a San Francisco, ospite da Melissa, La Studentessa Matta, che ho conosciuto durante un suo workshop in Puglia e che mi ha invitato  a passare un breve periodo a casa sua per vivere come una vera Americana.
Mi sono diplomata in lingue lo scorso Giugno e ora come la maggior parte dei miei coetanei sono in cerca di un lavoro, ma anche in cerca di liberta', voglia di scoprire ed essere indipendente.
E l'unco modo per colmare queste nostre necessita' é VIAGGIARE!
Solo vivendo in un posto o visitandolo di persona, puoi comprendere e imparare tante cose.
Prima di partire la mia preoccupazione principale era il cibo, ma anche le numerose manifestazioni di violenza che si sentono continuamente alla tv o la diffidenza verso gli conosciuti.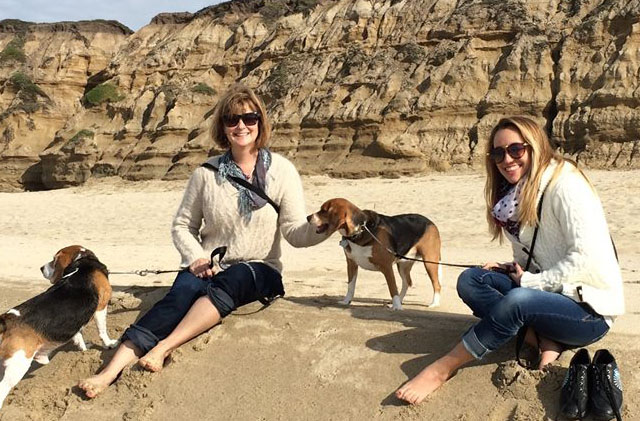 Invece mi son dovuta ricredere subito appena arrivata a New York…  Nell'aeroporto lavoravano gente di ogni colore e nazionalita' e nel tragitto per arrivare al Gate successivo ho incontrato tantissime persone pronte ad aiutarmi; dai dipendenti, agli agenti o semplicemente ai passanti.
Molto cordialmente mi hanno indicato la direzione e tutti mi hanno salutato con un sorriso.
E mi sono ricreduta anche sul cibo.
In ogni pietanza c'é quel tocco di piccante alla quale io farei a meno molto volentieri, ma abituarsi non é stato cosi traumatico come immaginavo.
E soprattutto  non mi crederete se vi dico che non abbiamo mai fatto né un pranzo né una cena seduti sul divano e non penso mai ne faremo.
Ma c'é una cosa piu' di tutte che mi fa ridere… Sapete che forse siamo l'unico paese che porta in casa scarpe e ciabatte, mentre qui é la prima cosa ci si toglie entrando?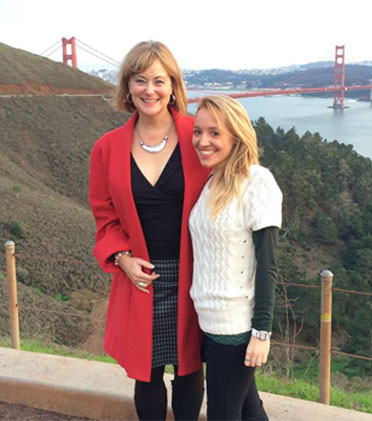 I miei cugini amerebbero vivere qui e poter camminare scalzi; mia zia gli rimprovera in continuazione!

Insomma mi sono ricreduta su un po' di cose e ho iniziato ad apprezzare ed amare anche cio' che era diverso dall'Italia e che prima mi trasmetteva ansia e preoccupazione….tanto da decidere di trasferirmi qui!!!
Infatti ora sono in contatto con un agenzia e a breve incontrero' la diretttrice per definire i dettaglli del mio programma e organizzare tutto per il mio ritorno qui in America.
Sara anche questa un esperienza unica.
Dovro' prendermi cura dei bambini ma avro' anche la possibilita' di frequentare un college, e soprattutto visitare nuovi posti e conoscere nuova gente.
Amo i bambini, prendermene cura, dar loro attenzioni e accompagnarli nella loro crescita…e chissa' magari alla fine di questo programma decidero' di tornare in Italia e collaborare con qualche asilo o scuola nella mia zona.
In realta' non so cosa aspettarmi dal futuro ma voglio vivermi a pieno il presente e accettare ogni proposta che mi possa far crescere sia come persona che culturalmente.
Fino a due mesi fa non avrei mai preso in considerazione l'idea di trasferirmi in America invece ora eccomi qui pronta ad un altra avventura! 
Nuovi profumi, nuove pietanze, nuovi posti, nuove feste e ricorrenze, un nuovo modo di affrontare le giornate…. Sara' tutto cosi nuovo e diverso sicuramente ma da questi due mesi qui a San Francisco ho imparato che non bisogna partire con dei preconcetti ed essere pronta a provare ed affrontare qualsiasi difficolta o novita' che ci si presenta.
Quindi correte a fare il biglietto magari un viaggio iniziato come vacanza si trasformera anche per voi in una grande opportunita' per cambiare o semplicemente arricchire la vostra vita….
E l'idea che vi offre la nostra amica Melissa é davvero
originale ed unica; studiare una nuova lingua e visitare fantastiche citta' italiane, con escursioni, visite organizzate e degustazioni dell'ottima cucina mediterranea.
Insomma  "Open Your Mind"!
Brava Marta! Sono molto contenta che tu sia venuta a trovarmi e che io possa aiutarti a realizzare i tuoi sogni. Averti qui con me questi ultimi due mesi ha arricchito anche la mia vita!
Brava Marta! I am so glad you came for a visit and that I can help you along the path to achieving your dreams. Having you here with me these past two months has enriched my life as well!
Bene cari amici siamo arrivati alla fine di questa puntata. Potete ritrovare il podcast e il testo di "Tutti Matti per l'italiano" sul sito di Studentessa Matta www.studentessamatta.com. Troverete il testo in italiano e tradotto in inglese. Ci sono anche le foto delle mie amiche Antonella e Marta e anche una mia, al momento della partenza per il mio primo viaggio in Italia. Mi raccomando, andate a vedere la foto. Un caro saluto da Melissa…a presto! Ciaoo!
Music used in this podcast:
Il peso della valigia – Ligabue
Che rumore fa la felicità – Negrita
Lo strano percorso – Max Pezzali /883