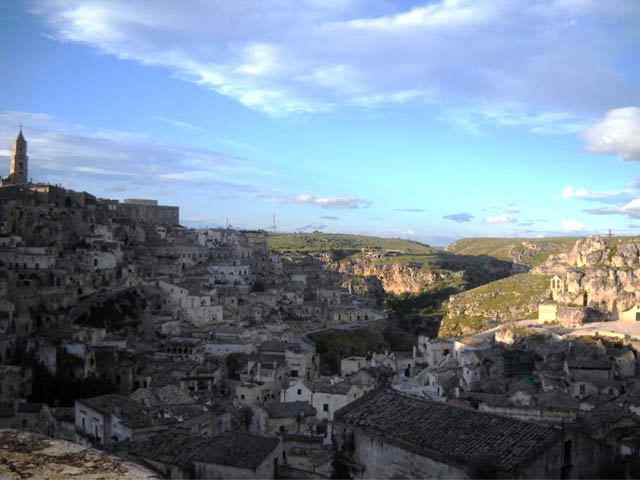 (To Read in Italian) As many of you already know, in September 2013 I am returning to Matera for a language and cultural excursion tour, with Ilaria Navarra. I visited Ilaria and Matera just once and now I am thirsty to know more about this magical land. Recently on the internet I had the good fortune to meet Luigi Mazzoccoli, a tour guide in Matera. I like Luigi very much, as I do his Facebook page which is dedicated to his "paese". The photos he publishes to his page just take my breath away. What serene and majestic beauty can be found in the Basiliata. Such a contrast of age, terrain, architecture and civilizations! I asked Luigi to write a piece for the blog and here is the English translation that I have made of his original piece written in Italian:
Matera: the oldest city in the world. Perhaps an abused cliché, but I assure you, it is not a trite over simplification. The city of Sassi probably isn't the oldest, as it would be quite impossible to document such a daunting statement, as it would be for all the other "pretenders" to the title. Perhaps a better descriptor for Matera is: the city of Man, as there are few places in the world where one can find still visible traces of continuous human presence in the caves in the canyon Gravina, that date back 20,000 years to Paleolithic times.
Matera's ancient history is a long and intense story reconstructed from valuable testimonies of past historians, such as the exceptional findings made in '800 by Domenico Ridola, a doctor by profession and a great and passionate archaeologist. In 1963 the abbot Marcello Morelli wrote the first brief but credible reconstruction of Matera in his essay "History of Matera". As a result of his efforts a great cultural interest in the area was born. Exactly thirty years later the architect Pietro Laureano culminated these historical findings in a book called "The Gardens of Stone", which was actually the fruit of a commissioned assignment by the city council which resulted in the city's recognition by the Unesco World Heritage committee in 1993:
"The water flows coming from the plane and the clay hills – it says – were captured, and channelled into the caves and the terraces of erosion. These are then organized into a system of terraces that breaks the momentum of the water and allows the formation of fertile soil. This structure is the plot matrix of an urban complex made up by the composition of basic elements: caves, buildings tuff, roof gardens, canals and reservoirs, routes and neighborhoods. Thus was the result of a global economy and proper management of scarce resources, an organization based on urban spaces and architecture of water, light and wind".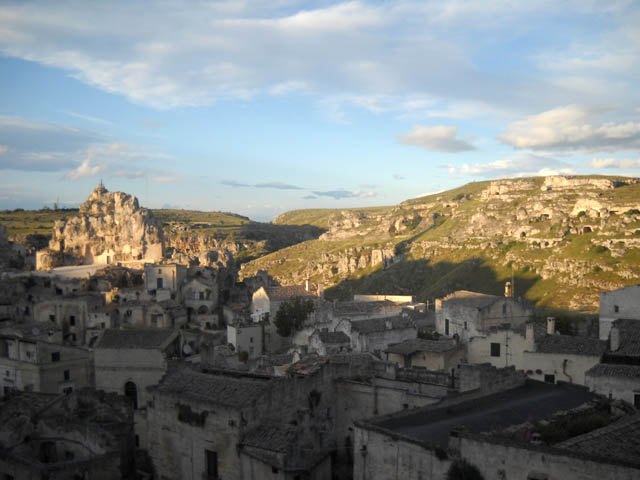 The Sassi, or original cave dwellings of Matera, provide a beautiful behind the scenes sneak peek into an ancient civilization that continues to reveal itself to us today and offers guests and visitors that come from all over the world a treat for all five sense. Everyday and all year long you can meet people from every part of Europe, the U.S., Canada, South America, Israel, Australia, New Zealand, Japan and Taiwan. Driven by the spirit of adventure and curiosity, these visitors come to explore and discover a place unique and rare. In Matera these visitors find more than they had bargained for or even imagined. Although they are seasoned travelers and have spent time in other parts of Italy such as Venice, Florence, Rome…when they arrive in the Lucania and after they have wandered through the Murgia and into Matera and have seen the unique landscape and architecture of the Sassi they exclaim: "Gorgeous!", "Charming", "Amazing!", "We never expected to see such a place!" And they all vow to come back and spend more time in Matera. They realize there is still so much to know about the place, the Sassi…indeed a place "timeless" and "suspended in history".
Lorenza Rota says in his book "Storia di una città/Story of a City" "Matera is a border city – a city that has struggled to blend a rugged landscape with many diverse cultures and civilizations. Today the old city and the ancient Murgia platea are bound by dizzying perspectives that combine to form a unique urban and natural conglomeration, that for the most part is still structurally intact and in extraordinary good quality, that is full of contradictory messages, at times primitive and other times flights of fancy.
Yes, the most magical of the places