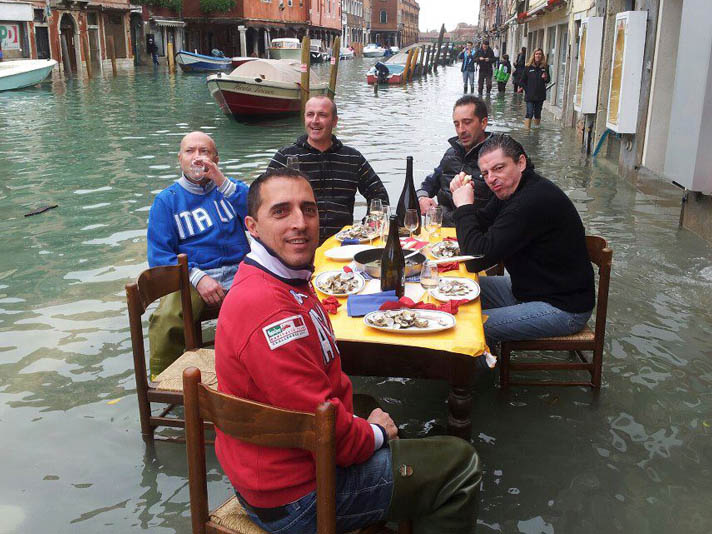 To read in English. Sono felice di farvi conoscere il mio amico Diego Cattaneo, il direttore di Venice Italian School. Diego è nato a Venezia, si è laureato a Bologna, e insegna italiano da 2000. Lui è così appassionato d'insegnare la lingua come io sono appassionata d'impararla. Come risultato abbiamo deciso di riunirci per appoggiare e promuovere la apprendimento della lingua nella città della sua nascità – Venezia. In aprile 2013 per dieci giorni facciamo un'esperienze di Language & Culture immersione in cui studenti e coloro che sono affascinati di Venezia possono partecipare. Nel primo guest blog di Diego, ci racconta l'orgoglio di una nuova generazione di Veneziani e ci spiega la situazione attuale a Venezia.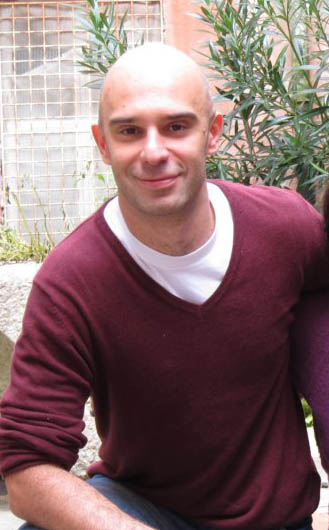 Venezia sott'acqua? San Marco come una grande piscina, dove i turisti si divertono a fare il bagno in Novembre? O ancora: Venezia che affonda, che sprofonda e che aspetta rassegnata uno tsunami adriatico?
Io, da veneziano, penso che i media internazionali siano un pò troppo "apocalittici". L'alta marea NON sommergerà Venezia e Venezia NON sta affondando. Certo: l'acqua alta è un problema molto serio. Ricordo tanti anni fa, quando le "sirene" suonavano forti nel cuore della notte; erano ancora quelle usate durante la Seconda Guerra Mondiale: che paura per un bambino nel buio della notte!
E ricordo la stanchezza e la frustrazione di mio padre: con due negozi di abbigliamento a rischio, per lui la giornata cominciava con quella sveglia inusuale. E via, di corsa, a montare le barriere sulla porta di casa, prima; e poi ancora, sempre di corsa, a salvare la merce del negozio, alzandola di un metro e mezzo da terra. E poi lì, ad aspettare che la marea passi (6 ore sù, 6 ore giù) per dopo pulire, sciaquare e rimettere in ordine la roba…e cominciare la "normale" giornata lavorativa. Una faticaccia!
Eppure, nonostante quello che dicono i media, Venezia NON è una seconda Atlantide in attesa di essere sommersa! L'acqua alta arriva in un periodo limitato dell'anno (l'inverno, fra Novembre e Febbraio); colpisce soprattutto alcune zone "basse" della città (in primis, la famosa Piazza San Marco) e chi vive o lavora al pianoterra.
Eppure, l'acqua alta NON è il problema principale della città in questi ultimi anni.
Quello che veramente preoccupa i veneziani non è tanto l'alta marea quanto la bassa popolazione. Cosa significa? Significa che la popolazione di Venezia, negli ultimi 30 anni è diminuita di circa 25.000 residenti. E il numero delle persone che lasciano la città continua a crescere.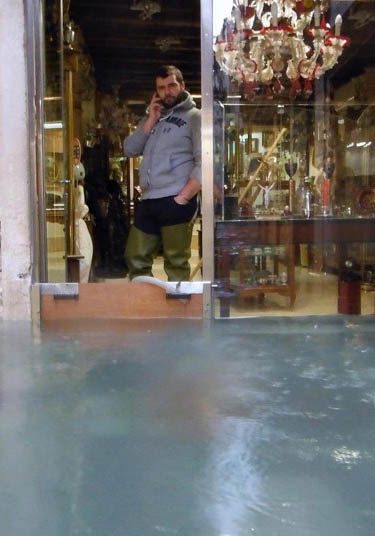 Il problema non è dunque il sinking (affondamento) quanto lo shrinking (spopolamento).
Perchè i veneziani lasciano la loro bellissima città? Ci sono alcune cause oggettive, altre più soggettive. Fra le prime: "Venezia è cara, anzi carissima"! Il costo di una casa è fuori portata della grande maggioranza dei giovani – chi resta, ha avuto la fortuna di avere una casa in eredità dai nonni o comprata dai genitori.
Fra le seconde, molti dicono, "Venezia è scomoda": non c'è la macchina, bisogna sempre camminare, anche con le sacche della spesa. "Venezia è turistica" – turisti dappertutto, tanti negozi di maschere e souvenirs…ma io dove vado a comprare il latte? Tutto vero, in generale.
Eppure…eppure c'è una Venezia che resiste: ci sono giovani imprenditori e artigiani veneziani che non abbandonano la loro città; che si ostinano a vivere a Venezia, nonostante tutte le difficoltà. Veneziani che lavorano e che vogliono innovare la città e la sua immagine, cercando al contempo di mantenere in vita le secolari tradizioni e la ricca cultura veneziana.
Alberto, che ha deciso di insegnare come vogare "alla veneta" ai nuovi residenti della città, inclusi i nostri studenti. Stefano, che organizza giri in bicicletta al Lido; e poi Diego e Lucia (!) che hanno deciso di aprire la Venice Italian School per insegnare l'italiano provando – al tempo stesso – ad avvicinare i loro studenti alla Venezia più "vera", con la sua lingua, i suoi cibi, i suoi vini e le sue tradizioni.
Vi interessa a scoprire questo lato di Venezia? Se la risposta è "sì"! Ecco il nostro corso speciale – Language & Cultural Immersion Tour 2013, organizzato insieme a Melissa Muldoon – vuole portare gli studenti in diretto contatto con questa Venezia "away from mass tourism". Una Venezia di veneziani che vivono questa città unica al mondo e che continuano a fare tutto il possibile per condurre una vita 'normale" in una città "speciale".
In aggiunta ai nostri corsi "in classe", i nostri studenti "fuori della classe" incontreranno, intervisteranno e dialogheranno con professionisti, commercianti, artigiani, artisti e imprenditori veneziani; ascolteranno le loro storie e faranno loro tutte le domande che vorranno (in italiano, se possibile).
This is more than a language holiday: this is learning Italian and living Venice like a local! Unisciti a noi in Aprile.