(To read in Italian) Christmas is hardly over and in Italy they are already celebrating another holiday…the holiday of San Stefano! Everyone in Italy has another day off and the mail won't be delivered until Tuesday. This is a real shame because at the beginning of the month I sent out packages destined for various points in Italy and they haven't yet arrived. With this extra day of vacation I have to wait another day to track them…and the suspense and the waiting to see if they will be delivered is driving me crazy!
If only I had the patience of Saint Stefano! Who was Saint Stefano you ask? He was named by St. Peter as one of the first seven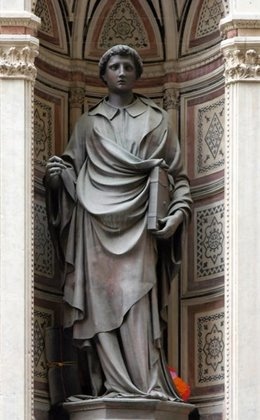 deacons of the newly formed church. (34AD) He had a bit of success preaching to his Jewish counterparts and bringing them into the fold and accepting Christ as the Messiah. But after a dispute with members of the synagogue, he was denounced for blasphemy against God and Moses. He was condemned to be stoned to death by an wild and crazy crowd. (Interesting side note: the crowd was whipped up into a heated frenzy by Saulo di Tarso, later called Saint Paul the Apostle).
In art Saint Stefano is depicted wearing a deacons robe and with rocks attached to his head. Take for instance Giotto's noteworthy painting of the saint (above), in the Museo Horne in Florence, which shows the poor saint with stones still stuck in head. There is another bronze statue of Saint Stefano by Lorenzo Ghiberti (1427) that is a part of the cycle of 14 statues of the protectors of the arts of Florence in the niches on the outside of the Orsanmichele. (Today the orignal can be found inside the museum). This version of Saint Stefano is more humanistic with his contrapposto pose and appears with out the stones appended to his head.
Saint Stefano is famous for being the first Christian martyr. Unlike others that followed in his foot steps, the welcome that Saint Stefano received in heaven was special and unique; when he arrived, Jesus rose. It seems this is noteworthy because for all the other saints, he remained seated. Saint Stefano was the first and only saint to receive a "standing ovation"! I don't exactly know how we can corroborate this fact, seeing as none of us has ever gon to heaven and returned to verify this…but it makes for a great story. Hmmm. Well, whether you celebrate the holiday of S. Stefano or not…it is a perfect day to relax after Christmas and eat all the left overs from the day before.
Christmas is over. S. Stefano is almost over. But don't worry…the holidays continue…we still have New Years eve that waits for us!