(Read in English) Come trascorrere una serata perfetta con gli amici? Prendere un bagno caldo con loro, naturalmente! Ma non sto parlando di trascorrere una serata in una vasca indromassaggio. Mentre quello potrebbe avere i suoi vantaggi qualche volta…sto invece parlando di preparare un "bagno cauda". "Bagno caude" letteralmente "hot bath" o  in dialetto piemontese "salsa calda", è un condimento a base di aglio, olio e acciughe che viene servito assieme alle verdure sia cotte che crude. Ma non è semplicemente una salsa che accompagna le verdure e come tale non va "sminuita", perchè preparare un bagna cauda bensì è un vero e proprio rito, un simbolo di allegria, amicizia e convivialità.
La bagna cauda nasce nel Medioevo come piatto povero, che i contadini preparavano per proteggersi dal freddo e che i nobili aborrivano per via della presenza massiccia dell'aglio che rendeva il fiato pestilente, per di più in un'epoca in cui ancora non esisteva il dentifricio. In particolare alcune testimonianze storiche fanno risalire la nascita della bagna cauda nel basso Piemonte, nelle zone dell'Astigiano, del Monferrato, delle Langhe e del Roero, dove i vignaioli per festeggiare la spillatura del vino nuovo, a novembre, si riunivano con gli amici e la famiglia e mangiavano verdure e bagna cauda. Da allora il rito di sedersi attorno alla tavola con al centro "il fojot", il contenitore di terracotta che tiene in caldo la salsa, è sopravvissuto fino ai nostri giorni, e di certo non mancano osterie e trattorie piemontesi che hanno inserito nel menù questo piatto, prima relegato solo alla tradizione contadina, e oggi rivalutato e rivalorizzato in tutte le sue varianti.
Ma come mai uno degli ingredienti fondamentali della bagna cauda siano le acciughe, un pesce, anche se il Piemonte non confina con il mare e non è mai stato una terra di pescatori? Ma infatti il Piemonte è stato piuttosto una terra di acciugai, in particolar modo nel Medioevo quando il prezzo del sale era alle stelle e molti montanari e contadini piemontesi percorrevano quelle che oggi conosciamo come le vie del sale fino alla Liguria e alla foce del Rodano dove acquistavano il sale a prezzi più accessibili e lo trasportavano in barili nascosto sotto strati di acciughe in modo da ingannare potenziali ladri. Una volta ritornati in patria rivendevano il sale a prezzi più alti e le acciughe a prezzi stracciati, acciughe che, tra l'altro, essendo state a contatto con il sale, erano diventate più saporite e si conservavano per più tempo.
C'è un modo di dire delle acciughe che va così: L'acciuga vuol nuotare tre volte: nell'acqua, nell'olio, nel vino – cioè le accighe nuotano nell'acqua di mare, nell'olio in padella e nel vino nello stomaco. Non posso essere in disaccordo con quella frase dopo il nostro bel bagno caudo, che ho condiviso con gli amici ieri sera!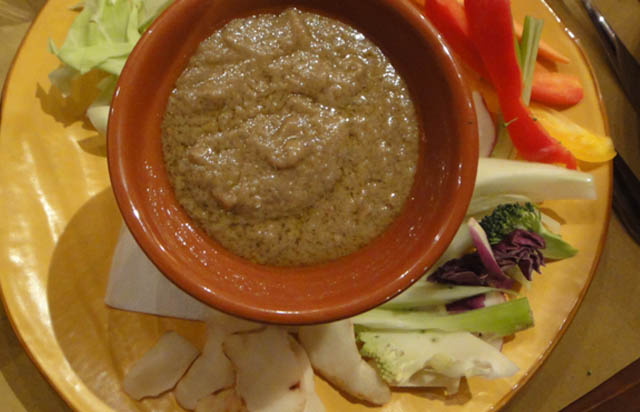 Esistono numerose varianti della ricetta tradizionale della bagna cauda che è molto semplice e composta di soli tre ingredienti: olio, aglio e acciughe.
1/2 cup serves 4 as appetizer or a nice party dip.
1/2 cup butter 3 tablespoons olive oil
1 can anchovy fillets
3 garlic cloves chili flakes (optional)
Puree the anchovies and garlic cloves: or, just chop both really finely to make a paste.
Heat on low: In saucepan on low heat, add all ingredients. Keep the flame on low so that the butter/oil gets totally infused with the anchovy and garlic. Once the butter melts, just let it continue to sit on the low flame for another 5 minutes. Serve warm. If you use a fondue pot – double or triple the recipe. The little candle fondue bowl pictured above was purchased for $5 at Marshalls.
Vegetables & Stuff to Dip Assortment of raw, steamed or roasted vegetables. I used broccoli, french green beans, radishes (all raw). I also had fresh bread and a few sauteed shrimp. Other ideas include: baby carrots, steamed artichoke hearts, red bell pepper slices, asparagus, celery, zucchini, cauliflower, endive.