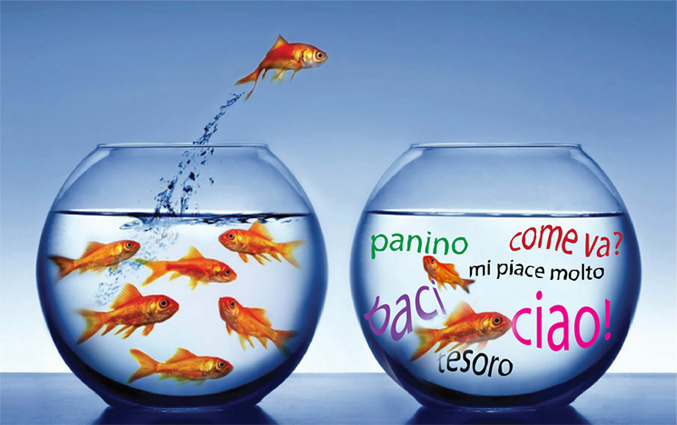 (Read in Italian) I hear all the time: "how the heck can I practice my Italian when I don't live in Italy and don't hear the language and have no one with whom I can practice!" That's easy! There are many things that one can do to practice the language everyday even when it seems that Italy is so far away.
Let's see what kind of things we can do and how a "day of language immersion at home" would play out.
The alarm rings. You get up but you are still in a state of confusion and can't even begin to think in Italian. To wake up & shake up your brain, take a nice cold refreshing shower while singing a song by Jovanotti at the top of your lungs (using, naturally the bar of soap as your microphone). It doesn't matter if you are tone deaf! Then straight to the kitchen to make a cappuccino! Don't forget the biscotti. For a true experience of Italian immersion it is necessary to eat many cookies for breakfast.
While the foam, sprinkled with cocoa, is still floating on top of your hot coffee, turn on your computer and go on line to check out the blogs and the on-line newspapers that you particularly enjoy written in Italian. You want to get up to speed on the current events in Italy. Then jump onto Facebook and Twitter to see what your Italian friends have posted while you were sleeping. To practice the language you can leave a message of only 140 characters to astound the world of Twitterati. (To find Italians to follow, you can check out the list of friends I follow on Twitter).
It's time to go to work but you can't find the keys to the car. Don't despair! Take this opportunity to revisit your Italian vocabulary. In every room that you go into, say aloud the things you see or touch while you are searching for those keys: soggiorno, sala da pranzo, cucina, occhiali da sole, cellulare, borsa…and there are your keys…right where you left them…in the pocket of your jacket inside the washing machine! Go figure! During the drive to the office there are other chances to practice the language. You can listen to Italian music on your i-pod or listen to Italian pod casts, like Maxmondo Audio Rivista. Or you can listen to language tapes like "Penton Oversea's Learn in you Car" to learn Italian grammar. (For years I listened to these tapes! You can find these tapes in my Amazon store.)
If you work at the computer it is easy to change the settings to Italian on your internet browser and on Facebook. For fun you can also change the settings of your cell phone. (Word of caution: this wreaks havoc with spell check when you are writing and SMS in English! I know from experience!)
To pass the day, there is always live streaming Italian radio. Other than listening to music, there are the ads in Italian to practice your language comprehension. (It seems to me that commercials are much more entertaining in another language).
In the afternoon drink an espresso. Biscotti are welcome, but optional if you are on a diet. (After all you already ate a bunch for breakfast!)
After the break and afternoon snack, what do you say about going on Skype or LiveMoca to speak with someone in Italy. (Or do as I do and confuse your family by responding to their questions only in Italian).
For dinner eat some pasta or a pizza. Make sure not to put your veggies or your fruit on the same plate as your pasta! Drink wine. (My preference is for red wine, but you decide what type of wine you prefer. As long as it it Italian wine from the north or the south – it's all good.)
For a great evening watch some Italian films or DVDs. You can find many soaps on line on RAI TV (like Un Posto al Sole) to brush up on your knowledge of the language and to accustom your ear to the sounds of the language. Don't forget to book mark RAI in your web browser. There are also the Yabla videos to watch and listen to.
Before turning out the light, read a couple of pages of an Italian book. Try to muddle through without using a dictionary, but make a list of the words you want to remember…words like "rantolo", "sponda", "scroccone" e "ruscello". Or instead, jot down a couple lines in Italian. Tell about something you saw or did that day.
See? It is easy to create an Italian language immersion experience at home. Ok. Turn out the light and good night! Now the only thing left to do is dream in Italian!
(If you need ideas about music to listen to, books to read, films to watch or materials to study you can write me or check out the links in the blog menu above to discover lots of great things to help you with your day of Italian language immersion.)