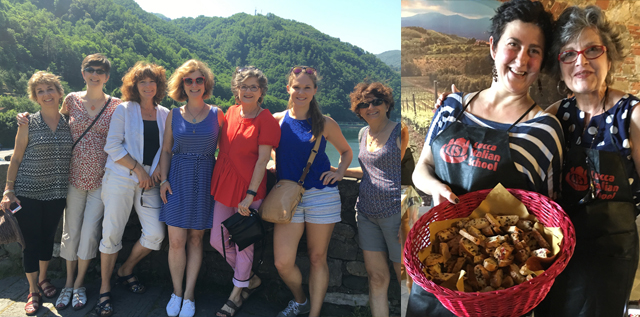 Learn Italian in Italy, Travel, and Experience Lucca with us!
June 4th – 14th, 2017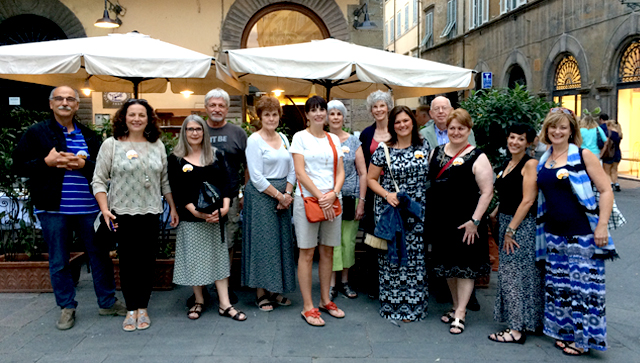 Join me in LUCCA in TUSCANY in 2017 to LEARN & IMPROVE YOUR ITALIAN! Immersing in language and culture and traveling with like-minded individuals is a great way to learn the language in a relaxed and friendly environment. My friends Daniela, Angelo & Eva, teachers at Lucca Italian school and I are planning another exciting language & cultural program in the charming medieval walled town of Lucca, in Tuscany.
Highlights of the 2017 program will include excursions to the marble caves of Carrara and the Golfo di La Spezia and the beach at Lerici. We will also visit the Garfagnana Mountains and take an underground tour of ancient Pistoia.
The 2017 Program consists of 11 Days & 10 Nights in Lucca, 5 Days of Italian lessons (21.25 hours of instruction), Accommodation at the San Martino Dèpendance Hotel (next to San Martino Duomo—inside the historic city walls), Breakfast & Most Meals (except for Free Days), 2 Cooking Classes with Wine Tastings, a Music Concert featuring Puccini Arias, Free Afternoons to Shop or Bike the walls of Lucca, a Guided tour of Lucca with a local.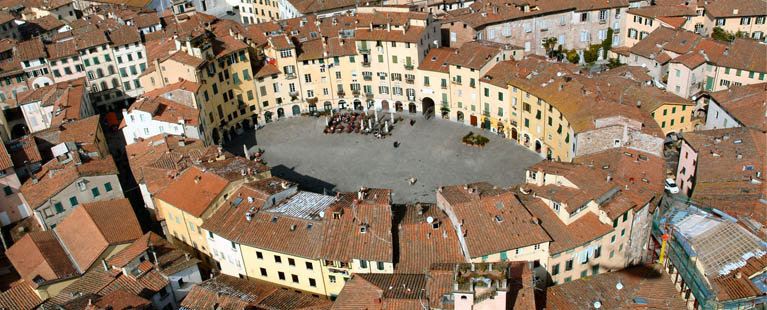 All levels of language learners are welcome from beginner to advanced. Students will be placed in appropriate classes tailored to their levels and according to the areas of the language they wish to focus upon. 
For the 2017 Program, we are encouraging advanced students of the Italian language to participate. For those students who are more fluent, we will be organizing a special seminar that will focus on conversation and cultural activities, films & short reading assignments. This will not be a "normal" class where just grammar is studied, but it will be a more fluid educational experience in which you are encouraged to converse and express your ideas and opinions! THIS WILL BE SO MUCH FUN! So I highly encourage those who wish to delve into Italian culture to come along and join us!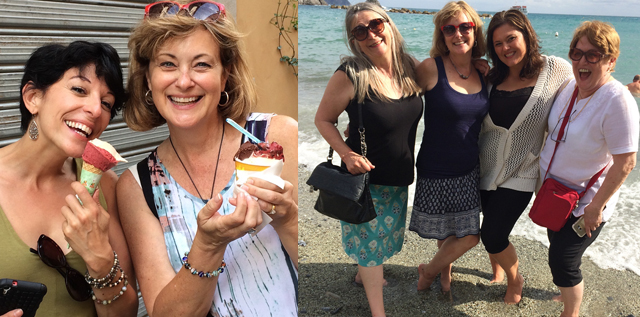 The Matta / Lucca Italian School – 2017 Language & Cultural Immersion includes:
• 11 Days/ 10 nights at La Dependance di San Martino a 3-star hotel with updated baths, TV, Internet
• 21.25 hours of Italian Lessons at Lucca Italian School (classes will be held in the mornings: 9:15 am – 1 pm)
• Unlimited Italian conversation practice with teachers & Italian friends
• Dinners included, except on 2 free days
• Full Breakfast included (Sweet & Salty Selections: meat, fruit, cereal, coffee, yogurt, eggs, pastries, cheeses)
• 2 Cooking classes with Chef Eva in which we will prepare and dine on what we have prepared
• Wine tastings in wineries located in the hills of Tuscany
• Historical Walking Tour of Lucca with teachers from Lucca Italian School
• Concert Featuring Puccini arias in Church of San Giovanni
• Day trip to Garfagnana to visit an old Mill with a guided tour of local customs  – Lunch included
• Day trip to Carrara marble caves and the Golfo di La Spezia/Beach at Lerici (to swim if you desire), Lunch included
• Day trip, to Pistoia to explore the underground city
• Free Days to Shop or Bike Lucca's Walls. You are also free to climb the Guinigi Tower, wander Lucca at your own pace, take a stroll in Lucca's Botanical Gardens, visit S. Frediano, the Duomo, the church S. Michele. Or, you may join the Lucca Italian School teachers and students in an activity organized by the school* (i.e., trip to Pisa, local museums, Watercolor Painting in the gardens, Palazzo Mansi, local art exhibits) (small additional cost to join school group activity), participants are free to visit Florence, Montecatini, Viareggio, or other nearby Tuscan towns
• Special Welcome and Farewell Dinners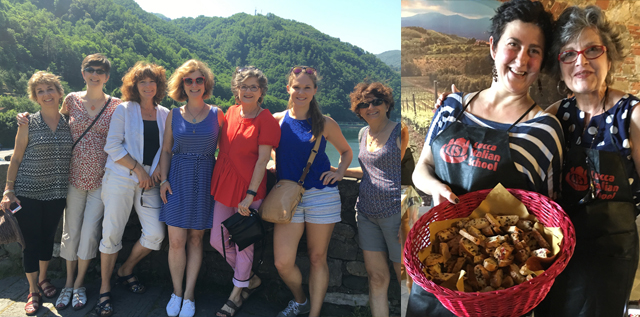 New Accommodations for the 2017 Program! We will be staying at La Dependance di San Martino a 3-star hotel in the heart of Lucca's historical center, near San Martino, Lucca's Duomo. The Dependance is a free-standing structure that is a part of the San Martino Hotel's complex. It is located next door to the hotel and has its own entrance. We will take breakfast on the terrace of the Hotel San Martino Hotel or inside the main hotel. If you would like to arrive a day or two early in Lucca before the program begins or remain past the program dates in the Dependance or the Hotel, please let Melissa know and she will check room availability.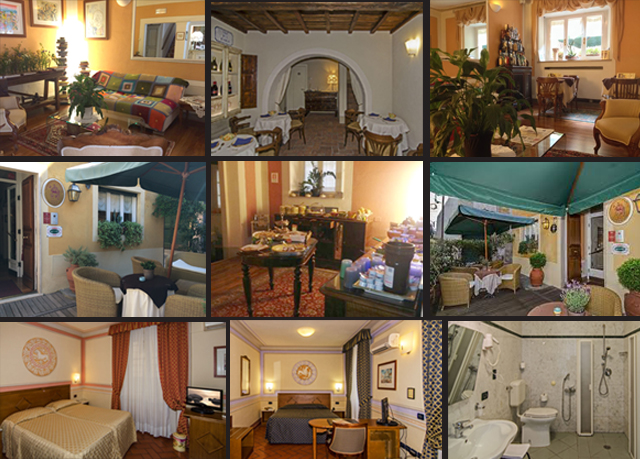 Book Now! There are only 10 spots! The price for the "Matta" Lucca Language program is $3,500.00. Availability is based on first-come-first-served & a reservation is not guaranteed until the receipt of deposit or full trip payment. A $500 non-refundable deposit is required to secure your reservation. Accepting reservations until April 1, 2017.
The balance of trip fee will be due approximately 60 days before trip start date (4/1/2017). You may also pay full the trip fee at the time of booking. To book with peace of mind and to safeguard your trip investment, in the case of personal emergency or a family life event that might prevent you from departing for Italy, you may want to consider purchasing travel insurance through agencies as such as Travel Guard, AAA or American Express. Please read the Refund Policy & Terms of Conditions.
On-Line Registration Form Coming Soon. Until then, please contact melissa@studentessamatta.com
Cheers & Recommendations from previous participants!
Rhonda Williams (Physical Trainer): I've Just returned from an amazing adventure in Lucca coordinated by Melissa Muldoon and Studentessa Matta. Her blog educated and inspired me to join her and an awesome group of people in Lucca this past September. While there I attended Lucca Italian School and began to learn how to speak Italian. The teachers were so kind and giving of there talents. Whether it was Angelo singing and playing songs on his guitar and accordion or Ava and her crew teaching us how to make amazing Italian fare. Stephanie our language instructor was patient as she guided us through classes with grace and humor. They also served as hospitality guides. They escorted us through many guided journeys educating us on culture, music and teaching us culinary skills. Through theses events Melissa and her blog have gifted me with new friends and a passion for all things Italian. I cannot be more grateful and excited for my next journey with her.
Diane Peak (Registered Nurse): I have been following Melissa's blog, for approximately five years. Every time she came back from a Lucca tour, she would post the most fascinating pictures. I knew I had to go! Melissa, along with the teachers from the Lucca Italian School had planned the most exciting tour! While we had Italian language classes in the morning, after lunch, meant, tours, cooking classes, wine tasting, etc. The teachers from the Lucca school were always with us. It was TOTAL IMMERSION! In addition to the Italian language, the teachers provided very interesting cultural information regarding various towns, buildings, and Italian history. The group we were with was awesome! We had so much fun on the tour—-I hated to see it end! My compliments for a job well done, Melissa!
Sherry Rogers (Professor, retired): My husband and I participated in the wonderful Lucca 2015 trip. Normally, we travel on our own, but we found traveling with Studentessa Matta well worth it. Melissa puts together an imaginative, informative, and fun package around the language learning experience. Cultural tours, wine tasting and cooking lessons, biking, a concert: there was lots to do but also free time for a nap or independent exploration. We can highly recommend the Lucca Italian School, the third such school in Italy we have attended. The teachers are welcoming, and they provide a terrific mix of language fundamentals, cultural information, and engaging activities. Through the Studentessa Matta Blog we made connections with another language teacher so we could continue our language learning experience beyond Lucca. Melissa provides great opportunities to read and listen to Italian on her blog and has assembled a whole network of learning opportunities on-line and in Italy. Grazie, Melissa, e complimenti!
Sheree Isola – 2 time participant: Lucca 2015 & Arezzo 2016 (Accountant, State of Montana): Melissa took great care to find very interesting and fun activities that appealed to all of the different ages and personalities of the people who attended The Lucca School of Italian and Studentessa Matta Language program. She is very bright and fun. She was attentive to each of us. All of this and still highly professional. I recommend!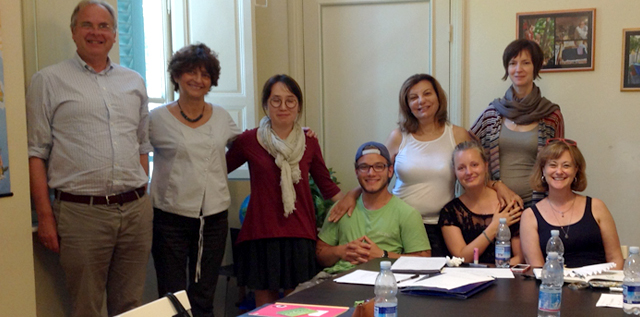 Judy Hathaway (Italophile): About 5 years ago, I decided to audit Italian language classes at the University of Kansas. Not long after that, a friend told me about Melissa Muldoon's blog, the Studentessa Matta, which I have followed since then. Thanks to Melissa and her love of the Italian language and culture, I have just returned from a fantastic experience in Lucca as a participant in Melissa's most recent group adventure in Italy. The staff and teachers at the Lucca Italian School gave us a warm welcome, quickly sorted us into appropriate levels for instruction, and then the fun began! The teachers provided plenty of challenging exercises, games, worksheets, and listening experiences for four hours each week day. Fellow students were from all over the world, so the Italian language was the common denominator. It was just the kind of language immersion I needed to gain confidence and improve my ability to communicate! Best of all, Melissa and the folks at the Lucca Italian School treated us like family and provided many additional experiences including dinners, cooking classes, Italian movie night, and trips to Pisa and the Cinque Terre.
To see photos from the 2016 Program click here. / To see photos from the 2015 Program click here.
Please Follow the instructions. Submit the form to pay the trip deposit. Please continue to fill out all TRIP Forms and sign the waivers. Thank you!
EnrollLucca