Let me know that you have signed up to attend La Cultura Italian Language School in Arezzo by sending an email to melissa@studentessamatta.com and I will also send you a special thank you Italian gift! 
Remember Roberto Benigni's Oscar Award-Winning movie Life is Beautiful? Most of it took place in Arezzo, Tuscany, which is also the home of Giorgio Vasari, Michelangelo and Petrarch – who knew?? It is also home to Cultura Italiana Arezzo is a centre of Italian language and culture, founded in 1998, specialized only in teaching Italian to foreigners.
The school offer students at all levels flexible, tailored Italian courses taught in a friendly, personable way by our committed teaching team.   As part of your language course, you can experience Italy close up, soak up the culture and make new friends by choosing from our many additional activities and we are always on hand to organise a place to stay, and give help and advice during your time in Italy.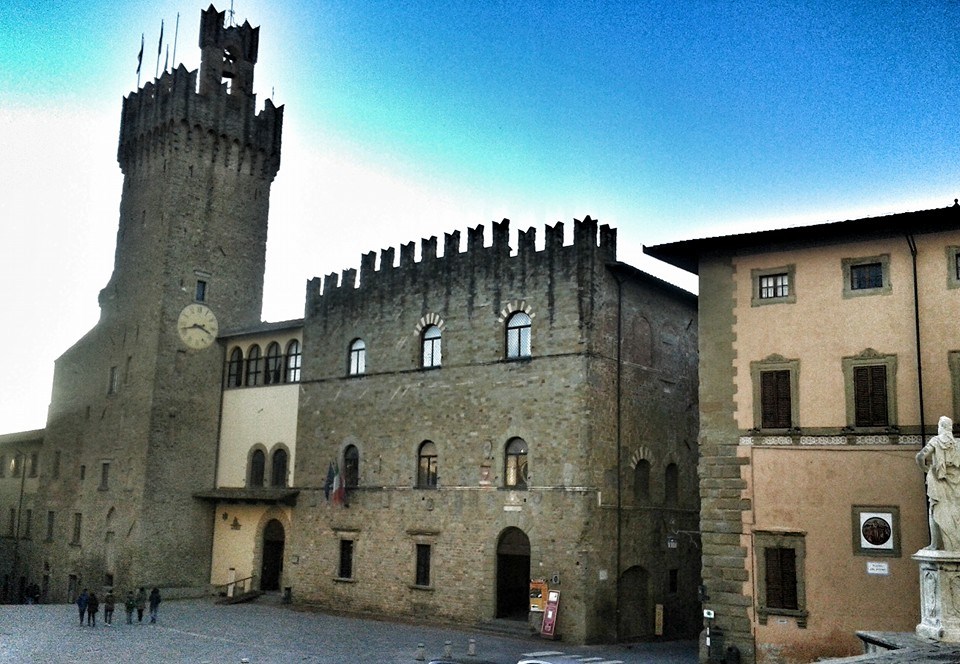 'La famiglia' is very important in Italy and a 'family-like' atmosphere is what we aim to create here at Cultura Italiana Arezzo, our accredited Italian language school located right in the heart of Arezzo, one of Tuscany's most beautiful cities. We offer students at all levels the chance to improve their language skills through a range of flexible, tailored courses taught in a friendly, relaxed environment.
However you prefer to study – intensively or on a part-time basis, as part of a small group or in one-to-one lessons – we can help.
We are a team of young, enthusiastic professionals who are all passionate about teaching and helping our students get the most out of their course. Together we will establish your personal objectives, then work with you to help you achieve them. What's more, we want you to really enjoy learning with us. Whether you are completely new to Italian or are a more advanced student wanting to improve your fluency, whether you are relocating permanently to Italy and are keen to integrate or just want to brush up on your language skills while you are here on holiday – whatever your requirements, we have a language course to suit you!
Enhance your learning experience with the chance to really immerse yourself in Italian life and practice your language skills as you study. We want to help you to get the most from your stay with us so offer
a wide range of activities
for our students to enjoy. We will accompany you on
weekly outings
to nearby local attractions; Monica, our very knowledgeable Programme Coordinator will accompany you sharing information, showing you around and introducing you to local craftsmen before you sit down to a well-deserved coffee and chat.We can organise
special weekend trips
; every week end our students have the opportunity to visit some of Umbria and Tuscany's most beautiful and famous towns from Assisi, Orvieto and Perugia to Siena, San Gimigniano, Lucca and Montepulciano, accompanied by a guide/driver. We take care of all the arrangements.
Here at Cultura Italiana Arezzo you can learn how to prepare delicious traditional cuisine with a local chef: for many students, one of the highlights of their stay here is the opportunity to take a cooking class with trained chef, Signora Lalla who will teach you how to make tasty, traditional Tuscan dishes in her kitchen.
After the class, you get to try your dishes over a glass of wine and take the recipe with you to impress friends and family when you get home!
Do you want to learn to sing with an opera singer or play an instrument ? If you are a fan of opera and classical music, you may like to consider combining your language course with a singing or music class. We can organise for you to either learn or improve your basic singing techniques under the tuition of a trained Italian opera singer. If you prefer playing an instrument or would like to learn, we can arrange for you to take a class at the music school of Arezzo (www.scuoladimusicale7note.it)
Take a trip with us to a picturesque local winery where you can sample Tuscan wines and olive oil or join our new evening Italian conversation group to chat and make new friends – the choice is yours!
During your time here in Arezzo we can organise a place for you to stay and have access to a range of accommodation from luxury apartments in the centro storico, independent and shared apartments in the town centre to lodging with a local family, hotels and b&bs. We can even assist you in renting a villa in the country if you are planning a holiday around your language course.
Janie Trayer I've been a student at Cultura Italiana twice. During my first stay in Arezzo I enrolled in the school for a month. I had done quite a bit of research looking for a school where I would be immersed in the language and Cultura Italiana turned out to be the perfect choice. The classes are small and you get  all the personal attention that you need. The instructors are all wonderful and are incredibly patient and immediately put you at ease as you try to learn the language. I absolutely loved the afternoon excursions to different towns and locations around Arezzo and especially appreciated having the opportunity to hear and speak the language outside of a classroom setting.
Gabriella Moller & Henry Burton During the nine months we have spent in Arezzo, Cultura Italiana became our home away from home. Taking classes at the school began almost by accident, and initially we had no intention of continuing lessons for the duration of our stay, but once we began we found the experience to be so richly rewarding we did not want to stop. We have been taking classes twice a week for our entire time in Arezzo. The school offers lessons, activities, and field trips to help students learn not only the Italian language, but also the history and culture of Italy. When we first signed up we had no idea how integral the school would become to our lives. The teachers are exceptionally dedicated, professionally trained, talented, and fun! We have also appreciated how flexible the school has been with our rather erratic schedule. We are coming to the end of our time in Italy, and certainly one of our greatest losses will be leaving the school and the friends we have made there. Our experience at the school has enriched and deepened our experience immeasurably. We can't recommend Cultura Italiana highly enough
Mirella Gazzoni "Two years ago, a friend and I were looking for a School where to improve our Italian but we wanted this school to be in a small city where we could live the Italian way. We found THE school , Cultura Italiana, and we found THE city, Arezzo. Arezzo is in Tuscany, so it's gotta be beautiful, right? And it sure is… It's big enough that culturally speaking there's plenty of food for the mind and for the eyes and … it's small enough that after a few days, you get to know people, you know where to go and go and go again… After a few days, you almost become Italian… Now THE school… Cultura italiana… Mamma mia… No school could have a better name! Of course, you get to learn the language… The teachers are great! Not only are they great -and molto simpatici- professionals who master the intricacies of the Italian language, but they LOVE their language and they LOVE their culture. And this is what they communicate to you no matter how long you stay. This year, I'll be returning to Arezzo and Cultura italiana. It will be my third time and I don't plan for it to be my last time."