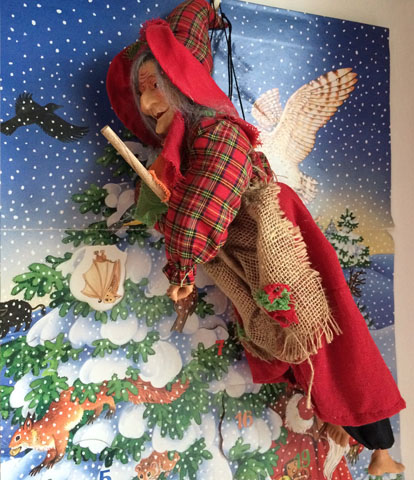 Zitti, zitti presto a letto la Befana è qui sul




tetto, sta guardando dal camino se già




dormono i bambini, se la calza è già appesa,




se la luce è ancora accesa!
Quando scende è sola sola, svelti, svelti




sotto le lenzuola! Li chiudete o no quegli




occhi! Se non fate i buoni niente




dolci nè balocchi, solo cenere e carbone.
---
Quiet, quiet soon to bed the Befana is here on the roof, she is looking down the chimney to see which children are already asleep if the stockings are already hung if the light is still on! 
When she comes down she is alone, be nimble, be quick get under the sheets! Close them or not those eyes. If you you are not good no sweets or toys, only ashes, and coal.
Comincio questo post con una filastrocca sulla strega più famosa d'Italia…perché stasera arriva la Befana e domani il 6 gennaio festeggiamo l'epifania. È la notte in cui si dice che i tre re, seguendo la stella più brillante nel cielo hanno trovato Gesu addormentato in un letto in una mangiatoia. Quindi non dimenticate di mettere le statuette dei Re Magi nel presepe stasera! Per sapere più della storia della Befana cliccate qui per leggere un post precedente.
I begin this post with a nursery rhyme about the famous Italian witch of all…because tonight the Befana arrives and tomorrow the 6th of January we celebrate Epiphany. It is the night that they say the three kings following the brightest star in the sky found the baby Jesus sleeping on a bed in a manger. So don't forget to put your statues of the three kings into your manager scene tonight! To learn more about the story of the Befana click here for a previous post.
Stasera volevo condividere con voi alcune altre poesie scritte da Gianni Rodari sulla Befana. Non faccio la traduzione di queste poesie…voglio che voi fate la traduzione. Scrivete alcune frase nella sezione di commenti. Buona Befana!
Tonight I wanted to share with you all some other poems written by Gianni Rodari about the Befana. I'm not going to translate them…I want you to translate them for me. Write down one or two of the phrases and translate them in the comment section for me. Buona Befana!
Alla Befana
Mi hanno detto, cara Befana,
che tu riempi la calza di lana,
che tutti i bimbi, se stanno buoni,
da te ricevono ricchi doni.
Io buono sono sempre stato
ma un dono mai me l'hai portato.
Anche quest'anno nel calendario
tu passi proprio in perfetto orario,
ma ho paura, poveretto,
che tu viaggi in treno diretto:
un treno che salta tante stazioni
dove ci sono bimbi buoni.
Io questa lettera ti ho mandato
per farti prendere l'accelerato!
O cara Befana, prendi un trenino
che fermi a casa d'ogni bambino,
che fermi alle case dei poveretti
con tanti doni e tanti confetti.
Voglio fare un regalo alla Befana
La Befana, cara vecchietta,
va all'antica, senza fretta.
Non prende mica l'aeroplano
per volare dal monte al piano,
si fida soltanto, la cara vecchina
della sua scopa di saggina:bef
è così che poi succede
che la Befana… non si vede!
Ha fatto tardi fra i nuvoloni,
e molti restano senza doni!
Io quasi, nel mio buon cuore,
vorrei regalarle un micromotore,
perché arrivi dappertutto
col tempo bello o col tempo brutto…
Un po' di progresso e di velocità
per dare a tutti la felicità!
Adesso guardate questo video carino girato da Veronica di One World Italiano. Che viene stanotte per informarvi di più della Befana!
Now watch this cute video filmed by Veronica di One World Italiano. She comes tonight to tell you more about la Befana!
Ecco alcune parole che Veronica
usa nel suo dialogo
Here are some words that Veronica uses in her dialogue
Accidenti!
sono stanchissima
un bel carico, una grande responsiblità
ho preparato i biscotti per i bambini buoni
una signore vecchia, abbastanza brutta, senza denti, vecchia ma buona,
cavalca sulla scopa
porta i regali ai bambini buoni
vi faccio vedere
caramelle, cioccolato, i dolci vari
la Befana è povera
la calza è piena di dolci
che non si comportano bene, si ricevono il carbone
la befana entra i camini
essere gentile, niente cattaverie
la Befana fa molti scherzi
Non stressati troppo durante le feste
Buona Befana