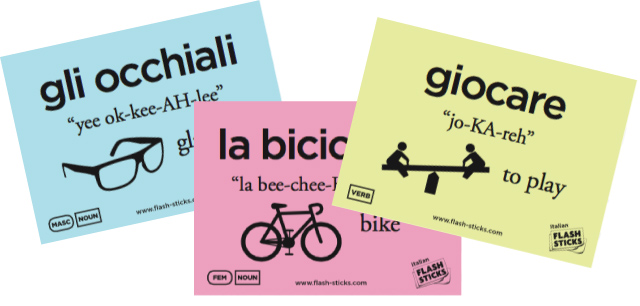 Looking for a UNIQUE way to learn a language?
Check out this innovative approach to language learning:  FlashSticks®!
The folks at FlashSticks are on a mission to become "the world's favorite way to learn," through the creation of unique learning experiences that are fun, engaging and effective.
Open up a pack of FlashSticks® and you'll find a series of unique words printed on Post-it® Notes, ready and waiting for you to use. Each FlashStick note has been colored to help you learn gender effortlessly (pink notes for feminine nouns, blue notes for masculine nouns, green notes for non-gendered words, e.g. verbs).
Do you find it tricky to pronounce certain foreign words? Fear not! Your FlashSticks® can be used with the free FlashSticks® app. Simply hover a smartphone (iPhone/Android) or tablet over any FlashStick note and one of our tutors will pop up and demonstrate exactly how to pronounce that particular word. WOW! Pretty cool, right? There are also varying levels of FlashSticks that grow with you as your knowledge of the language increases. See a post I wrote about the new FlashStick app that you can use in tandem with the FlashSticks post it note system. Soon to come a new YouTube video by la Matta demonstrating FlashSticks (but you have to wait until I return from Italia…un po' di pazienza, per favore!)