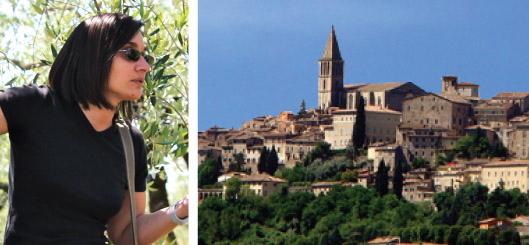 If you would like to make a reservation, click on form link above and indicate your first, second & third choices for an Italian Language Homestay along with dates and language level. Melissa will respond as soon as she receives the form. If for some reason you don't hear back immediately, please send a follow up email to Homestay@studentessamatta.com
Listen to Alessandra
Alessandra Mallozzi's Language Vacation  in Todi in Umbria.
Discover Umbria, language, art and wine with Alessandra! Thanks to her experience as Italian Language teacher and also as a food & wine guide, Alessandra offers a new amazing Italian full-immersion course. It is a very special one-to-one language course, totally "made to measure", created exclusively with regard to your requirements and your objectives. Alessandra's language program is integrated with additional activities and excursions, such as wine and food tasting, which allows you the chance to continue your immersion in the language and culture with Alessandra as your guide. You will live independently in an apartment in the historic city center of Todi and Alessandra will visit you every morning to teach you Italian and then in the afternoons she will "wine & dine" you, introducing you to "the green heart of Italia" – better known as Umbria!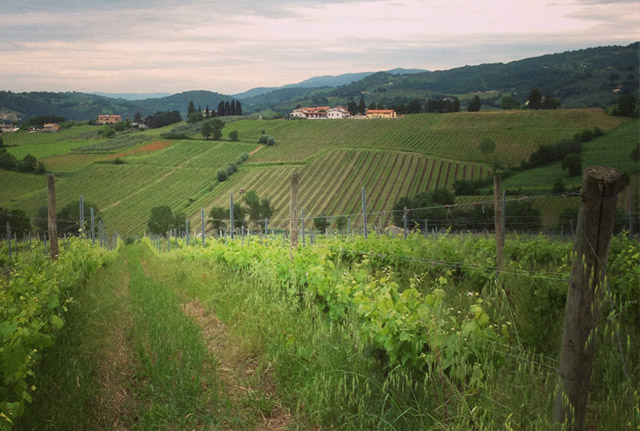 Unlike other Homestay programs, you will stay in a private apartment in the center of historic Todi. You will have the best of both worlds – independence and daily expert guidance in Language and Cultural activities with Alessandra.
This program is perfect for those who want to relax, value their privacy, love food and wine, but who also want to immerse in language and would like daily one-on-one language instruction and the opportunity to converse throughout their visit with local Italians.

Those who sign up for an Umbrian Language Vacation with Alessandra through the Matta Blog will also receive a special welcome basket of Umbrian treats, that Alessandra will personally deliver to your in your apartment in Todi!
The One Week Program is available for 1 or 2 students. Available from Beginner to Advanced students! This is what the package includes
• Daily language lessons, you can set the number of hourly instruction you prefer
• 7 nights in your own apartment (self catered) in the historical centre of Todi, few metres from the main monuments and shops
• Pick up to and from Orvieto/Terni railway station
• Italian Tuition at your apartment for 6 days
• Half day wine-food/archaeology/art&crafts tour including tasting/lunches and visits to the wineries, oil mills and farms where you have the opportunity to meet and to talk to local people, under the guidance of your teacher for a REAL FULL IMMERSION EXPERIENCE
• You will have your own apartment and kitchen and will have the flexibility to prepare your own breakfasts and evening meals
Program
Day 1: Arrival in Terni or in Orvieto Railway Station
• Pickup & transfer to the apartment in historical centre of Todi
Meet up with Alessandra
Day 2: Language Lessons
• Walking tour in Todi to discover the inner secrets and legends of the town
Day 3: Language Lessons
• Departure for a winery in the countryside of Todi
Visit and wine tasting in pairing with cold cuts. Back to Todi. Free time
Day 4: Language Lessons
• Departure for Deruta and guided visit to one of the oldest ceramic factories in Italy belonging to the same family since the Renaissance
Day 5: Language Lessons
• Departure for half day excursion "on the Sagrantino Road" for a visit to a family run farm producing wine and extra virgin olive oil. Oil and wine tasting in pairing with cold cuts. Walking tour in the beautiful town of Bevagna.
Day 6: Language Lessons
• Departure for Orvieto. Walking tour in town and lunch in a local restaurant
Day 7: Language Lessons
• Departure for "The Pompei of Umbri", ancient Roman city situated in the countryside. Visit to the museum and the ruins
Day 8: Departure for Terni or Orvieto Railway Station
Alessandra's qualifications:
1998 earned degree in Foreign Language & Literature at the University of Perugia, summa cum laude – with a specialization in teaching Italian as a foreign language
1998-1999 Taught Italian Language & Culture at the University of Szeged, in Hungary
1999-2005 Worked as a language teacher, then as Italian Language Course Director in a language school in Umbria
2006 Founded her own company
To Book a Homestay with Alessandra: Alessandra offers a special price for readers of the Matta Blog. To find out more about Alessandra's Umbria Language  Vacation, prices and to check availability fill out this form or contact melissa@studentessamatta.com