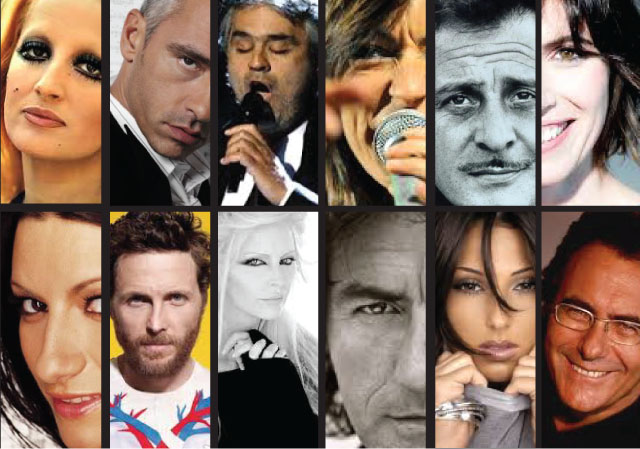 Buon Giorno tutti! Sto facendo un elenco delle canzoni italiane più popolari e più amate. Queste sarebbero canzoni non solo preferite dei miei lettori, ma secondo voi, il più popolare di tutti i tempi in generale. Mi piacerebbe il vostro contributo! Siete fan delle vecchie canzoni, quelle che Patty Pravo, Mina e Domenico Modugno hanno cantato negli anni sessanta? Preferite invece le canzoni degli anni settanta e ottanta dagli artisti come Lucio Battisti, Zucchero e Claudio Baglioni? Quali sono i vostri classici attuali? Ascoltate Jovanotti, Giorgia e Arisa?
I am making a Play List of some of the most popular and beloved Italian songs. These would be songs not only favorites of my readers, but in your opinion the most popular of all time, in general. I would love your input! Are you a fan of golden oldies, like the ones Patty Pravo, Mina and Domenico Modugno crooned in the 1960s? Do you have favorites from the 1970s and the 1980s from artists like Lucio Battisti, Zucchero and Claudio Baglioni? What are your current classics? Do you listen to Jovanotti, Giorgia and Arisa
Lasciatemi un messaggio qui sul blog con le vostre canzoni preferite e io farò qualche "Play List" su YouTube. In attesa dei vostri commenti e Feedback!
Drop me a line with your favorite line up of songs and I will add it to my play lists on YouTube. Looking forward to your feedback!
Per iniziare ecco un elenco che ho già iniziato su YouTube. Ascoltando le canzoni mi fa ricordare il tempo ho trascorso in Italia ascoltando la radio. Come i bei profumi, una bella canzone si può fare ricordare bei momenti in Italia, no?
To get you started here is a Play list that I have started on YouTube. Listening to the songs reminds me of times spent in Italy listening to the radio!  As with good perfumes, a good song can bring back fond memories!
Please follow and like us: