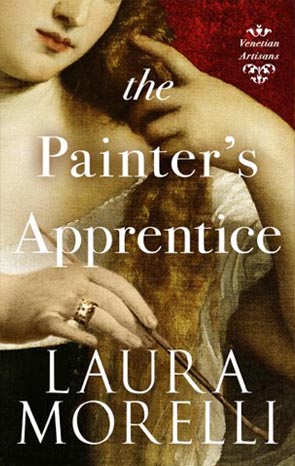 Ciao ragazzi! Sono tornata con un nuovo libro e vorrei presentarvi e ancora una volta la storia è ambientata a Venezia. Faccio parte di un "Book Tour" virtuale di Laura Fabiani di Italy Book Tours. Questo nuovo libro è scritto da Laura Morelli ed è intitolato "The Painter's Apprentice." (L'apprendista del pittore) Non ho avuto l'possibilità di leggerlo – infatti il libro uscirà il 15 Novembre. Questo è solo un po' di notizia…un tipo di passaparola per farvi conoscere in anticipo della data della pubblicazione. In fondo alla pagina c'è anche l'opportunità di vincere un libro. C'è un sacco di altre cose da vincere, se decidete di pre-ordinare un libro adesso.
I'm back with a new book that I would like to present to you and once again this story is set in Venice. I am taking part in a Virtual Book Tour organized by Laura Fabiani of Italy Book Tours. This new book is written by Laura Morella is entitled "The Painter's Apprentice." I haven't had a chance to read it – in fact, the book isn't due out until November 15. This is only a teaser…a bit of "you heard it here first" passing of information to make you aware of the upcoming publication date. At the bottom of this page, there is also the chance to win a book. There are a bunch of other things to win as well if you decide to pre-order your copy now.

Ecco una breve descrizione della trama:
Venice, 1510. Maria Bartolini wants nothing more than to carry on her father's legacy as a master gilder. Instead, her father has sent her away from the only home she's ever known to train as an apprentice to Master Trevisan, a renowned painter. When the painter's servants uncover the real reason why Maria has been sent away, they threaten to reveal a secret that could tear down her family and the future of their trade. She is forced to buy the servants' silence, but as their greed steadily grows, Maria resorts to more desperate measures. She questions whether her heart's desire is worth risking her family, her trade, and her future, but Maria's sacrifices may amount to nothing if the plague arrives on her father's doorstep before she is able to get back home.
Laura Morelli's new book, The Painter's Apprentice, is out on November 15, and she is offering a set of great bonuses exclusively to her readers. If you like to delve deeper into the "story behind the story," you'll want to take advantage of Laura's pre-order package (ends Oct 31st), which takes readers behind the scenes of The Painter's Apprentice with videos, pictures, commentary about Renaissance Venice, and other exclusive content. Learn more here
LAURA MORELLI holds a Ph.D. in art history from Yale University, has taught college students in the U.S. and in Italy, and currently produces art history lessons for TED-Ed. She authored a column for National Geographic Traveler called "The Genuine Article" and has contributed pieces about art and authentic travel to CNN Radio, The Frommers Travel Show, and in USA TODAY, Departures, and other media. Laura is the author of the Authentic Arts guidebook series that includes the popular book Made in Italy. Her fiction brings the stories of art history to life. Her debut novel, The Gondola Maker, won an IPPY for Best Historical Fiction and a Benjamin Franklin Award.
If you liked this blog post you might like these to:
Nonna's Book of Mysteries by Mary Osborne
Dreaming Sophia A new Novel about Italy and Florence by Melissa Muldoon