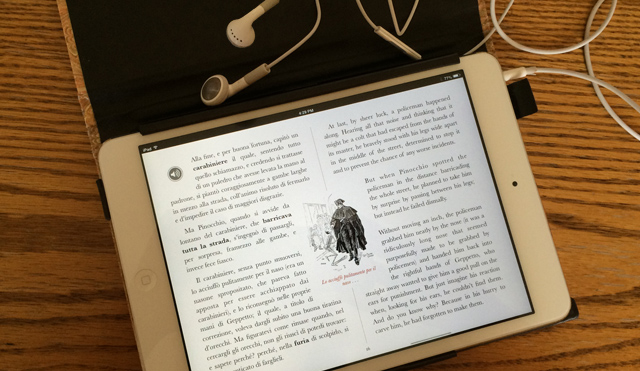 La comunità d'apprendimento della lingua italiana è semplicemente fantastica! Sono sempre felice di sentirvi per scoprire come vanno i vostri studi e per sapere di più dei progetti di cui vi siete occupati come risultato delle attività linguistiche. Tutti voi non smettete di stupirmi con i vostri programmi vari e interessanti!
The Italian language learning community is simply delightful! I am always happy to hear from you all to find out how are your language studies are progressing and to learn more about the projects in which you are involved, as a result of your linguistic pursuits. You folks never cease to amaze me with your varied and interesting activities.
Come esempio, proprio l'altro giorno sono stata contattata da Jack Risos, uno scrittore e educatore australiano, che attualmente vive sull'isola di Bali in Indonesia. Nonostante si trovi abbastanza lontano dal "bel paese", si descrive come uno appassionato della lingua, un "Italophile che ha viaggiato in Italia un paio di volte". Jack studia la lingua da un po' e dopo aver raggiunto un livello piuttosto avanzato, voleva leggere la vera letteratura italiana, invece dei brevi racconti nei libri di grammatica. Un giorno si è imbattuto in una citazione di Italo Calvino (intervista condotta da Maria Cortin/Autografo 1985) che dice: "Ogni lista di lettura seria dovrebbe iniziare con Pinocchio, un modello di racconto, dove ogni motivo viene presentato e ritorna con un ritmo e chiarezza esemplare, ogni episodio ha una funzione e una necessità complessivo della trama, ogni personaggio ha una chiarezza di contorno visivo e un modo inconfondibile di parlare."
As a case in point, just the other day I was contacted by Jack Risos, a writer and educator from Australia, who currently lives on the island of Bali in Indonesia. He is located quite a long way away from "il bel paese", but never the less he describes himself as someone who is passionate about the language, an "Italophile who has traveled to Italy a number of times." Jack has been studying Italian for a while but had reached a point in which he wanted to be reading Italian literature and not just Italian news articles and short stories. One day he came across a quote made by Italo Calvino (Interview conducted by Maria Cortin in Autografo 1985) that stated "Every serious reading list should begin with Pinocchio, a model of narration, where every motif is presented and returns with an exemplary rhythm and clarity, every episode has a function and a necessity in the overall design of the plot, every character has a clarity of visual outline and an unmistakable way of speaking."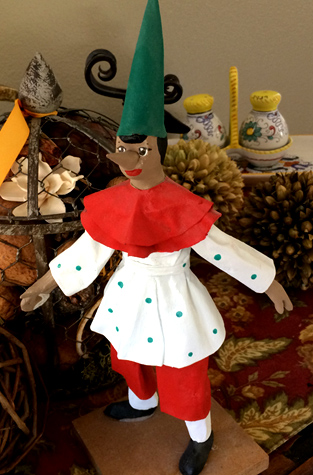 Questa citazione ha motivato Jack a rivisitare la storia classica e familiare di Carlo Collodi di Pinocchio. Quando ha iniziato a rileggere la storia originale scritta in italiano più di cento anni fa, ha scoperto una storia che era molto diversa delle sue aspettative. A differenza delle versioni che aveva letto prima, la storia di Collodi è invece vibrante e quasi moderna. Purtroppo la percezione che tanta gente ha sulla storia di Pinocchio è distorta dalle traduzioni inglesi, addolcite per i bambini. Questa rivelazione ha ispirato Jack a tradurre il racconto di Pinocchio in modo da catturare l'intento originale di Collodi; la sua qualità surreale e il suo lirismo autentico. Jack ha anche voluto creare qualcosa che gli studenti d'italiano avrebbero potuto trovare di valore.
This quote motivated Jack to revisit Carlo Collodi's classic and familiar story of Pinocchio. When he started to re-read the original story written in Italian over a hundred years ago, however, he discovered a story that was quite unlike his expectations. Unlike versions he read before Collodi's story was vibrant and almost modern. Unfortunately, most people's perceptions of Pinocchio are colored by English translations that have been sanitized for children. This revelation inspired Jack to translate the story of Pinocchio in such a way as to capture Collodi's original intent; its surreal quality as well as its authentic lyricism. Jack also wanted to create something that students of Italian would find valuable.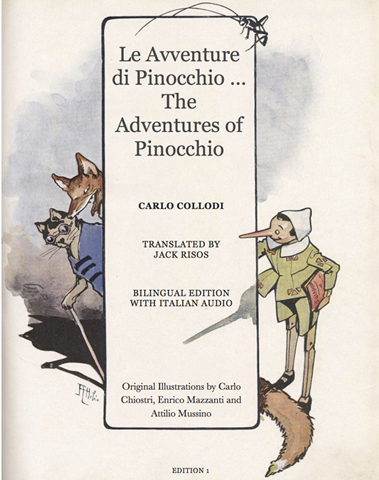 Penso che Jack abbia fatto un ottimo lavoro con la sua traduzione del capolavoro di Collodi. Ora il sua e-book è disponibile attraverso iTunes e Apple iBook. La cosa fantastica di questa versione digitale di Jack è che si può leggere la storia solo in italiano originale (su iPad tenuto in posizione verticale) o leggere la versione italiana con la traduzione in inglese in parallelo (su iPad tenuto in posizione orizzontale). L'ebook ha inoltre l'audio integrato, per aiutarvi con la vostra pronuncia italiana. Ulteriori miglioramenti che gli studenti d'italiani apprezzeranno, includono un glossario con l'ortografia alternativa e idiomi toscani, così come note storiche. L'ebook è anche adornato con le deliziose illustrazioni di Carlo Chiostri, Enrico Mazzanti e Attilio Mussino, tre dei più famosi illustratori di Pinocchio.
I think Jack has done a wonderful job with his newly translated digital version of Pinocchio. It is now available for download on the iTunes site and Apple iBook. The great thing about Jack's version is that you can read the story in the original Italian only (on an iPad held in portrait position) or read it with English translations in parallel (on an iPad held in landscape position). The ebook also has embedded audio, to help with your Italian pronunciation. Additional enhancements that students of Italian will appreciate include an extensive glossary with alternative spelling and Tuscan idioms, as well as historical notes. The ebook is also adorned with the delightful illustrations of Carlo Chiostri, Enrico Mazzanti, and Attilio Mussino, three of the most famous illustrators of Pinocchio.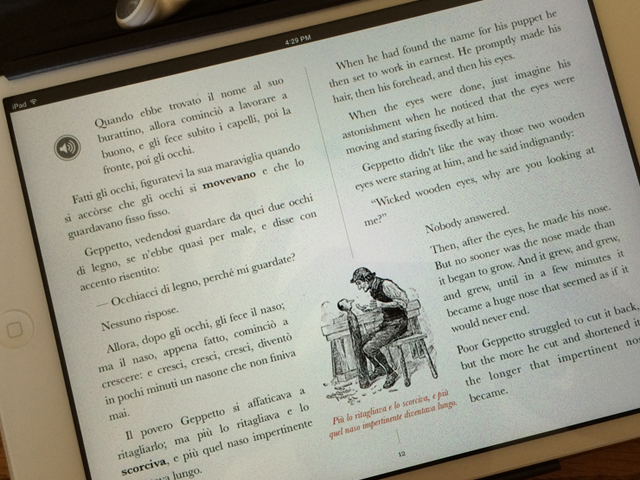 Potreste visitare il negozio di iTunes, seguendo questo link.
If you want to purchase Jack Risos' ebook, you can visit the iTunes store following this link.
Godetevi le avventure di Pinocchio fino all'ultima frase! "Com'ero buffo, quand'ero un burattino! e come ora son contento di essere diventato un ragazzino perbene!
Happy reading everyone! Enjoy the adventures of Pinocchio until the very last line! "How comical I was when I was a puppet! And how happy I am now that I've become a proper boy!"