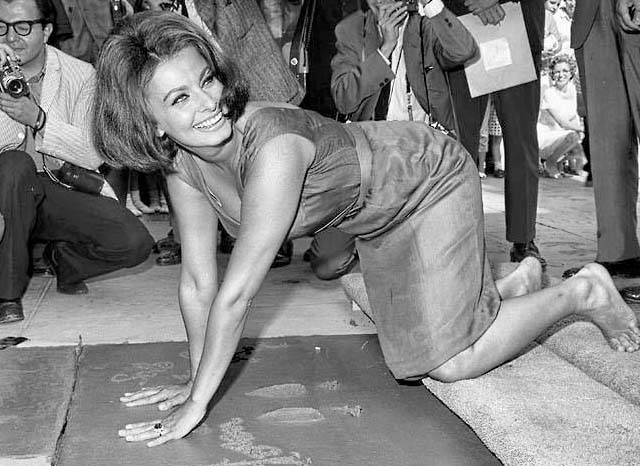 A Hollywood di fronte al teatro Grauman si può fare un passo nei panni di Sophia Loren e si può mettere le mani tra le sue.
In Hollywood, in front of Grauman's Theater you can step into Sophia Loren's shoes and place your hands in hers.
Non sto scherzando!
 Nella capitale mondiale del cinema in California, di fronte al teatro Grauman su Hollywood boulevard, c'è un marciapiede chiamato "Walk of Fame." È un luogo dove centinaia di attori famosi hanno immerso le scarpe e le mani in blocchi di cemento morbido. Sembra che la strada verso l'alto a Hollywood sia davvero appiccicosa!
I kid you not. In the movie capitol of the world in California, in front of Grauman's Theater on Hollywood Boulevard, is a sidewalk called "the walk of fame." It is a place where hundreds of famous actors have dipped their shoes and hands into blocks of wet cement. It seems the road to the top in Hollywood really is sticky!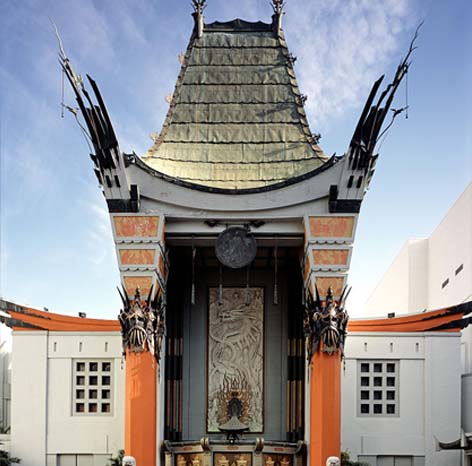 La storia del Teatro
La tradizione di immortalare stelle nel cemento è iniziata nel 1927. Il proprietario del teatro Sid Grauman, dice che tutto è iniziato per caso. "Ho camminato direttamente nel guaio! Mentre stavamo costruendo il teatro, mi è capitato per caso di inciampare il piede nel cemento morbido. Ed eccolo! Così sono andato da Mary Pickford subito. Anche Mary ha messo il piede nel cemento!"
The tradition to immortalize stars in cement began back in 1927. The owner of the theater Sid Grauman, says it all started by accident. "I walked right into it! While we were building the theater, I accidentally happened to step in some soft concrete. And there it was. So I went to Mary Pickford immediately. And Mary put her foot into it too!"
Incontro con Sophia Loren
Alcuni anni fa ho fatto un viaggio a Hollywood. Durante il mio soggiorno mi sono dovuta passare dal teatro cinese di Grauman a offrire i miei rispetti alle stelle più brillanti di Hollywood. Ho cercato con ansia i blocchi di pavimentazione vedendo molti luminari del grande schermo: Gregory Peck, Fred Astaire, Clint Eastwood, Johnny Depp, Judy Garland e anche Darth Vadar.
A couple of years ago I made a trip to Hollywood. During my stay in tinsel town, I had to stop by Grauman's Chinese theater to pay my respects to Hollywood's brightest stars. As I anxiously searched the pavement blocks, I saw many luminaries of the silver screen: Gregory Peck, Fred Astaire, Clint Eastwood, Johnny Depp, Judy Garland, even Darth Vadar.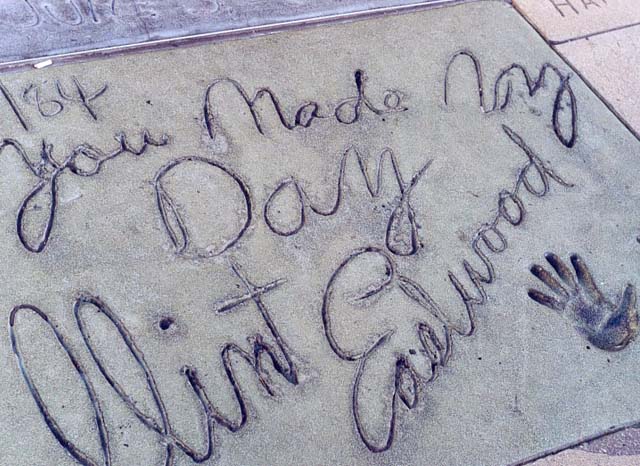 Tuttavia c'era solo un nome che cercavo, quello di Sophia Loren. Quando ho trovato il posto dove la Loren ha segnato il pavimento con le sue scarpe — tacco alto, taglia nove e ha messo le due mani nel cemento morbido il 26 luglio 1962, ho urlato di gioia. Non ho potuto resistere dal mettere le mie mani nelle impronte che Sophia ha lasciato davanti al teatro Grauman.
However, there was only one name that I was really looking for, that of Sophia Loren. When I found the spot where La Loren marked the pavement within her size nine high heel shoes and knelt down and placed her two hands into the wet cement on July 26, 1962 — I screamed with delight. I couldn't resist putting my own hands into the impressions Sophia had left in front of Grauman's Theater.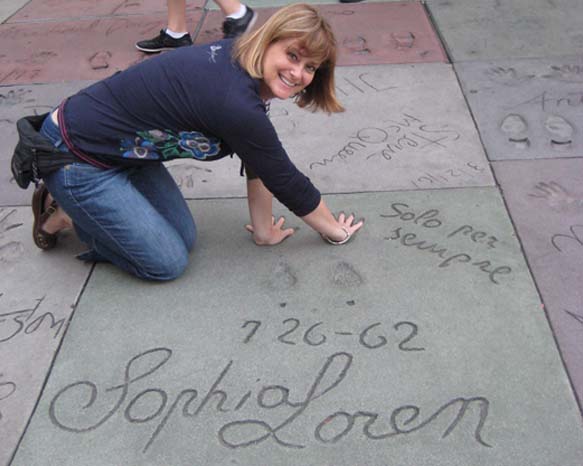 Il mio viaggio a Hollywood è successo nel 2011. Non sapevo allora che un giorno avrei incontrato Sophia Loren di persona. Andiamo avanti al marzo 2016. Questa volta invece di Hollywood il luogo è stato Las Vegas, dove ho incontrato la Loren in prima persona quando ho assistito al suo one-woman show "Sophia". Dopo lo show ho fatto molto di più di mettere le mani nelle impronte di cemento freddo. Questa volta ho abbracciato e baciato l'attrice accogliente e vitale e le ho parlato in Italiano!
My trip to Hollywood occurred in 2011. Little did I know then that one day I would meet Sophia Loren in person. Fast forward to March 2016. This time, instead of Hollywood the was setting Las Vegas where I met up with La Loren in person where I attended her one-woman show "Sophia." After the show I did much more than place my hands in impressions left in cold concrete. This time I hugged and kissed the warm and vital actress herself AND spoke with her in Italian!
Purtroppo non ho potuto trovare un video clip del grande momento quando Sophia ha messo le mani nel cemento davanti il teatro Grauman, però eccone uno di Marilyn Monroe e Jane Russell.
Unfortunately, I couldn't find a video clip of Sophia's big moment in front of Grauman's theater but here is one of Marilyn Monroe and Jane Russell.
If you liked this post about Sophia Loren you might like this one as well:
Meeting Sophia Loren: Un sogno diventa realtà / A Dream Becomes Reality
La Ciociaria, Two Women: A Film Starring Sophia Loren
Please follow and like us: