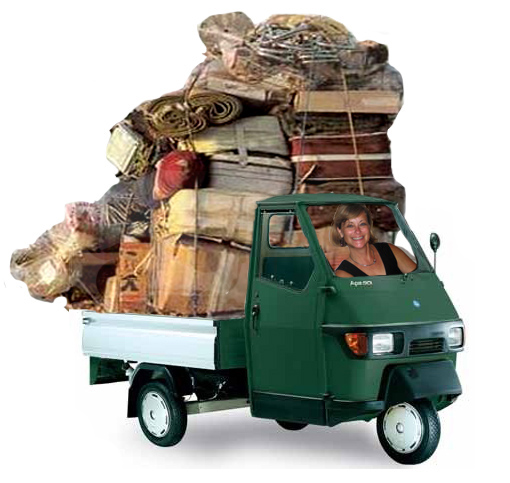 (Read in Italian) During the past weekend I made a big move. I transitioned from my old blog spot on WordPress.com to a new self-hosted WordPress site. It took a bit of time, but I managed to pack everything up…all the blog posts, pictures, videos and all the lovely comments that my readers had left me on previous blog spot. I loaded all the stuff up onto my Ape and trundled it all across the internet to my new and more spacious home here at www.studentessamatta.com. The only thing that went wrong, I lost my subscribers along the way. Regrettably they fell off the trunk from the top of the heap. So, please readers, if you would like to receive updates to the blog it will be necessary to resubscribe.
I am currently in the process of unpacking, hanging pictures and organizing the furniture. So far so good! I am enjoying my new digs and can't wait to settle and start blogging again. Hope you are all doing well…and if you need any help moving, give me a call my Ape and I will be there in a flash!
This is kind of what my move looked like as I settled into my new blog spot!
Animation of the relocation of the room of the italian artist Gabriele D'Uva
Now enjoy this little poem by Mario Pappagallo about moving called il Trasloco!
Mario Pappagallo – IL TRASLOCO