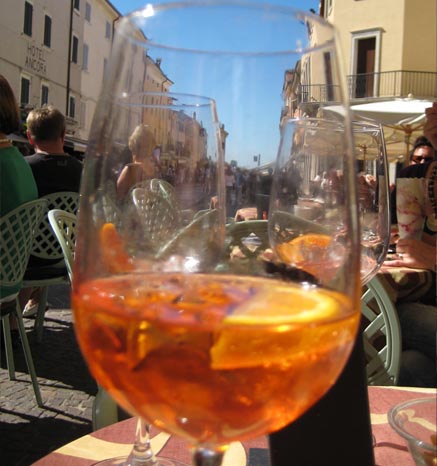 30 Giorni di Indie Travel Project Il giorno 20 del progetto e il tema è: "Bevanda – Che cosa hai bevuto che ha un bel significato per il posto e la gente con cui è stato bevuto
30 Days of Indie Travel Project Day 20: "DRINK – Just as the cuisine of a place reveals clues about its culture and history, so does its signature local drink. What's the best drink you had on the road, and did the drink have any connection to the place where you drank it or the people you drank with?
È una tipica Domenica mattina a Bardolino, una piccola città sul Lago di Garda. Siamo seduti davanti alla chiesa nella piazza principale e ci stiamo godendo uno "spritz", una bevanda alcolica il colore dell'ambra. Secondo i miei amici, questa è la cosa che molti fanno di Domenica a Bardolino. Ci si siede a un tavolo in piazza e si guarda la gente, sorbendo uno spritz! Non c'è altro posto dove stare a quanto pare. È da questo punto di vista ottimale che si può pigramente osservare la gente quando esce di messa, si parla con gli amici e si osservano i bambini piccoli che scivolano giù dalle balaustre di marmo della chiesa. Immagino sia qualcosa che i ragazzini di Bardolino hanno fatto da fin quando la chiesa è stata costruita decenni e decenni anni fa. Davide, il figlio sei di anni Rossella e Massimo, non è mica diverso degli altri e si diverte girando il portico della chiesa come se fosse un campo di gioco. A tavola facciamo scherzi, siamo introdotti agli amici dei nostri amici, e ci sistemiamo nella normale vita quotidiana di domenica in Italia.

It is a typical Sunday morning in Bardolino, a small town on Lago di Garda. We are seated in front of the church in the main piazza and we are enjoying a "spritz", a lovely alcoholic beverage the color of amber. According to my friends, this is the thing that one does on a Sunday in Bardolino. You sit yourself down at a table in the piazza and you people watch, while imbibing a spritz! There is no other place to be apparently. It is from this optimal vantage point that you idly check out people as they exit Sunday mass, you talk with friends and you observe the little kids sliding down marble banisters of the church. I imagine that this is something the the children of Bardolino have been doing since the church was built decades and decades ago. Davide, the six year old son of Rossella and Massimo, is no different front the rest as he entertains himself by turning portico of the church into a giant
playground. At the table we make jokes and we are introduced to friends of our friends, and we settle into normal everyday life of a typical Sunday in Italy.
Quando le nostre bevande sono finite andiamo a fare una passeggiata. Passiamo da una porta aperta con un segno "pesca pro missioni". Sono curiosa di sapere di che cosa si tratta, così i miei amici mi invitano ad entrare nel negozio. All'interno ci sono due signore anziane posizionate dietro un bancone su cui è poggiata una ciotola grande di vetro riempita dai piccoli pezzi di carta arrotolati. Sul banco c'è un cartellino che indica il prezzo per comprarne uno. Dietro le donne c'è un grande disordine. Ci sono scaffali, cesti e cassette che scorrono con giochi, bottiglie di vino, libri, vestiti e un ampio assortimento di aggeggi e strumenti divertenti. E ancora, non ho la minima idea di cos'è tutto questo.
After our drinks are finished we go for a walk around the piazza. We wander by an open door with a sign "Pesca pro missioni" (Fishing for the Mission). I am curious as to what this is, so my friends invite me to enter the shop. Inside two older ladies are positioned behind a counter on which rests a great big glass bowl with little pieces of tightly wound paper and a sign that indicates their purchase price. In back of the women is a wild disarray of items. There are shelves, baskets and boxes over flowing with games, wine bottles, books, clothes and a wide assortment funny looking gadgets and tools. And still, I have no idea what this is all about!
Ridendo, Davide va prima a farmi capire come fare questo gioco. Sua madre paga il prezzo e poi Davide "va a pescare". Se mette la mano in una ciotola e tira fuori un pezzo di carta. La srotola e legge il numero che trova scritto. Novantanove! Le donne si mettono in azione cercando di trovare lo stesso numero scritto su un piccolo cartello attaccato ad una mensola o cestino. Infine il numero viene trovato e Davide viene dato il suo premio! Con un grande sorriso, mi mostra che ha vinto un frisbee che si illumina quando lo lancia. Non è fantastico! Ora voglio giocare. Pago il prezzo del biglietto, prendo la mia carta e guardo mentre la signora va a caccia del premio. Passano i cesti di vino e le bottiglie d'olio d'oliva (che peccato!) e mirano una piccola scatola rossa. Che cosa ho vinto? È una macina pepe! Una cosa che non può mancare dalla cucina!

Giggling at me, Davide goes first to show me how this game is played. His mother pays the price and then Davide "goes fishing". He puts his hand into a bowl and pulls out a tightly rolled scrap of paper. He unfurls it and reads the number that is written there. Ninety-nine! The woman mobilize into action and they bustle around trying to find the same number displayed on the stock pile of items behind them. Finally the number is located and Davide is given his prize! With a big smile he proudly show me he has won a frisbee that lights up when you launch it. How cool is that! Now I want to play. I pay the price of admission, pick out my tightly bound paper and watch as the ladies hunt down my prize. They pass by the baskets of wine and the bottles of olive oil (what a shame!) and zero in on a small red box. What have I won? It is a pepper grinder! Something every kitchen shouldn't be without!
Pesco pro mission è una pesca di beneficenza per raccogliere fondi per la missione della chiesa. Durante la settimana le donne raccolgono un sacco di cose da famiglie e dalle imprese locali e la domenica il negozio è aperto al pubblico. Una volta la mia amica ha vinto una bambola, ma poi si è resa conto che è stata una bambola che sua zia aveva dato alla missione. La bambola ha fatto il ciclo completo dalla famiglia, alla chiesa solo di tornare nella famiglia di nuovo, tutto in nome della carità.
Pesca pro missioni is a benefit to raise money for the Church's mission. Through out the week the women collect all kinds of items from households & local businesses and on Sunday the shop is opened to the public. My friend revealed that once she won a doll, but then she realized that is was a doll her aunt had given to the mission. The doll made the full circuit from family to church back into the family again, all in the name of charity.
Davide ed io lasciamo il negozio con i nostri premi sotto le nostre braccia e continuiamo con la nostra passeggiata intorno alla riva del lago di Garda. Con il calore del sole sopra la mia testa e il calore del spritz dentro di me, mi sento abbastanza pigra e contenta. Sto guardando Bardolino tra occhiali rosa, o meglio bicchieri d'oro lo trovo un posto bellissimo!
Davide and I leave the the shop and with our prizes under our arms we continue on with our stroll along the shore of Garda lake. With the heat of the sun above our heads and the warmth of the spritz inside me, I am feeling quite lazy and content. I am looking at Bardolino through rose colored glasses, or actually glasses filled with amber gold, and I find it an extremely lovely place.
Un beneficio simile a quello di Bardolino:
su Bardolino