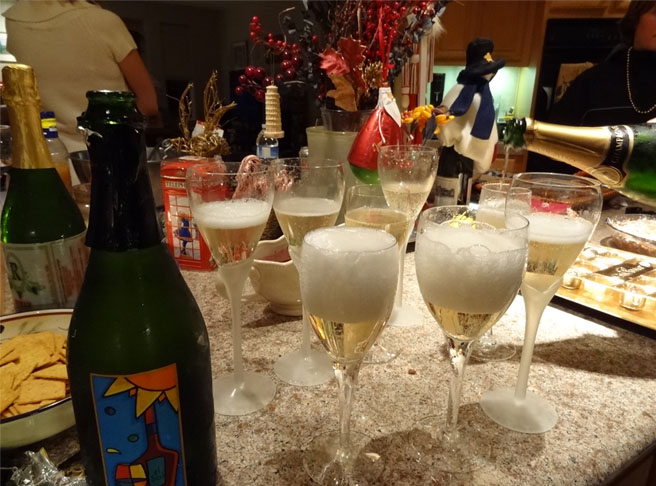 (Read in Italian) In Italia right now it is already 2012! Here by the San Francisco bay we must wait a few more hours before we can welcome in the New Year. At this point, 2011 is fast becoming a beautiful memory while we wait for 2012, anticipating already everything that it holds for us. Last year there were difficult moments as well as beautiful ones; I lost my dear dad, but gained a new family in Puglia. Life continues to surprise me and I can't wait to find out what will happen in 2012. So, this evening, at our house we will celebrate the past and the future with dear friends. We will prepare a lovely dinner of lentils and at midnight there will make a big noise; we will pour the prosecco and don silly hats and make a big noisy scene in the garden while we launch firecrackers and noisemakers. There will be hugs and kisses for everyone. A new year means that we can take on new things with new conviction and resolution. We can begin again and everything is fresh and new.
An Italian friend told me that the people with whom you spend New Year's eve with are the people that will remain close to you throughout the New Year. Therefore I wanted to write this last blog of 2011 for all of you who read my blog. In this way I can share New Years Eve with you and we are sure to stay close during the coming year. I hope that the following year is full of wonderful things and new adventures for everyone and that we can find the good life and continue to enjoy the Italian language together!
I wish you all a Happy New Year! What are your resolutions for the New Year??