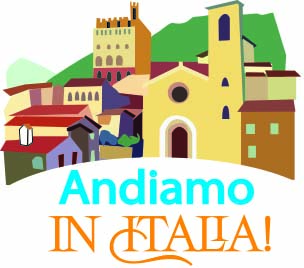 "Matta Italian Language Programs in Italy."
Study in Italy, learn, practice, and
delve deeper into Italian culture & language.
Study in Italy with the Studentessa Matta:
where language isn't just learned, it's lived.
Small groups, big adventures!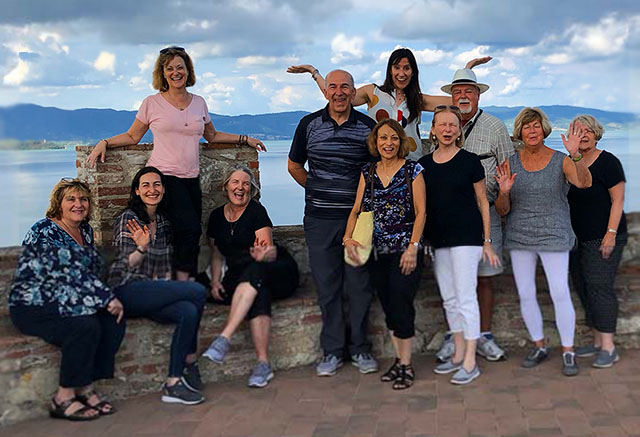 The Matta Italian Language Programs in Italia are small group immersion programs, which are 12 – 14 days long and accommodate up to ten individuals. Programs are open to couples and singles; all language levels are welcome. This is an excellent chance for individuals who want to travel to Italy solo and want some company. The program focuses on improving conversation skills. Students study in the mornings at Melissa's Italian partner schools with other international language learners at their level. In the afternoon, Melissa's group reunites. We go on special excursions and participate in activities, art projects, local festivals, wine tastings, and cooking classes to continue practicing Italian skills with Melissa, local guides, teachers, and Italian friends.
Travel to Italy with like-minded language learners. Accommodations, cost of school and activities and excursions, breakfasts, and most meals are provided. There will be evening spritzes with the group, delightful conversations with Italian friends who will drop in and participate in our group dinners, and the time to explore on your own during free afternoons. The best part… You can use what you learn in the classroom as soon as you step out into the piazza! Italian friends are also invited to dinner so that you can meet and converse in Italian with others outside our group. Programs have taken place in Lucca, Rome, Montepulciano, Venice, Florence, Lecce, Ascoli Piceno, and Arezzo.
Matta Italian Language Programs in Italy include:
Accommodations
Breakfasts & Most Dinners
Italian Course
Andiamo in Italia! Programs include:
Program events can include concerts, shows, movies, festivals, art lessons, museum visits
Transportation fees to and from events
Unlimited conversation with Italian friends and locals
Fully guided by Melissa & teachers of partner school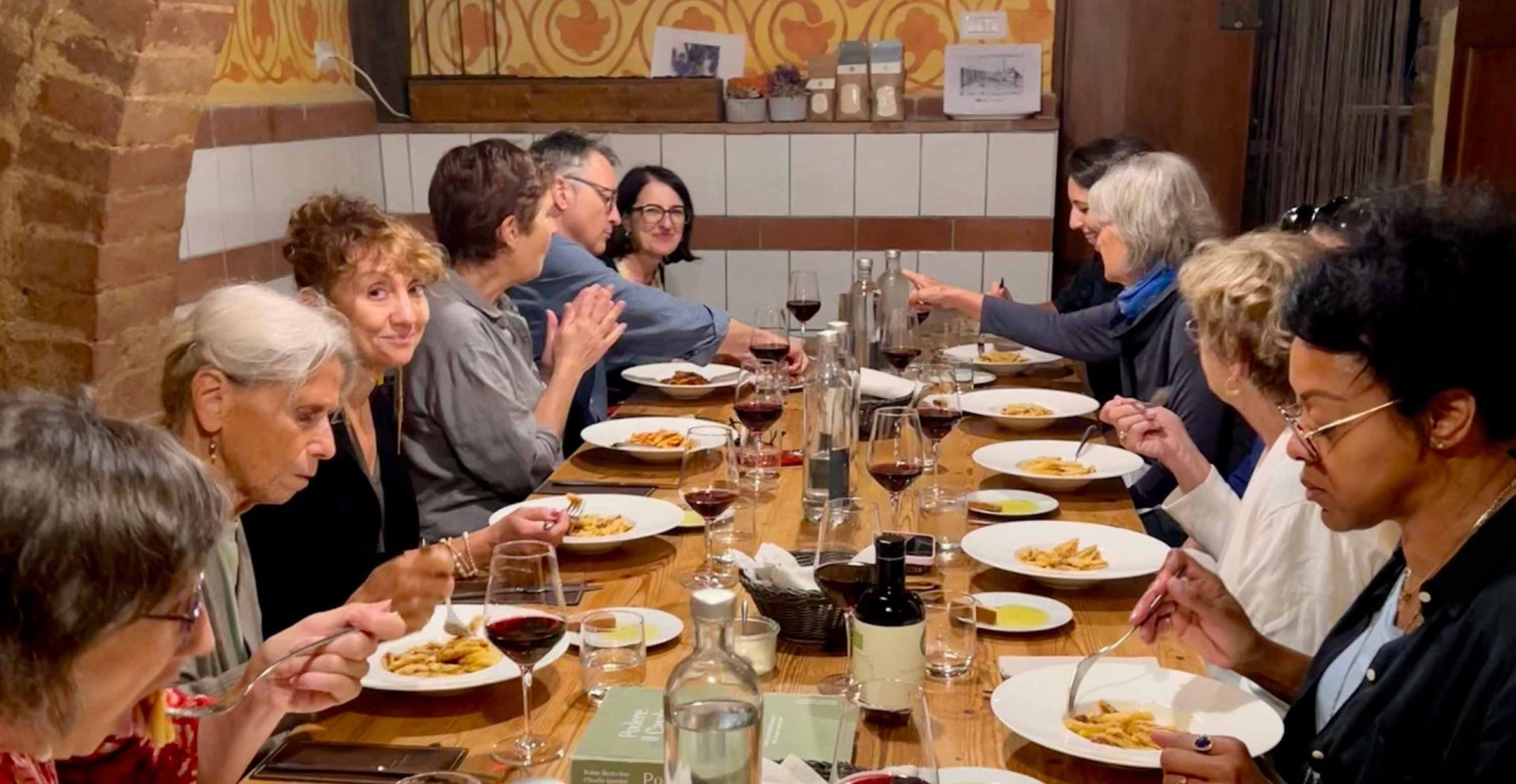 Sign up now! Spots are limited.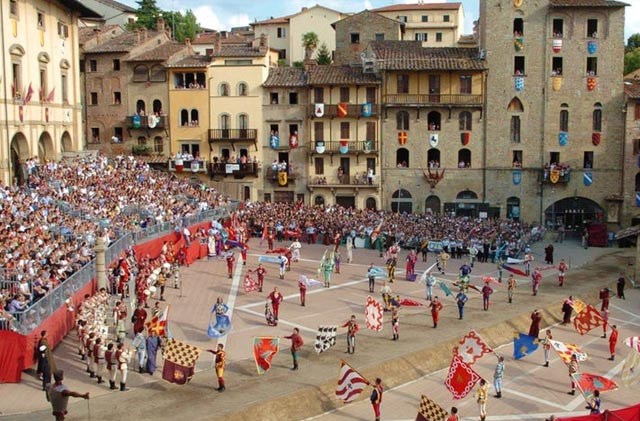 Arezzo
June 16-28, 2024
Price: $4,500
In addition to studying Italian at Cultura Italiana Arezzo, highlights of the Matta Arezzo program include participation in the June Evening Joust – la Giostra del Saracino and the activities surrounding the festival, including the neighborhood cena Propiziatoria in the Santo Spirito quarter. Arezzo is alive with jubilation, costumes, and parades, AND there will be dancing and singing in the streets! Come along with me and get to know all my friends in Arezzo. It will be an experience you will never forget!
The Arezzo Program will consist of 13 Days & 12 Nights in Arezzo, 10 Class days (36 Hours of Italian Instruction), Unlimited Italian Conversation Practice, 9 Group Dinners, Welcome Aperativo, Wine tastings, Cooking class, Accommodation at the charming B&B or newly renovated modern hotel. Each guest room is air-conditioned, has fast WIFI, and includes breakfast. The program includes day excursions to nearby towns and free afternoons to wander and shop. We will participate in the jousting festivities & tickets to the joust and the Cena Propiziatoria are included.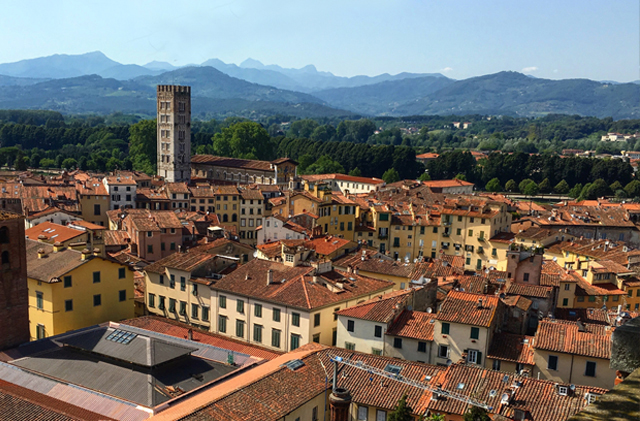 Lucca
Sept 26-Oct 5, 2024
Price: To Come
In addition to studying at Lucca Italian School, highlights of the Matta Lucca program include participation in a cooking class with Eva and a wine-tasting excursion into the hills surrounding Lucca. We will discover all the town offers and visit neighboring attractions such as Cerreto Guidi & Vinci and Certosa di Calci. We will attend a Puccini Concert, participate in a relaxing art project, visit a local artisan, and bike the walls of Lucca. Best of all, we will immerse in the Italian language through lively dinner conversations with teachers, friends, and your hostess and crazy language guide — Melissa!
The Lucca Program will consist of 10 Days & 9 Nights in Lucca, 5 Class days (20 Hours of Italian Instruction), Unlimited Italian Conversation Practice with Melissa and the teachers at Lucca Italian School, 6 Group Dinners, Welcome Dinner, Art Class, Wine tasting, Visit an artisan shop, Cooking class, Accommodation in private apartments inside the city walls in the heart of town. The program includes excursions to nearby points of interest, art activities, and free afternoons to wander and shop.
---
Arezzo Fall Giostra Joust Weekend
Sept 7-9, 2024
Price: $800
Don't miss your chance to be part of the medieval extravaganza at Arezzo's Giostra del Saracino! This isn't just a joust – it's a time capsule to the age of knights, where you can cheer for your favorite champions as they clash at the Buratto target in a spectacle of chivalry and skill as they vie for the prize of the golden lance. Experience the rich traditions of Tuscany, revel in the pageantry, and be swept away by the spirit of the Renaissance. It's not just a show; it's a history lesson with a dash of adrenaline! Let's gallop into history together!
The Weekend Joust Package Includes:
3 Days / 2 Nights in the B&B le Chimera or the Hotel Aretino*. Walking Tour of Arezzo. Jousting Museum in Civic Center Tour. Joust Seminar with Spritzes. Ticket for Cena Propiziatoria in the Santo Spirito Neighborhood. Guided Visit to the Santo Spirito Museo to see the Golden Lances. Tickets to see the Joust in Piazza Grande in Tribuna A. Sunday Evening Dinner in Centro to Celebrate the Winners! *You may do so if you want to stay longer in the B&B. Inquire about extended stay prices: Contact Melissa
We become friends and share a special language bond.
It is an experience that will enrich your life.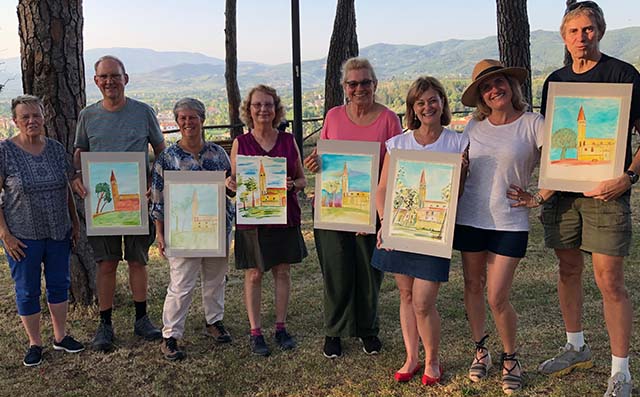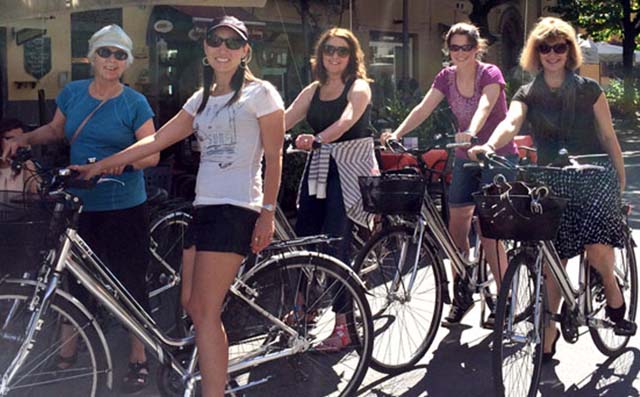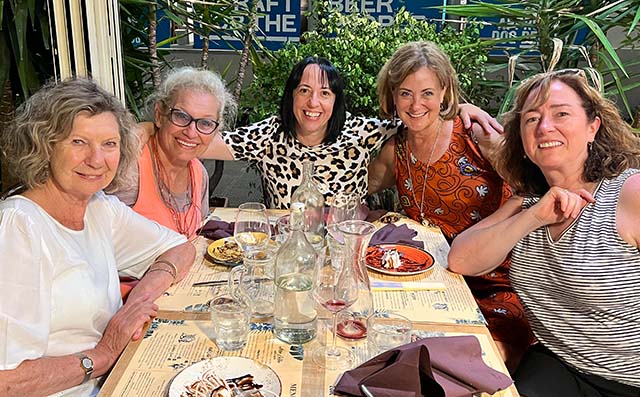 To learn Italian well, you need to dive deep into the culture.
But to fully appreciate the culture, you need to learn the language!
The two go hand in hand!
Immersing in language and culture and traveling with like-minded individuals is a fantastic way to learn the language, improve your conversation skills, and become fluent. The Matta Italian Language Programs in Italy incorporate structured study time with well-known Italian language schools and teachers. We participate in Italian classes suitable to our language levels in the mornings. In the afternoons, we go on group excursions and participate in activities that allow each participant to immerse in the culture of the city or region where we are staying. Each Matta program is custom-designed and guided by my Italian Partners and me. We put together fun and original local activities that include organized dinners, wine-tasting events, cooking classes, excursions, and art activities. I invite my Italian friends to join my groups so those who travel with me have a continued chance to immerse in the language, make Italian friends, and practice language skills in a meaningful and fun way! My language partners and I encourage conversation throughout the entire program. We create a warm and friendly environment where it is easy to practice and keep using the language all day long!