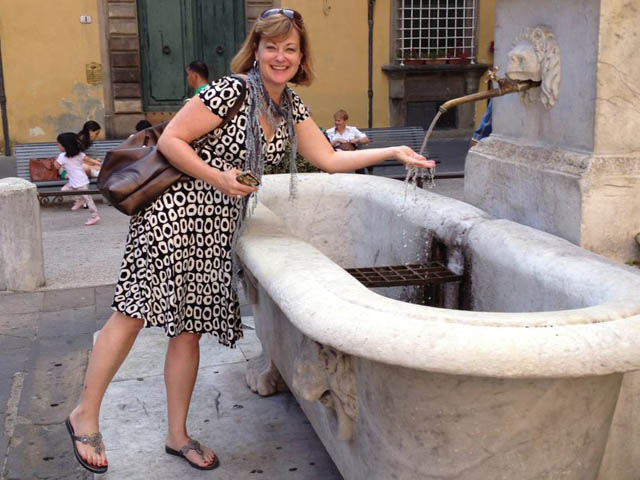 Studentessa Matta Travel Philosophy. My Language and Cultural Immersion "study-cations" are designed to give participants the chance to experience Italy as I do. When I'm in Italy I like to converse in Italian (with anyone who will give me the time of day), explore new areas, make new friends, meet up with old friends, get off the beaten track, try new foods, enjoy art & architecture and simply relish every moment I am in Italy. I participate in the language classes and I am often discovering new things about Italy right along with you.
I take thousands of photos and make recordings of those I meet in order to fully share the experience of living in Italy with my travel groups with the world on my blog, Facebook page and Twitter feed.
I  believe in being flexible & going with the flow. As a seasoned traveler, I realize that there can be bumps along the road (i.e. jet lag crankiness, transport strikes, closed shops, sore feet, miscommunication, wrong turns, getting lost, waiting, bad weather and cultural idiosyncrasies). But, instead of focusing on a few inconveniences that might occur from time to time, I prefer to keep things positive and look for ways to turn bumps in the road into launching pads for new experiences. I believe it is precisely these unexpected things that make traveling fun and even if you are stuck in a train station for an extra hour – YOU ARE IN ITALY & you can always find someone with whom you can practice your Italian and have a conversation! Therefore I ask all my travelers to make sure that along with their sensible walking shoes, they also pack a sense of humor. With a good attitude and spirit of adventure all things are possible; everyone has great experience and learning Italian, getting to know the locals and visiting Italy is so rewarding.
If you agree…ANDIAMO! Come away with me to Italy, discover new things about Italy, make friends and improve your Italian language skills!