Ciao! I'm Melissa, your immersive Italian language teacher and guide. I'll be taking you on a "Matta" (crazy) ride through the beautiful Italian language and culture, and trust me, you're in for a real treat!
---
Learning Italian is like riding a Vespa – it's a thrilling experience, but with a few bumps and turns along the way. Like mastering the art of navigating narrow Italian streets on a Vespa, learning the language can take time and patience. But once you get the hang of it, the thrill of speaking like a local makes it all worth it!
Think of me as your Italian language "cicerone," guiding you over those grammar speed bumps, helping with pronunciation, immersing you in art and culture, and providing opportunities to learn in Italy to put your skills to the test in real-world situations.
So, climb on board, and throttle up your engines. Let yourself go a little "matta." We are headed to the piazza to sip an espresso (or eat gelato), live la dolce vita, and speak, read and understand Italian like a pro! Sei pronto? Andiamo!
---
Discover all the ways to learn Italian with
Melissa, la Studentessa Matta!
Italian Lessons and conversation with Melissa
Chat with me in Italian OR
Sign up for One-On-One Italian Coaching/Tutoring Session
Are you tired of feeling lost in translation with your Italian language skills? Can you understand Italian, but when you speak, you get tongue-tied?
Are you searching for a fun and sympathetic teacher to guide you on your journey to fluency? Look no further because I'm here to help! Let's make learning Italian a blast together.
Whether you are a new student or an advanced one, I am here to help you practice and and improve your Italian.
Now you can schedule a One-on-One Italian Coaching/Tutoring session to receive personalized help and get answers to language questions.
1-hour Chat or Tutoring Session: $50
Package of 5 one-hour Tutoring Sessions: $225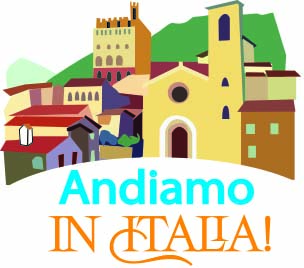 Small Group Italian Language Programs in Italy
Join Melissa and her Italian School Partners in Italy to learn Italian. Perfect for couples or individuals. Open to all language levels. During the mornings, we study at a partner school in classes perfect for your language level. In the afternoons, we go on adventures and excursions. We sink our hands into pasta dough, raise our wine glasses, laugh, dance, and chat the evenings away in Italian with teachers and Italian friends. You will travel with like-minded individuals and make memories and friends to last a lifetime.
Price (without airfare): $4,300-$4,500
Italian Language Homestay Vacations
Live and study in Italy in the Home of an Italian Teacher—locations all over Italy from Milano to Sicilia
Why just visit Italy when you can truly experience it by living with an Italian teacher and immersing yourself in the language and culture through a homestay language vacation? Not only will you receive personalized, one-on-one language instruction, but you'll also get to see the country through the eyes of a local and learn about customs and traditions that you wouldn't discover in a traditional classroom setting. Plus, you'll experience the famous Italian hospitality and maybe even learn some cooking tips from your host!
Perfect opportunity for one or two individuals to visit a city that interests you at a time that fits your travel schedule. Homestays combine formal study with everyday family activities.
Contact Melissa to learn more about the Italian Homestays offered on the Studentessa Matta website. Homestay prices vary depending on the teacher, location, time of year, and hours of lessons.
---
Matta Youtube & Podcast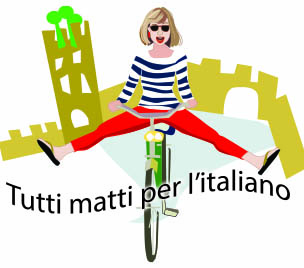 Listening to an Italian podcast is a great way to improve your language skills in a fun and engaging way. Not only will you learn the correct pronunciation and grammar, but you'll also gain insight into the culture and customs of Italy. Plus, speaking Italian will significantly enhance your travel experiences in the beautiful country. Give it a try, you won't regret it!
Listen and follow along with the Italian audio with transcripts found on the Matta blog.
---
---
---
Read the award-winning Dual Language Italian Blog
The Matta Blog is like a box of chocolates… You never know what you are going to get!
Every week on the Matta Blog, are new posts in Italian and English. You will learn about Italian culture, music, art and wine, travel & current events, and tips to learn the language. What could be more rewarding than that "ah-ha!" moment when you realize your language skills are improving by reading a Matta post? Melissa loves it when you leave a comment, too!
Travel to Italy in the pages of Melissa's novels set in Florence, Arezzo, Montepulciano & Sicilia
Take an armchair trip to Italy in the pages of a book! It's fun to immerse in Italian culture and learn the language too! Waking Isabella has been translated into Italian. All books are available on Amazon in Print, ebooks, and audiobooks.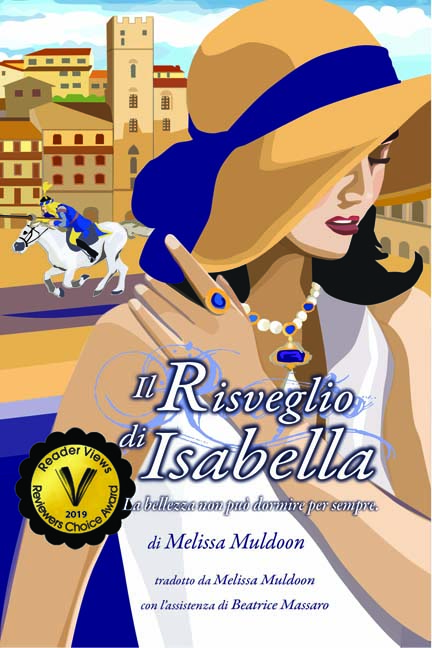 Read "Il Risveglio di
Isabella" in italiano
---
---
Follow Melissa on Twitter
Don't have time to write a novel or even a paragraph in Italian LOL!? Then keep your Italian alive with 280 characters a day. Send a tweet in Italian, and follow along with Melissa as she tweets and reposts unusual bits and pieces of information related to Italy, art, writing, and language learning!
---
---
Follow Melissa on Instagram
Keep up with Melissa's photos, Vocab Memes, reels, and more! As they say, a picture is worth 1000 words!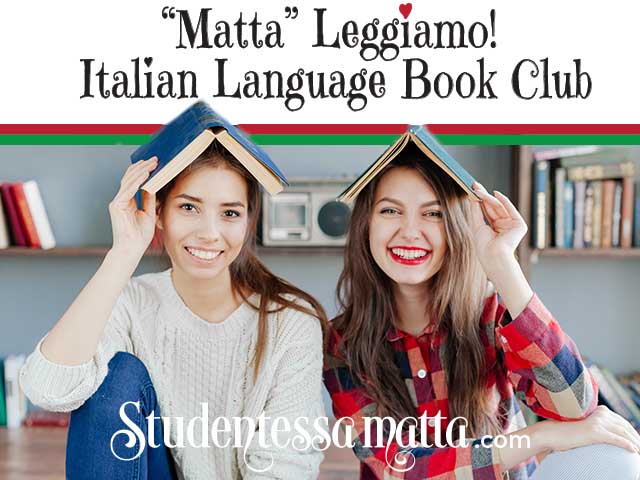 Join the "Matta" Leggiamo Italian Language Book Club!
What a NOVEL idea! Che idea fantastica!
The Matta Italian book club is a group of individuals who come together to read and discuss books written in Italian. The group meets regularly to discuss the book, understand Italian culture and improve Italian language skills. The Matta Book Club aims to have fun, laugh, and learn together while sipping on expresso and munching on a cornetto, and discussing literature in Italiano!
Two Book Club Enrollment Options:

Option 1: Group Book.
Five 1 hour weekly meetings. Offered in the Spring and Fall. Up to 3 individuals per group.

Option 2: One-on-One Individual Book Club.
Five 1 hour weekly meetings. Begin anytime.
---
---
Follow Melissa on the Matta Facebook page
Follow Melissa on the Matta Facebook page, where she posts daily in Italian about current events, memes, and Italian learning tips.
Join the Matta Facebook Conversation Page and jump into Italian conversation with other language learners based on Melissa's prompts during the week.
Or create a discussion topic and comment in Italian. Melissa loves that! The important thing is to participate and practice your Italian!
Experience Italy the Matta Way!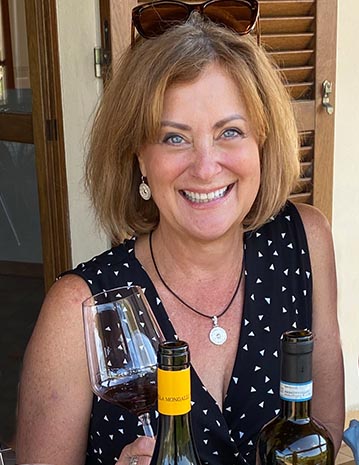 The Matta Italian Language Immersion Programs
Sign up now! Spots are limited.
Latest from the Blog – Dive into Italy and Italian
From the Multi-Award Winning Blog about Culture & Italian Language
---
---
What They're Saying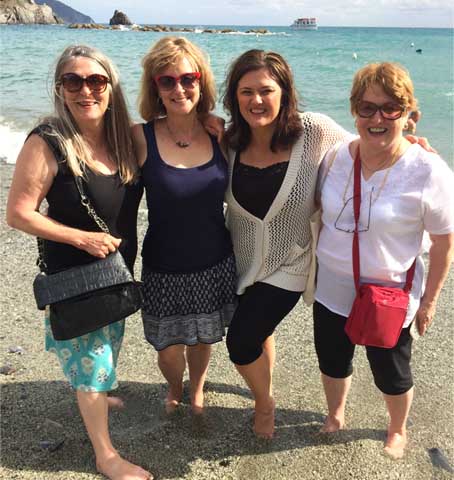 Sheree Isola — 3-time trip participant — talks about her experience in Italy with Melissa!
Bill Bahr — 2-time trip participant — talks about his experience in Italy with Melissa!
Karina Kagramanova, Andiamo in Italia Small Group Language Participant: This was the best trip of my life! From the moment I heard Melissa's podcast, I felt I found my kindred spirit. An incredible woman with infinite love for Italy and the Italian language. This program was worth every cent I spent and even more. Everything was so thoughtful, not only did we have interesting excursions but also trips to bio farm, cooking lessons, and wine tasting. The excursions, views, and dinners were fabulous!
Daniel Bayer, At Home in Italy Italian Homestay Participant: I had a fabulous time staying with Cristina in Trento in September. The opportunity to be fully immersed in Italian from morning to night took my language abilities to an entirely new level. Cristina was wonderful to be with— very friendly, with a wide range of interests (from art to film to sports), and always helpful and supportive with my clumsy attempts to speak Italian. A bonus was that Trento is a great place to stay. It is a lively city in a beautiful location surrounded by mountains, not overwhelmed by tourists, and close to many attractions from Venice and Verona to the Dolomite mountains and Lake Garda. The experience couldn't have been better.