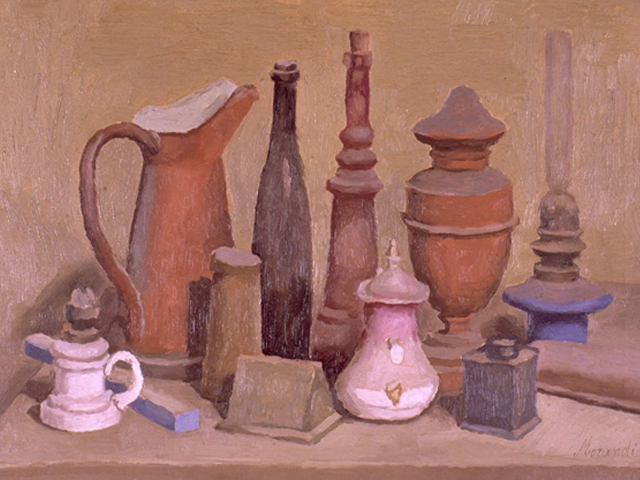 Sono una grafica, ma originariamente volevo essere una storica dell'arte. Mi sono laureata con un Masters in storia dell'Arte e una volta ho preso in considerazione la possibilità di diventare professoressa, per parlare degli artisti e dei movimenti artistici davanti agli studenti in grande aula di un'università famosa. Tuttavia, come per ognuno di noi, la vita spesso prende una svolta inaspettata è cambiamo idea e direzione. Nel mio caso, alla fine ho deciso di creare l'arte invece di parlarne. Sono felice della mia scelta, ma a volte mi manca la possibilità di condividere la mia conoscenza dell'arte con gli altri. Fortunatamente per me, alcuni anni fa, la scuola elementare di mio figlio mi ha chiesto di assumere le responsibilità del programma di arte (F.A.M.E.) per insegnare l'arte ai bambini. Ho accettato l'incarico volentieri. Oggi invece di parlare davanti gli adulti in una sala da conferenze, mi vesto nei panni di Monet or o di Rembrandt, o come una signora raffinata di un dipinto di Gainsborough, per parlare d'arte ad un piccolo gruppo di bambini della scuola elementare!
I am a graphic designer, who originally wanted to be an Art Historian. I graduated with a Masters in Art and once upon a time I considered becoming a professor, in order to lecture about famous artists and art trends in front of students in a great big university hall. However, as for each one of us, life often throws us a curve ball, and we change our minds. In may case I decided to create art, instead of just talking about it. I am happy with my choice, but sometimes I miss the chance to share my Art History knowledge with others. But, about six years ago, when the elementary school that my son attends asked me to be the director of their FAME program to teach art to children, I happily accepted. Today instead of talking in front of adults in a lecture hall, I dress up like Monet or Rembrandt, or a fine lady from one of Gainsborough's paintings and talk about art to a small groups of elementary school children.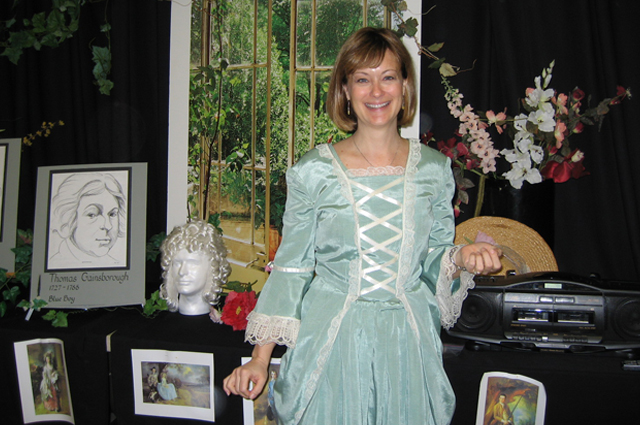 Mi piace parlare d'arte e di tutti i pittori, ma mi dà particolare piacere parlare degli artisti italiani con i ragazzi. Ci sono così tanti artisti italiani famosi, come Michelangelo, Leonardo, Donatello e Piero della Francesca… solo per citarne alcuni dei più conosciuti! Ma ci sono altri artisti italiani, di cui tanta gente non mai sentito una sola parola. Forse sono meno noti, ma secondo me, la loro arte è molto bella e ha persino influenzato il mio stile di pittura.
I love talking about all kinds of art and painters, but it gives me particular pleasure to speak to the kids about the Italian artists. There are so many famous Italian artists such as Michelangelo, Leonardo, Donatello, and Piero della Francesca, just to name some of the big boys! But there are also other Italian artists that perhaps many people haven't even heard of. They may be less well known, but I think their art is quite beautiful and have even influenced my own style of painting.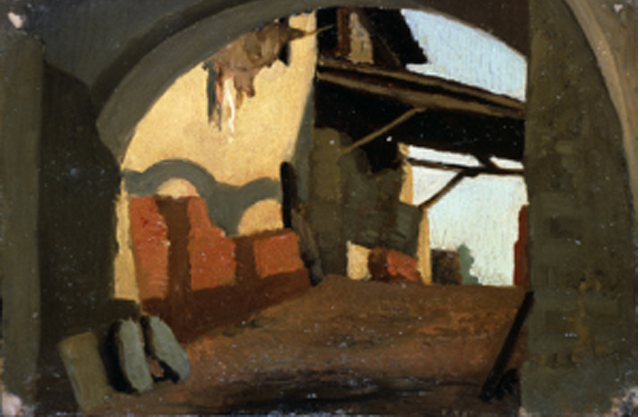 Cominciamo con un gruppo
di pittori che adoro.
Sono "
i macchiaioli

"
Let's begin with a group of painters that I adore.
They are the Macchiaioli.
Cominciamo con un gruppo di pittori che adoro. Sono "i macchiaioli". Al volgere del secolo, questo gruppo di artisti toscani, di Firenze in particolare, dipingeva su piccole tele, ma ha avuto un grande effetto sull'arte del ottocento. Sono chiamati "macchiaioli" perché usavano piccole macchie di colore per creare forme. Come le loro controparti, gli impressionisti di Francia, i Macchiaioli erano interessati a partire dalla natura. Hanno smesso di dipingere nel vecchio stile accademico e hanno scelto invece di catturare la luce, le ombre e i colori naturali, rispettando il mondo reale. I pittori più importanti del gruppo sono Raffaello Sernesi, Vito d'Ancona e Giovanni Fattori. Mi piace la semplicità dello stile dei dipinti e come gli artisti utilizzano le macchie di colore per creare immagini solide e architettoniche. Quando osservo i piccoli dipinti dei Macchiaioli sono sempre impressionata dalla loro semplice bellezza.
At the turn of the century this group of artists from Tuscany, Florence in particular, painted on small canvases but had a big effect on the art of the 18th century. They are called "the Macchiaioli" because they used small spots of color to create their forms. Like their counterparts the Impressionists in France, the Macchiaioli were interested in painting from nature. They stopped painting in the old academic style and chose instead to capture light, shadows, and natural colors in a more authentic observance of the real world. The most notable painters of the group are Raffaello Sernesi, Vito D'Ancona and Giovanni Fattori. I like the simplicity of the painting style and how they use spots of color to create solid images that appear solid and architectural. When I look at the small paintings by the Macchiaioli I am impressed by their simple beauty.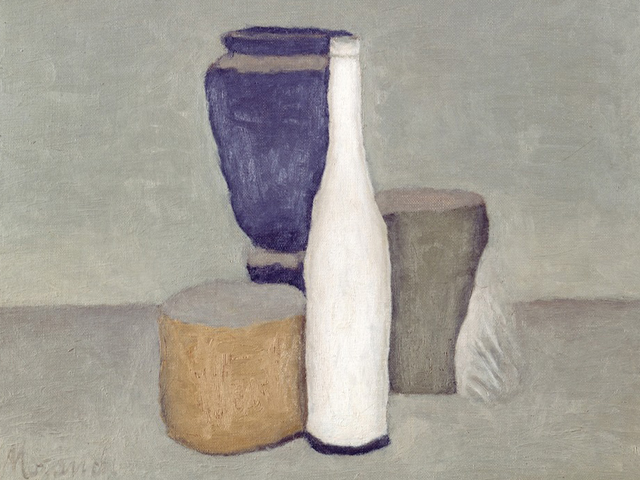 Un altro artista, il cui lavoro trovo davvero unico e serenamente bello, è Giorgio Morandi, un'artista italiano del novecento. In un certo senso c'è qualcosa di simile nello stile di Morandi e dei Macchiaioli. Entrambi mostrano un apprezzamento per la semplicità, la tranquillità e la verità nell'osservazione della natura. Morandi ha detto: "Sono un pittore di natura morta e voglio comunicare un senso di tranquillità e riservatezza, stati d'animo che valgono di più'."
Another artist, whose work that I find truly unique and serenely beautiful is that of Giorgio Morandi, an Italian artist of the twentieth century. In a sense there is something similar in the styles of Morandi and the Macchiaioli. Both show an appreciation for simplicity and tranquility and truth in the observation of nature. Morandi said, "I am a painter of still life and I want to communicate a sense of tranquility and confidence, a state of mind that I am worth more."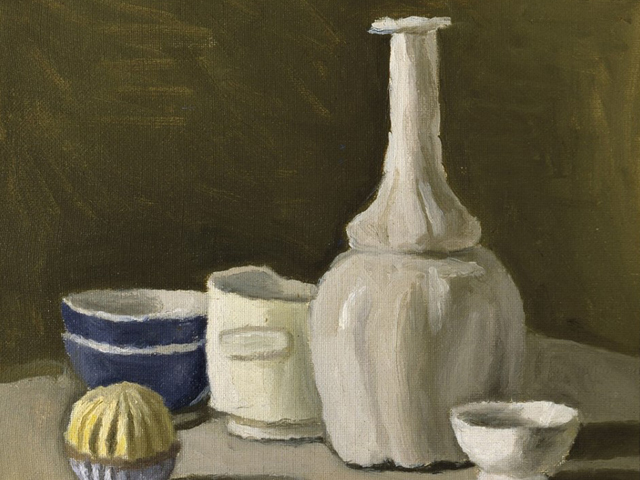 Morandi era un uomo riflessivo e ha concentrato i suoi sforzi artistici sul posizionamento accurato delle bottiglie e dei vari oggetti in modo da poter cogliere i vari angoli interessanti, le superfici e la luce sulle sue tele. Ha descritto il suo metodo in questo modo così: "Poi ci vogliono settimane per sistemare le bottiglie, e ancora sbaglio ancora riguardo ai loro posti. Forse lavoro troppo velocemente?"
Morandi was a thoughtful man and concentrated his artistic efforts on the careful placement and arrangement of bottles and still life objects in order to capture the various interesting angles and surfaces on his canvases. He described his method like this: It sometimes takes weeks to fix the bottles, and still I am wrong with the spaces. Perhaps I'm working too fast?"
Bravo Morandi! Posso imparare una cosa o due da te! Devo rallentare per prendermi un po' di tempo per osservare tutti gli angoli della vita con più attenzione e per apprezzare la bellezza in tutte le cose, grandi e piccole.
Wonderful Morandi. I can learn a thing or two from you…that is to slow down to take the time to concentrate on all the angles and surfaces and appreciate the beauty in all things, large and small.
Ho trovato questi video interessanti. Il primo parla dei Macchiaioli. Spesso gli artisti si incontravano al caffè Michelangelo a Firenze per parlare delle nuove idee e di pittura. Questo video è un'interpretazione di uno dei loro incontri.
I found this great little video that talks about the Macchiaioli. They ofented met for a coffee at the Michelangelo Bar in Florence to chat about their art and ideas on painting techniques. This video is an interpretation of one of their meetings.
Poi c'è' un bel video che mostra l'opera di Morandi. / Here is another wonderful video that show cases the work of Morandi.