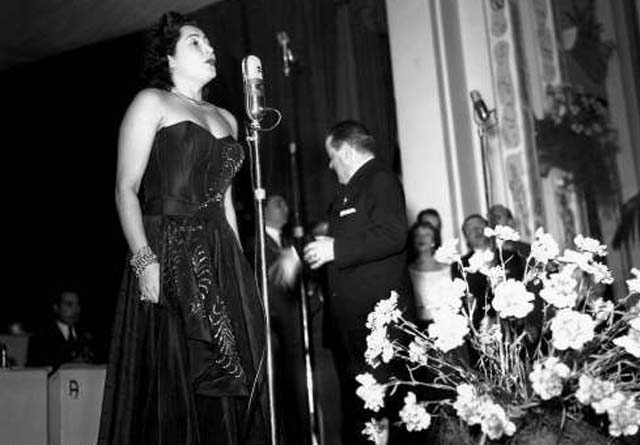 Ultimamente, ho fatto qualche ricerca sull'Italia durante il periodo fascista per un nuovo libro che sto scrivendo. Ho esaminato la musica suonata alla radio italiana durante questo periodo. La mia indagine del periodo mi ha portato in un paio di direzioni molto interessanti.
Lately, I have been doing some research about Italy during the Fascist period for a new book I am currently writing. I have been looking into the music played on Italian radio during this time. My investigation of the period has taken me in a couple of very interesting directions. 
Prima dell'ascesa di Mussolini in Italia nei primi anni '20, dopo la prima guerra mondiale, dominavano le canzoni melodiche. Una notevole influenza sulla musica è arrivata dall'America e da altri paesi europei, prima attraverso brani jazz distribuiti su dischi e cinema.
Before Mussolini's rise in Italy in the early 1920s, after the First World War, melodic songs dominated. A significant influence on music came from America and other European countries, first through jazz tracks distributed on records and the cinema.
Ma con l'ascesa del fascismo in Italia, e una politica nazionalistica è stata incoraggiata, un campo musicale è stato cambiato. Furono imposte restrizioni ai musicisti e l'espressione creativa fu impedita. Gli intrattenitori stranieri furono scoraggiati. Alla radio, le canzoni straniere venivano trasmesse solo se tradotte in italiano e interpretate da un cantante italiano.
But with the rise of Fascism in Italy, and a nationalistic policy was encouraged, a musical field was changed. Restrictions were imposed on musicians, and creative expression was impeded. Foreign entertainers were discouraged. On the radio, foreign songs were transmitted only if translated into Italian and interpreted by an Italian singer.
Il regime di Mussolini incoraggiò la diffusione di canzoni tradizionali e folcloristiche in carattere e stile. La musica del governo fascista era allegra e spensierata, spesso banale e insignificante nel contenuto, il che dava l'impressione che tutto andasse bene e la gente non avesse problemi. Altre canzoni furono scritte appositamente per celebrare il regime di Mussolini e le sue politiche. Promosse l'eroismo, la vittoria e l'invincibilità del soldato italiano.
Mussolini's regime encouraged the spread of traditional and folkloristic songs in character and style. The music of the Fascist government was cheerful and carefree, often banal and insignificant in content, which gave the impression that everything was fine and people had no problems. Other songs were written specifically to celebrate Mussolini's regime and its policies. It promoted heroism, victory, and the invincibility of the Italian soldier.
Alla fine degli anni trenta, Mussolini assunse un controllo autocratico sul cinema, la radio e le manifestazioni culturali in generale alla vigilia della seconda guerra mondiale. L'Ente Italiano per le Audizioni Radiofoniche (EIAR) era l'emittente di servizio pubblico in Italia fascista e l'unica entità autorizzata a trasmettere informazioni alla nazione.
By the end of the 1930s, Mussolini assumed autocratic control over the cinema, radio, and cultural manifestations in general on the eve of World War II. The Ente Italiano per le Audizioni Radiofoniche (EIAR) was the public service broadcaster in Fascist Italy and the only entity permitted to broadcast information to the nation.
Il governo cominciò a condannare e censurare le band popolari italiane come Gorni Kramer, Giuseppe Barzizza (Pippo) e Bixio. Poiché il jazz non aveva origini in Italia, è stato ritenuto "barbaro." Mussolini approvò anche una serie di leggi razziali, negando così l'appartenenza di compositori e musicisti ebrei alle associazioni professionali e artistiche.
The government began to condemn and censor popular Italian swing bands like Gorni Kramer, Giuseppe Barzizza (Pippo), and Bixio. Because jazz didn't have origins in Italy, it was deemed "barbarous." Mussolini also passed a series of racial laws, thus denying Jewish composers and musicians membership in professional and artistic associations.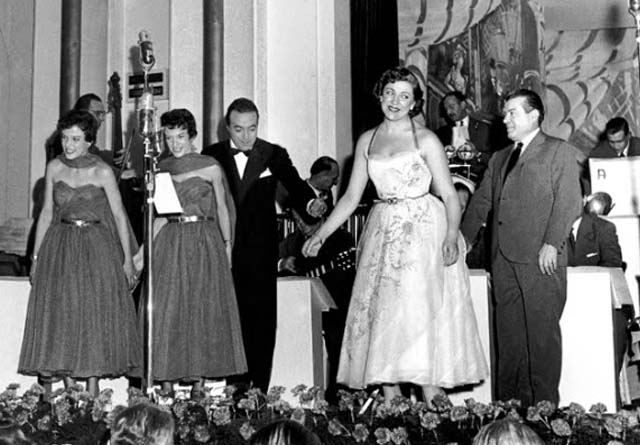 Durante questo periodo, Mussolini proibì anche la cantante italiana Nilla Pizzi, che era stata considerata "la regina della musica italiana." Invece di essere celebrata, è stata trattenuta dal lavoro radiofonico perché pensava che la sua voce fosse troppo "moderna, esotica e sensuale."
During this time, Mussolini also banned the Italian singer Nilla Pizzi, who had been considered "the queen of Italian music." Instead of being celebrated, she was kept from radio work because he thought her voice was too "modern, exotic, and sensual."
L'EIAR fu il mezzo principale per trasmettere propaganda fascista, specialmente durante la guerra d'Etiopia nel 1935-36. I discorsi radiofonici di Benito Mussolini sono stati ascoltati anche da milioni di persone, principalmente affollate nelle strade e nelle piazze, dove il regime ha posto gli oratori per l'ascolto collettivo. Tuttavia, dopo lo scoppio della seconda guerra mondiale nel 1939, l'EIAR iniziò a perdere credibilità. La gente aveva iniziato ad ascoltare Radio London, trasmessa in italiano, anche se erano stati mandati in prigione se catturati sintonizzarsi su trasmissioni radio "nemiche".
The EIAR was the primary means of transmitting fascist propaganda, especially during the Ethiopian War in 1935-36. Benito Mussolini's radio speeches were also heard by millions of people, primarily crowded in the streets and piazzas, where the regime placed the speakers for collective listening. However, after the outbreak of the Second World War in 1939, the EIAR began to lose credence. People had started listening to Radio London, broadcast in Italian, even though they were sent to jail if caught tuning into "enemy" radio broadcasts. 
Nel 1943 si verificò una scissione nell'EIAR, che rifletteva la divisione in due di un paese in guerra, con il Nord controllato dai fascisti nazisti e il centro-sud liberato dagli alleati con l'aiuto dei partigiani. Questa nuova emittente fu trasformata in RAI – Radio Audizioni Italia nel 1944.
In 1943 a split occurred in the EIAR, reflecting the division into two of a country in war, with the North controlled by the Nazi fascists and the center-south freed from the allies with the help of the partisans. This new broadcasting entity was transformed into RAI – Radio Audizioni Italia in 1944.
Dopo la fine della guerra e le restrizioni sono state revocate, la musica italiana è stata ripresa e ha cominciato a prosperare di nuovo in festival come Sanremo. I musicisti precedentemente vietati trovarono di nuovo lavoro e i festival musicali trovarono un nuovo pubblico con l'introduzione delle trasmissioni televisive. Artisti come Renato Carosone "Tu vuo' fa' l'Americano (Vuoi essere americano) e Domenico Modugno, (Nel blu dipinto di blu) sono diventati di gran moda. Nilla Pizzi tornò sul palco e divenne la prima donna a vincere un premio a Sanremo nel 1951 con la sua canzone "Grazie dei Fiori."
After the war ended and restrictions were lifted, Italian music was revived and began to thrive again in festivals like Sanremo. Previously banned musicians found work again, and musical festivals found a new audience with the introduction of television broadcasting. Artists like Renato Carosone "Tu vuo' fa' l'americano (You want to be American) and Domenico Modugno, (Nel blu dipinto di blu) became all the rage. Nilla Pizzi returned to the stage and became the first female to win a prize at Sanremo in 1951 with her song "Grazie dei fiori."