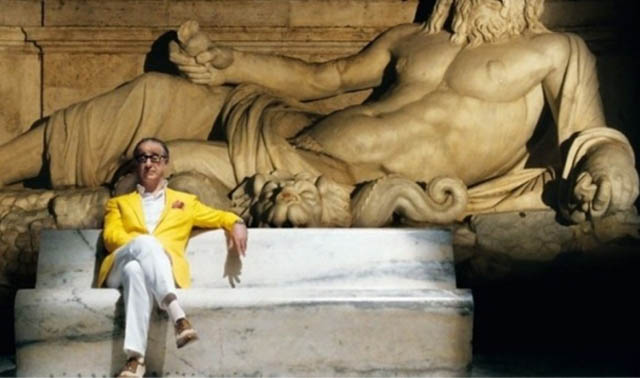 Ieri sera ho avuto il grande piacere di vedere il nuovo
film italiano dal regista Paolo Sorrentino "La grande bellezza."
Last night I had the great pleasure to see the new Italian film by the director Paolo Sorrentino "The Great Beauty".
Dopo averlo visto non mi sorprende che il film abbia vinto il premio Golden Globe come il miglior film straniero ed sia sulla lista dei film nominati per l'Oscar di quest'anno.
After having seen the film it didn't surprise me that it has won the Golden Globe award for best foreign film and it is on the shortlist for this year's Oscar-nominated foreign films.
"La grande bellezza" è un film splendido, riccamente strutturato con immagini insolite, che ci catapulta a Roma e nel mondo degenerato dell'era Berlusconi in Italia. Probabilmente il film può essere paragonato ad altri film che hanno ambiziosamente catturato l'impulso di una generazione italiana, come il film di Roberto Rossellini "Roma città aperta" o l'iconico "La dolce vita" di Federico Fellini. "La grande bellezza" è un film sensazionale. Ogni scena è un momento da incorniciare. Un piccolo piccola opera d'arte. Ma ciò che rende questo come un grande film è che, dopo che i titoli di coda e la colonna sonora sono finiti, stavo ancora metabolizzando il messaggio del film.
"The Great Beauty" is a splendid film, richly textured with unusual images that catapult us into Rome and the debauched world of Berlusconi-era Italy. Arguably the film can be compared to other great films that have ambitiously captured the pulse of an Italian generation, such as Roberto Rossellini's film "Rome, Open City" or Federico Fellini's iconic, "La Dolce Vita". "The Great Beauty" is a visually stunning film. Each scene is a "frameable" moment. A small piece of art. But what marks this as a great film is that long after the credits rolled away and the theme song finished, I was still digesting the film's message.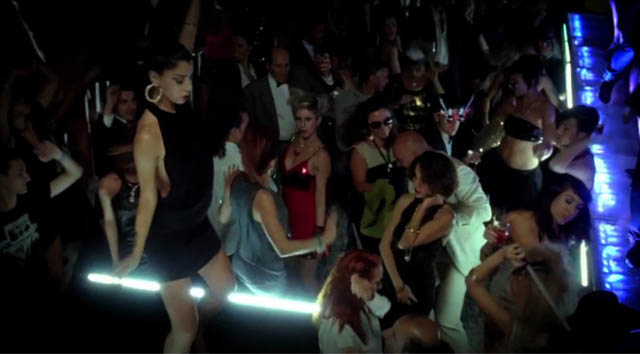 Durante questo film ci sono contrasti. Principalmente il sacro e il profano sbattono continuamente l'uno contro l'altro. Il film inizia con melodie celestiale e belle, cantate da un coro, mentre turisti giapponesi guardano attentamente la bellezza di una fontana romana, un ricordo della magnificenza purissima, che è la quintessenza dell'antica Roma. Poi improvvisamente siamo lanciati in una pulsante, rauca e sfrenata scena di vita notturna di discoteca dove il consumismo, l'arrampicamento sociale e la dissolutezza sembrano le nuove norme del 2013 a Roma.
Throughout this film are contrasts. Mainly, the sacred and the profane continually smash into one another. The film begins with hauntingly beautiful melodies sung by a choir, as Japanese tourists gaze appreciatively upon the beauty of a Roman fountain, a reminder of ancient Rome's quintessential and astonishing magnificence. We are then abruptly flung into a pulsating, raucous, overindulgent disco nightlife scene where consumerism, social climbing, and debauchery seem to be the new standards of 2013 Rome.
Nel centro di questa tempesta di scatenato fervore edonistico, è Jeb Gambardella, un donnaiolo nell'età della pensione che galleggia sulla vita grazie a una fortuna e reputazione ottenute da un unico romanzo scritto poco più che ventenne. Incontriamo Jeb al suo 65˚ compleanno. Lui è l'autoproclamato principe della bella vita. Tuttavia dopo aver appreso della morte di un'amante della sua giovinezza, comincia a riflettere sulla sua vita. L'uomo logoro, vaga per le strade di Roma catturando immagine e cercando un significato nei sorrisi di bambini in un convento, nello scafo marcio della rovesciata Concordia, nel corpo di una spogliarellista che sta invecchiando, nei trucchi di magia, nella giraffe nel cortile, nei fenicotteri sul balcone e sì, anche nella simpatica ciotola di minestrone riscaldata . Ci aggiriamo con Jeb mentre cerca il significato al di là della noia collettiva e del cinismo, "selfies" e auto-adulazione.
In the center of this chaotic storm of unleashed hedonistic fervor, is Jeb Gambardella, a playboy of pensionable age who is coasting on a fortune and reputation made from a single novel written in his twenties. We meet Jeb on his 65th birthday. He is the self-proclaimed Prince of good times. However, after learning of the death of a lover from his youth, he begins to reflect upon his life. The jaded man, wanders the streets of Rome capturing impressions and seeking meaning in the smiling children in a nunnery, the rotting hull of the overturned Concordia, the body of an aging stripper, magic tricks, a giraffe in a courtyard, flamingos on the balcony, and yes, even in a nice bowl of re-heated minestrone. We wander with Jeb as he seeks meaning beyond the collective boredom and cynicism, the "selfies" and self-adulation.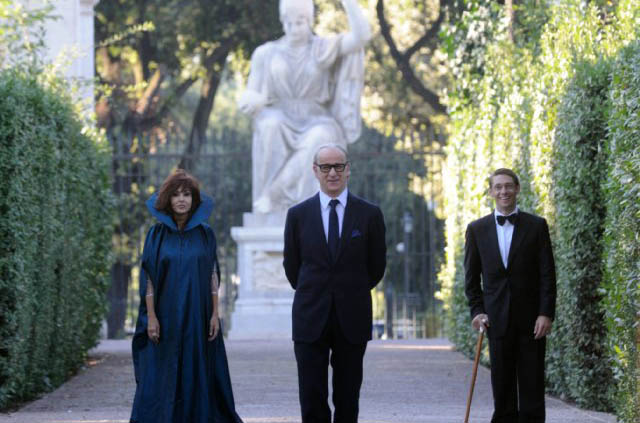 Non posso fare a meno di notare anche i contrasti tra "il vecchio" e "il nuovo" in questo film. In particolare la colonna sonora esalta queste distinzioni con una varietà di stili musicali vecchi e nuovi. Prendete per esempio la seria e tranquilla "Sinfonia in C" di George Bizet paragonata alla vivace "Far l'amore" di Franco Bracardi! L'architettura antica di Roma è anche un ricordo costante di un mondo antico che incontra il design contemporaneo e Jeb stesso è un uomo anziano che si trova alla deriva in un mare di ricordi della sua giovinezza. È un richiamo che la giovinezza alla fine cede il passo alla vecchiaia e alla fine alla morte.
I can't help but note also the contrasts between "old" and "new" in this movie. Notably, the soundtrack heightens these distinctions with a variety of old and new musical styles. Take for instance George Bizet's calming sobrius "Symphony in C Andate" juxtaposed to the lively "Far L'amore" by Franco Bracardi! Rome's ancient architecture is also a constant reminder of the ancient world that meets contemporary design and Jeb himself is an old man set adrift in a sea of memories of his youth. It is a reminder that youth eventually gives way to old age and eventually death.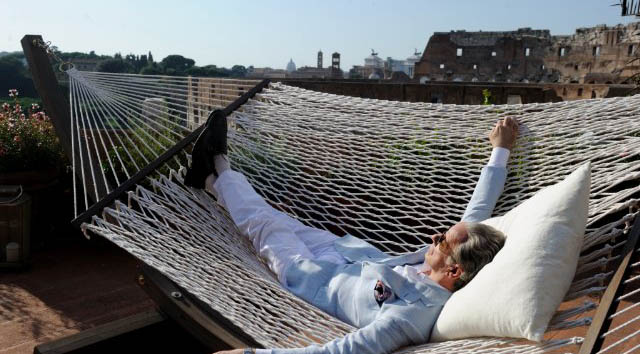 Di rilievo anche è il contrasto tra il degrado della bellezza umana e la bellezza eterna dell'arte e Roma stessa. Gli esseri umani affrontano la progressione inarrestabile del tempo che li priva in ultima analisi, della loro bellezza superficiale. Vediamo scene inquietanti di una stanza piena di persone, tra le quali è una suora, alla ricerca disperata di trattamenti "botox" che spingono via i segni di invecchiamento.
Also notable is the contrast between the degradation of human beauty with that of the eternal beauty of art and Rome itself. Humans are faced with the unstoppable progression of time that ultimately robs them of their superficial beauty. We witness unsettling scenes of a room full of people, among which is a nun, who are desperately seeking "botox" treatments that will stave of the signs of aging.
Allora, qual è la grande bellezza?
So what is the great beauty?
Forse è Roma, che si distingue per la travolgente bellezza artistica. La città antica è l'unica cosa che sopravvive e resiste, mentre la condizione umana e la bellezza umana sono effimere e transitorie. L'arte, a differenza della bellezza umana, non invecchia mai, non muore mai, ma vive in eterno. O forse la grande bellezza è semplicemente la brevità della vita e imparare come invecchiare con grazia, accettare le nostre fragilità umane e apprezzare i piccoli momenti di bellezza che incontriamo tutti i giorni. Ma, dovreste vedere il film a arrivare alle vostre conclusioni.
Perhaps it is Rome, which distinguishes herself by her overwhelming artistic beauty. The ancient city is the one thing that survives and endures, whereas the human condition and human beauty are ephemeral and fleeting. Art unlike human beauty never grows old, never dies but lives into perpetuity. Or perhaps the great beauty is the brevity of life itself and learning how to grow old gracefully, accepting our human frailties, and appreciating the small corners of beauty that we encounter every day. But, you must see the film and come to your own conclusions.