Designer Scarves Featuring Piazza Grande in Arezzo, Italy!
Now Available for purchase directly
on the Studentessa Matta site!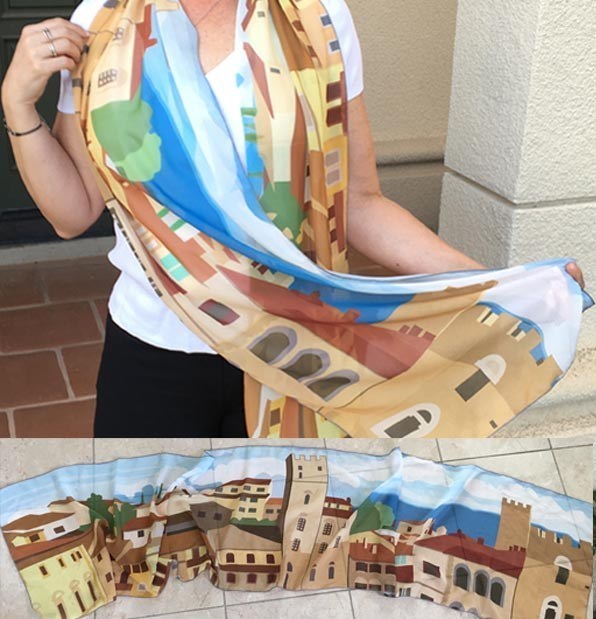 Now you can purchase my originally
illustrated Arezzo scarves right here
on the Studentessa Matta website.
The illustration was created for the
book cover of my novel "Waking Isabella"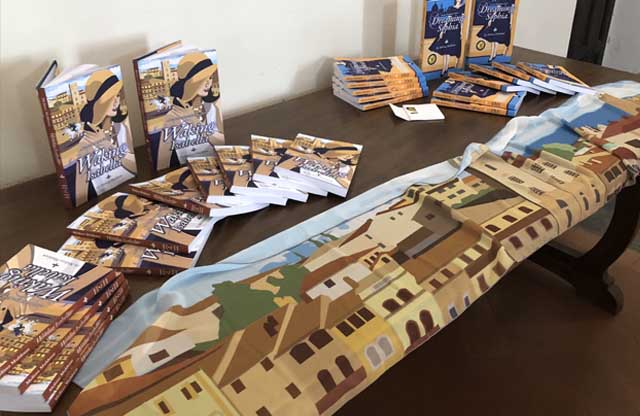 I'm pleased to now offer the illustration in scarf form
printed on Eco-Friendly, Ethically Made, High-Quality Product,
Produced by the Knotty Tie Company, in the US.
Each scarf is soft and silky with vibrantly printed colors that are reminiscent of the warm tones of the buildings that grace the Piazza Grande in Arezzo. Each scarf comes in an environmentally friendly gift box.
Cost of each Scarf: $30
$6.50 Shipping, Handling & tax will be added automatically to U.S. orders by Paypal.
Place a Domestic PayPal Order
---
---
Arezzo Scarves will also soon be sold in
Arezzo, Italy through Arezzo InTour Tourism Board
Place an International PayPal Order
Shipping, & tax to Europe is $30 USD and will be added automatically by Paypal
If you have questions about your order or about delivery times,
please send inquiries to Melissa@StudentessaMatta.com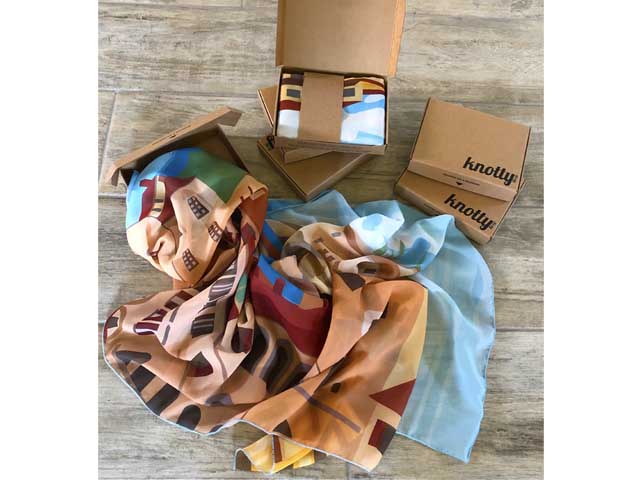 The fabric used in the scarves is specially milled for a silk-like feel, superior print quality, and product durability. Designs are printed to fabrics, then cut and sewn into finely finished products.
Knotty Tie is pioneering environmentally-responsible production practices. All scarves are made in small-batch manufacturing with intense attention to detail using advanced textile printing on sustainable fabrics to reduce waste and environmental impact.
Knotty Tie Co. was built to create dignified employment opportunities for resettled refugees. At Knotty Tie, they know that refugees are not a burden; in fact, refugees have an abundance of skills that are in short supply in our country and their abilities have a positive impact on our lives, business, economy, and community. Even more simply put; At Knotty Tie Co. they care about others and they honor the dignity of humans.