Ho preparato un piccolo omaggio per i lettori del blog! Un Giveaway!
Vorrei regalare DUE 2018 Waking Isabella Calendari ai lettori del blog.
I would like to give away two 2018 Waking Isabella Calenders to Matta blog readers.
Il calendario mostra immagini di Arezzo che io ho fatto durante i miei soggiorni lì e le immagini
sono rappresentative dei luoghi che sono presenti nel mio nuovo libro ambientato ad Arezzo.
The calendar features images of Arezzo that I took during my stays there and the
images are representative of places that are featured in my new book set in Arezzo.
Arezzo è incantevole! Non vedo l'ora di tornarci a settembre. Per il programma ad Arezzo di Language Immersion che organizza con Paola Testi della scuola Cultura Italiana ci sono ancora posti. Se volete più informazione e per saperne di più contattarmi a: melissa@studentessamatta.com.
Arezzo is a charming town! I can't wait to return in September. For the Arezzo Program of Language Immersion that I am organizing with Paola Testi of Cultura Italian Italian Language School there are still spots available. If you would like more information and want to learn more contact me at: melissa@studentessamatta.com.
Se volete partecipare al concorso, scrivete i dettagli sul Rafflecopter.
You can enter to win a calendar by filling in the Raffecopter Giveaway.
Also please leave a comment on this blog post saying "Ciao!"
I love hearing from readers.
There are more opportunities to win if you tweet a
message about the contest (extra 3 points)
I invite you also to visit and LIKE the Studentessa Matta
Facebook Page (extra 5 points)
UPDATE: The Contest has ended &
2 WINNERS have been selected.
Winners have been notified via email.
Thanks to everyone who participated!
a Rafflecopter giveaway
Per leggere il libro ecco il link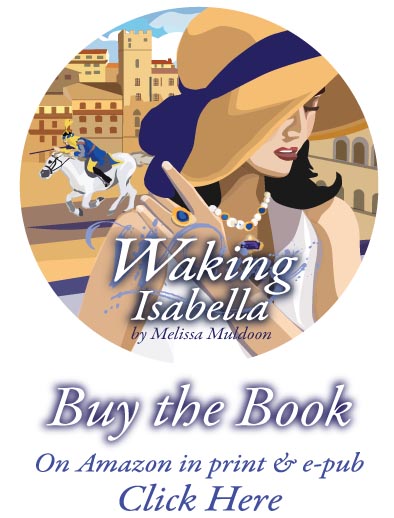 If you liked this post you might like these too:
2018 Matta & Cultura Program in Arezzo
Novels about Italy by Melissa Muldoon
Con Antico Ardore 2017:  Giostra – Joust in Arezzo
Please follow and like us: