A Roma si può vedere un po' di tutto! È una città grande e vivace che è letteralmente stratificata di storia e d'arte. Ciò che la rende estremamente interessante è che riesce a coniugare la tradizione con l'arte contemporanea, in un contrasto estremamente piacevole. Camminando lungo una strada, si può incontrare un antico manufatto romano che sporge dal terreno ed è anche possibile guardare nella finestra di una piccola galleria a vedere gioielli fatti a mano e la moda moderna.
In Rome, you can see it all! It is a large, bustling city that is layered in history and art. But, what makes it extremely interesting is that it manages to combine tradition with contemporary arts, in an extremely pleasant juxtaposition. Walking down a street you are as likely to encounter an ancient Roman artifact protruding out of the ground as you are to gaze into the window of a small boutique and see artistically handcrafted jewelry and modern fashions!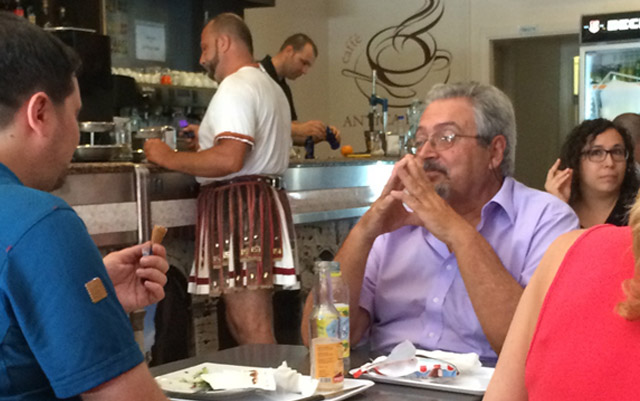 Durante il mio recente viaggio a Roma ho soggiornato a pochi passi dal Colosseo in Via Celemontana. L'appartamento era in un ottimo angolo della città e mi è piaciuto il mio quartiere dove a pranzo potevo sedermi con gli impiegati della zona e sorseggiare un caffè al bar con centurioni romani in costumi che facevano foto con i turisti intorno al Colosseo. Lavoro duro ma qualcuno deve pur farlo! Il mio appartamento era anche vicino alla basilica di S. Clemente, che è stato costruito dove precedentemente vi era un tempio pagano. Scendendo in profondità nel seminterrato della chiesa si possono trovare i resti della fondazione di un edificio dell'era repubblicana, forse potrebbe essere stato distrutto nel grande incendio di 64!
During my recent trip to Rome, I stayed just around the corner from the Colosseum on Via Celemontana. My apartment was in a great location and I loved my little neighborhood, where at lunch I could sit with local office workers and sip coffee at the bar with Roman centurions who work for the tourist crowd at the Colosseum. Tough work but someone's got to do it! My apartment was also just around the corner from the basilica of S. Clemente, which was built on top of a pagan temple. Descending deep into the church's basement you can find remnants of the foundation of a possibly republican era building that might have been destroyed in the Great Fire of 64!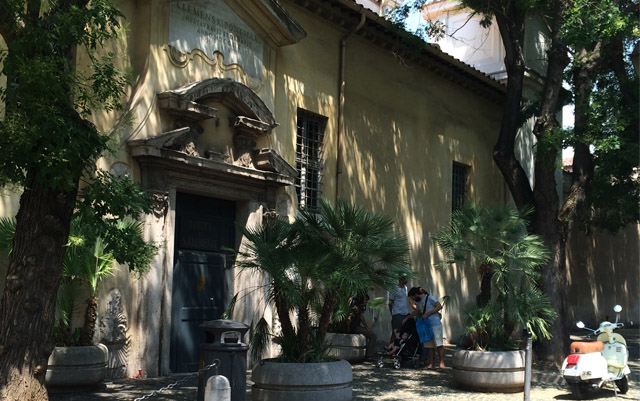 Un pomeriggio, mentre facevo passeggiata intorno al mio quartiere, andando nella direzione della suggestiva basilica di San Giovanni di Laterano al fondo della strada, ho visto per caso un piccola galleria d'arte da altra parte della strada di S Clemente.
One afternoon, as I was walking around my neighborhood, headed in the direction of the impressive basilica of San Giovanni in Laterano at the end of the street, I chanced upon a small art gallery just across the street from S. Clemente.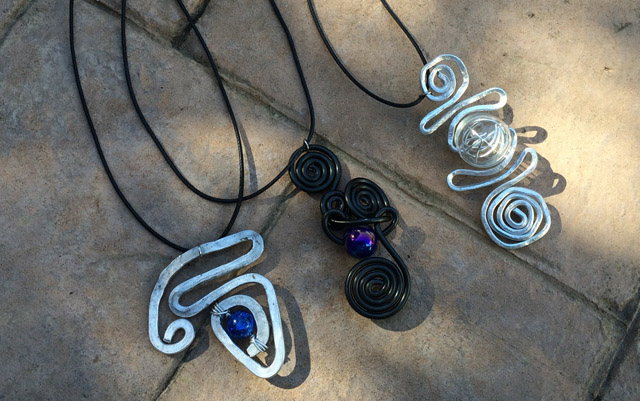 All'inizio sono stata attratta al negozio dall'incantevole assortimento di gioielli fatti a mano che erano esposti in vetrina. Alzando il mio sguardo per guardare dentro la galleria ho scoperto il viso sorridente e benevole del Papa!
I was first drawn to the shop first by the enchanting assortment of handmade jewelry that was featured in the window. Gazing up from the interesting modern jewelry, I found I was looking into the benevolently smiling face of the Pope!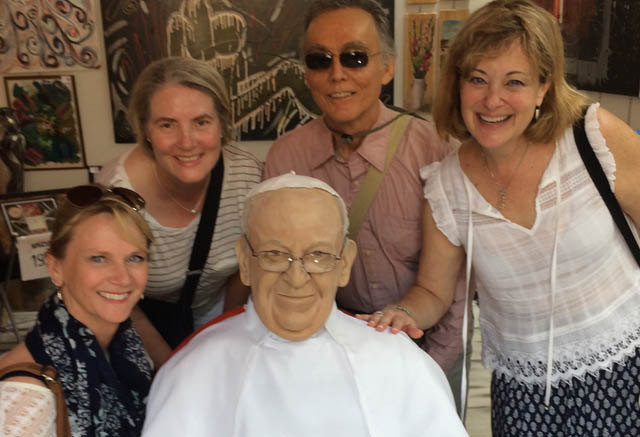 Era una scultura, una replica del Papa fatta a mano, ma vi devo ammettere che sembrava vera!
It was a life-like handmade replica, but still, I have to admit that I did a little double-take just the same!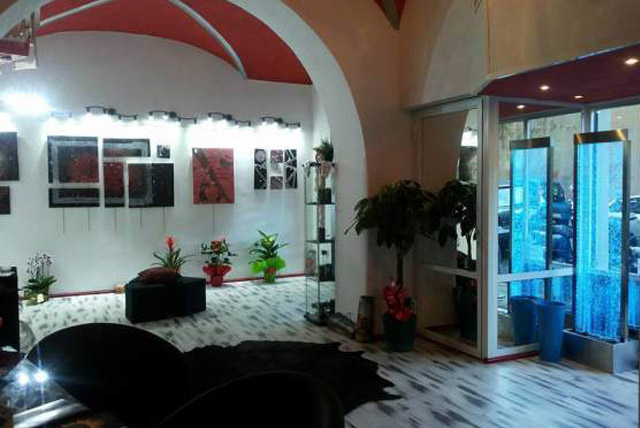 La galleria d'arte si chiama Imperiam Artis nata dall'idea della Dottoressa Valeria Di Pofi. Naturalmente non potevo resistere dall'acquistare una collana unica fatta di alluminio e gioielli in pietre e ceramica. La decisione di comprarmene uno (o forse tre) non è stata difficile. I pezzi sono tutti a prezzi ragionevoli. La parte difficile è stata scegliere i disegni. Penso che sarà necessario tornare a questa galleria la prossima volta che mi trovo a Roma. Se siete nel quartiere di S. Giovanni in Laterano, vi consiglio di fermarvi per dare un'occhiata nella galleria, per fare una chiacchierata con gli artisti che lavorano lì e per godervi la fusione di vecchio con il nuovo…e anche per salutare il Papa!
The art gallery is called Imperiam Artis and is the idea of Dotteressa Valeria Di Pofi. Of course, I purchased a few pieces, which were all quite reasonably priced. The decision to purchase one of the pieces (or maybe three) was not difficult. The hard part was choosing between all the fabulous designs. I think I will have to return to this gallery the next time I'm in Rome. If you are in the neighborhood of the S. Giovanni in Laterano, I encourage you to also stop in and take a look around the gallery and chat with the artists who work there and enjoy the blending of old with the new… and also to say hello to the Pope!!