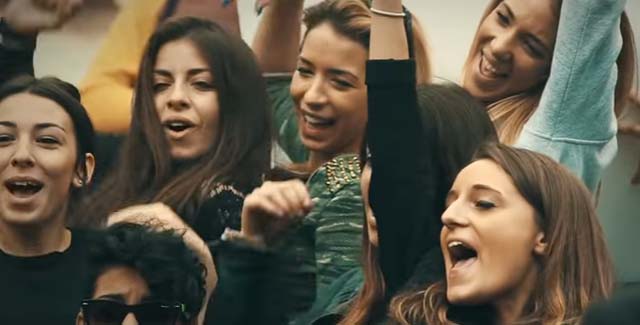 Oggi vi parlo del singolo di Ligabue intitolato: "Tu sei lei". È una canzone melodica e orecchiabile. Il brano è uscita nel 2013. Contemporaneamente, un video clip è stato pubblicato sul canale youtube del cantante. Il video, registrato da Cosimo Alemà rappresenta due fotografi che fermano e fotografano centinaia di donne a Roma, per poi creare un collage che compone la parola "lei".
Today I want to talk to you about Ligabue's single titled: "Tu sei lei". It is a melodic and catchy little song. The single came out in 2013. At the same time, a video clip was published on the singer's youtube channel. The video, directed by Cosimo Alemà depicts two photographers that stop and shot hundreds of women all over Rome, and then create a collage that spells out the word "lei".
I protagonisti del video sono due ragazzi. Uno è l'attore Cristiano Caccamo, che si può vedere più recentemente nei panni di Quinto, un magazziniere nella serie televisiva ispirata al romanzo di Zola "Il Paradiso delle Signore". L'altro'uomo è un vero fotografo, Lorenzo Piermattei.
The protagonists of the film are two young men. One is the actor Cristiano Caccamo, who you can see more recently in the role of Quinto, a warehouse worker in the television series inspired by Zola's novel "Il Paradiso delle Signore". The other man is a real photographer, Lorenzo Piermattei.
Il video è molto spontaneo e infatti i due ragazzi hanno fermato delle vere donne Romane per strada e spiegato loro le intenzioni del progetto. Le foto scattate, messe insieme, vanno a formare la parola LEI in una sorta di dedicazione a tutte le donne. Non a caso il video è stato presentato prima proprio in occasione della giornata internazionale contro la violenza sulle donne.
The video is very spontaneous and in fact, the two young men stopped real Roman women on the street and explained their intentions for the project. The pictures put together, form the word "LEI" (Her) in a kind of dedication to all women. It is not by chance the video was published on the occasion of International Women's Day as a statement against the violence of women.
Se volete acquistare il brano e tutto l'album Mondovisione ecco il link di iTunes
Ecco il link al sito ufficiale di Ligabue
Buon ascolto!
Dopo tutti questi anni
io non smetto di guardarti
qualche volta ancora a bocca aperta
non finisco di capire
non finisci di stupire
come non dovesse mai finire
Vuoi nascondermi i difetti
mentre a me piacciono tutti
ma non te lo vuoi sentire dire
E ti guardo mentre sogni
e mi tocca stare fuori
e mi tocca solo indovinare
Dopo tanti anni e un giorno
quando il mare sembra calmo
vieni fuori ancora tu
con quel nome da straniera
da chi è sempre stata sola
e da un po' non deve più
Tu sei lei
tu sei lei
fra cosi tanta gente
tu sei lei
tu sei lei
e lo sei stata sempre
E quegli occhi li conosco
io li ho visti spesso nudi
ma non si vedeva mai la fine
il tuo cuore accelerato
le pupille dilatate
e non mi restituisci il cuore
Dopo tanti anni e un giorno
quando il vento sembra fermo
vieni fuori sempre tu
con quel nome da straniera
da chi riesce a stare sola
ma da un po' non deve più
Tu sei lei
tu sei lei
fra cosi tanta gente
tu sei lei
tu sei lei
e lo sei stata sempre
sei l'universo intero
ci ha fatto rincontrare
qualcosa di sicuro vorrà dire
tu sei lei
come sei
inesorabilmente
E mi hai salvato tante volte
da qualche tipo di altra morte
andando dritta sulla verità
e mi regali un altro giorno
in cui sembra tutto fermo
ma tutto si trasforma
tutto si conferma
e lasci il tuo profumo
come a dirmi 'io ci sono'