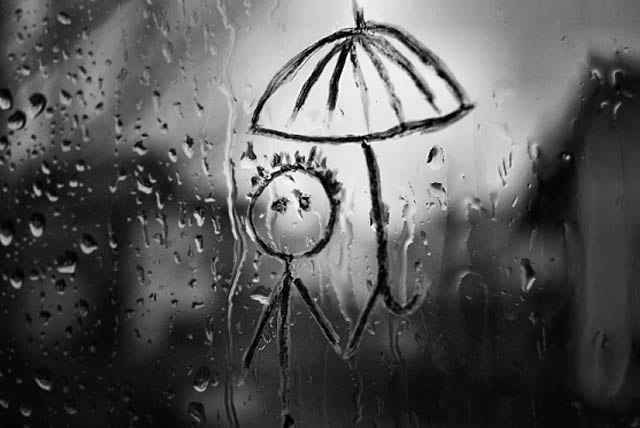 Alleluia! Piove "Mems"! (Ho detto che sta piovendo "Mems" non "gli uomini"). Mi sembra che sta anche piovendo un sacco dei programmi gratuiti per l'apprendimento delle lingue, e questo secondo me non è una previsione cattiva affatto! Di recente ho scoperto Duolingo e questo mese ho scoperto il sito di Memrise. Nel programma di Duolingo ho scalato l'albero di apprendimento fino alla cima e sto avvicinando velocemente al livello 25 (credo che sia il massimo che si può fare) così sono felice come una pasqua per avere alcuni nuovi programmi per provare.
Hallelujah! It's raining "Mems"! (I said it's raining "Mems" not "Men".) It also seems to be raining lots of FREE language learning programs, which isn't such a bad forecast at all! Recently I discovered Duolingo this month I discovered another free program called Memrise. I have worked my way up the Duolingo learning tree and am fast approaching level 25 (which I think is the highest you can go) so am happy as a clam to have some new programs to play around with.
Ho provato Memrise e penso che abbia alcune caratteristiche interessanti. Entrambi Duolingo e Memrise soddisfano la nostra natura competitiva. Gli inventori hanno creato programmi che incorporano vari aspetti dei video giochi, come un sistemo di punti, classifiche, esercizi cronometrati, premi, trofei, fanfare di musica e sfide speciali, tutto per darci un senso di un punto d'arrivo e di progresso.
I took Memrise out for a test drive today and think it has some interesting features. Both Duolingo and Memrise cater to our competitive natures. The inventors have created programs that incorporate various aspects of gaming, such as point systems, leaderboards, timed exercises, prizes, trophies, fanfares of music, and special challenges, all to give you a sense of accomplishment and progress.
Memrise a differenza a Duolingo utilizza flashcard e mnemonici per rendere le parole più memorabili. L' idea è quella di "coltivare e innaffiare" (plant and water) i semi della conoscenza usando una sistema di ripetizione e "immagini per ricordare". Infatti la gente a Memrise sono molto orgogliosi della scienza che sta dietro il loro programma di memoria e da quello che io posso supporre hanno una buona conoscenza come costruire gli algoritmi che costantemente stimolano i tuoi ricordi in modi diversi. Dicono: "Per imparare qualcosa, bisogna prima collegarlo a quello che già sai. I ricordi non vengono memorizzati da nessuna parte, si sa, sono sempre fatte con la creazione di connessioni a memorie esistenti. Il più il tuo cervello fa per codificare un fatto o una parola ("codificare" è una parola di fantasia per fare una connessione o un'associazione con quello che già sai), il più ricca e più robusta la memoria risultante"
Memrise, unlike Duolingo uses flashcards and mnemonics to make words more memorable. The idea is to "plant and water" the seeds of knowledge through repetition and memory devices. In fact, the folks at Memrise are very proud of the science behind their memory program, and from what I can tell they seem to have a good grasp on how to build algorithms that constantly stimulate your memories in different ways. They say: "In order to learn anything, you first have to connect it to what you already know. Memories aren't stored anywhere, you know, they're always made by creating connections to existing memories. Now, the more your brain does encode a fact or word ["encode" is a fancy word for connecting or associate with what you already know], the richer and more robust the resultant memory."
Secondo me, utilizzando le "mem" può essere molto utile nell'apprendimento di una lingua e quelle che funzionano meglio, sono quelle che stimolano i propri sensi, le immaginazioni e le emozioni. Guarda sopra la mem che ho fatto per ricordare la parola "figo" (che vuole dire "alla moda") che ho scaricato al sito di Memorise.
I myself think mems can be a very useful part of learning and those that work best are ones that stimulate your own personal senses, imagination, and emotions. Look at the mem I made above to learn the word "figo" (which means "cool" as in hip and happening) that I uploaded to the Memorise site.
Ecco alcune altre mem che uso per per ricordare queste parole italiane:
Here are some other mems I use to remember Italian words:
Capelli (hair) – penso alle doppie "L's" nella parola "capelli" come due ciocche di capelli.
Capelli (hair) – I think of the double "L's" in the word "capelli" as two strands of hair.
…da non confondere con:
…not to be confused with:
Cappello (hat) – penso alle doppie "P's" nella parola "cappello" come due piccole orecchie che devono essere coperte dal cappello per tenerle calde
Cappello (hat) – I think of the to "Ps" in the word "cappello" as two little ears that need to be covered by the hat to be kept warm
…e per la parola
…and for the word
"Coltello" (knife) – penso a un cowboy che tiene un coltello davanti a un cavallo e dice: "Colt Hello!"
"Coltello" (knife) – I think of a cowboy holding a knife up to a horse sayings "Colt Hello!"
"Uccello" (bird) – penso a un uccello in una gabbia che oscilla sopra un violoncello
"Uccello" (bird) – I think of a bird in a cage swinging over a cello
"Mazzo di fiori" (bouquet of flowers) – penso che l'ultimo "o" in "mazzo" come l'apertura del vaso in cui metterò i fiori. Questo è anche un buon modo per ricordare le differenze tra "mazzo (bouquet) e "mazza" (club o bat)
"Mazzo di fiori" (bouquet of flowers) – I think of the last "o" in "mazzo" as the opening of the vase in which I will put the flowers. This is also a good way to remember the differences between "mazzo" (bouquet) and "mazza" (club or bat).
La più sciocche o più strane queste associazioni sono, il meglio lo è. Ma, è anche importante notare che la mia "mem" forse non sarà adatta per voi. Quindi, un aspetto particolare del sito di Memrise è che è una comunità di "mem-maker". Potete fare le vostre proprie mem e condividere con la comunità o potete trovare mem che altre persone hanno disegnato che vi adattano e vi aiutano a ricordare meglio. Se volete esercitare il vocabolario ho usato nel post La Basilica di Santa Caterina potete rivolgervi al "Memrise Course" I created called "Matta Parola".
The sillier and more weird these memory associations are, the better. But, it is also important to note that my "mem" might not be the "mem" for you! So, a nice aspect of the Memrise site, is that it is a community of "mem-makers". You can make your own mems and share with the community or find mems that other people have created that suit you and help you to better remember. If you want to practice some of the VOCABOLARIO found in this blog post I wrote about La Basilica di Santa Caterina you can view the "Memrise Course" I created called "Matta Parola"
Dopo giocando al sito per alcune ore questo pomeriggio, penso che Memrise sia un programma con potenziale. La grafica sono buone e le registrazioni non sono così meccanica, come nel programma di Duolingo. Sembra essere un programma solido che sarà utile a principianti, dando a loro la possibilità di rinforzare nuovi vocabolario e frasi semplici. Credo che i più esperti però sarà un po' annoiati. Ho cercato lezioni più avanzati, ma non ne ho trovato alcune, quindi ne ho fatto uno. La pratica si rende perfetta e ho bisogno sempre di rafforzare nuovo vocabolario, ed è sempre più divertente imparare quando si sta giocando un gioco.
After monkeying around with the site for a couple of hours this afternoon, I think the Memrise program has great potential. The graphics are good and recordings are not as mechanical sounding as in the Duolingo program. It seems to be a solid program that will be beneficial to newbies, giving them a chance to beef up new vocabulary and simple phrases. I think advanced learners, however, will be a bit bored. I searched for advanced Italian lessons but couldn't find any, so I made one of my own. After all, practice makes perfect and I can always reinforce new vocabulary and plus, it's always more fun to learn when you are playing around!

Prendete una pausa e date un'occhiata a Memrise e fammi sapere che ne pensate. Siete fan di Duolino o preferite di essere  creatori di mem?
Take a look at Memrise and let me know your thoughts.
p.s. Scommetto che dopo aver letto questo post potete ricordare bene la parola "mnemonics" e che farete una connessione tra la parola e la canzone "It's Raining Men" dalle Weather Girls! Prego! 🙂
p.s. I bet after reading this post you will remember the word "mnemonics" and that you will make a connection between it and the song "It's Raining Men" by the Weather Girls! Your welcome! 🙂