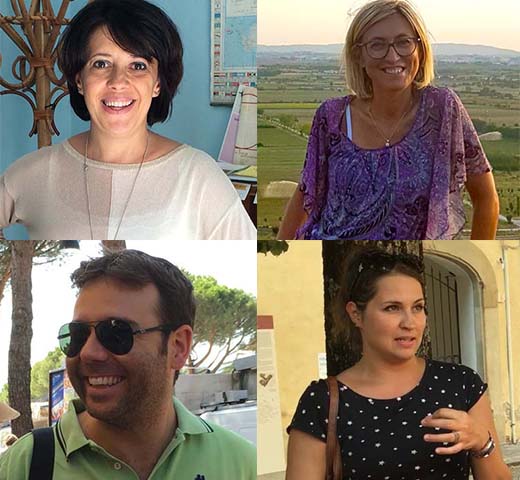 It's been a while—13 months in fact—since I last made a video in Italian! Time flies when you are busy publishing a novel, producing Audiobooks, and waiting out the pandemic. But, now after a year, as things begin to sort themselves out and travel seems possible again I thought I'd brush off my video camera and share with you some highlights of this year's upcoming Italian language immersion program in Arezzo scheduled for September 2021. I plan to move forward, and as long as we are healthy and have the green light for travel I will meet you in the piazzas of Lucca and Arezzo this coming September!
To whet your appetite here is a short video in which my friends in Arezzo share a few of their favorite things about their city.
Below are the transcripts in Italian and English for this little video… so settle back and have a listen and ENJOY!
Ciao a tutti! Sono Melissa la Studentessa Matta! Sono contenta che tu sia qui con me e che tu stia imparando l'italiano.
Spero che tu stia bene nonostante la pandemia e che tra poco possiamo viaggiare e tornare in Italia. Sono pronta di andarci e ho due programma in lavorazione a settembre per studiare ad Arezzo e a Lucca.
Oggi con l'aiuto degli amici ad Arezzo vorrei condividere le cose che loro trovano affascinanti della loro città. Puoi leggere il testo sul sito StudentessaMatta. Non dimenticare di iscriverti sul blog. Allora siete pronti? Andiamo!
Hello everyone! I'm Melissa the Crazy Student! I am happy that you are here with me and that you are learning Italian. I hope you are healthy and fine despite the pandemic and soon we can in Italy. I'm ready to go back and I have two programs in progress in September to study in Arezzo and Lucca.
Today with friends in Arezzo I would like to share some of the most beautiful things about their city. You can read the text on the StudenessaMatta website. Don't forget to join the blog.
So are you ready? Here we go! Andiamo.
Vi racconto spesso le cose che mi piacciono di Arezzo, la città collinare toscana e le ragioni per cui continuo a tornarci. Condivido spesso le immagini e le esperienze che ho avuto lì. Ho anche scritto un libro ambientato ad Arezzo. Questa volta, però, ho pensato che sarebbe stato divertente chiedere ad alcuni miei amici che vivono ad Arezzo le cose gli piacciono di più della loro città.
I often tell you the things I like about Arezzo, the Tuscan hill town, and the reasons why I keep going back. I often share images and the experiences I have had there. I even wrote a book set in Arezzo. This time, however, I thought it would be fun to ask some of my friends who live in Arezzo about the things they like best about their city.
Quindi ho chiesto a quattro amici — Debora, Roberto, Paola e Monica, di darmi alcune risposte. Certo, si è stato abbastanza difficile limitarsi a solo due o tre cose. Gli amici mi hanno risposto in Italiano ecco quello che hanno detto.
So, I asked four friends, Debora, Roberto, Paola, and Monica, to give a couple of answers. Of course, it proved quite difficult to limit themselves to just two or three things. My friends responded to me in Italian… here's what they had to say.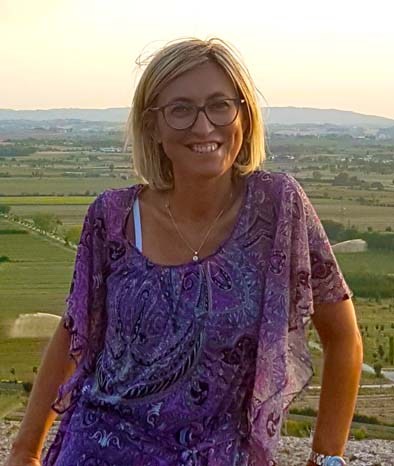 Cominciamo con Debora Bresciani– Guida turistica di Arezzo e la provincia. Debora mi dice: Mi piace passeggiare per il centro storico tra angoli che percorrono secoli di storia, dal periodo etrusco, romano al rinascimentale.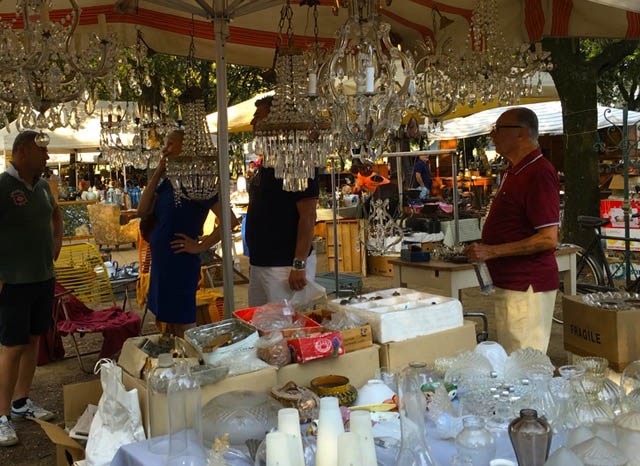 Poi una delle cose intrigante e tutte le prime domeniche del mese si svolge nelle vie del centro la Fiera dell'Antiquaria dove si possono trovare gli oggetti antichi più svariati che ti portano indietro nel tempo.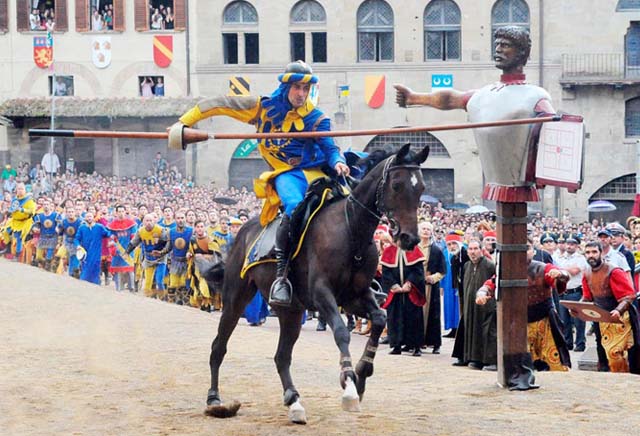 Un'altra cosa molto bello è a giugno e a settembre la città si colora e si prepara per l'evento della giostra del Saracino che riunisce ma anche divide gli abitanti in base al quartiere di appartenenza.
Chiaramente parlando della mia città e provincia non posso tralasciare le specialità enogastronomiche: crostini di vari tipi, pasta fatta in casa, ribollita, pappa al pomodoro, bistecca chianina, porchetta e dolci tipici—tutto accompagnato da del buono vino e vinsanto!
Roberto Bondi è un Insegnante alla scuola Cultura Italiana mi dice che a lui piacciono: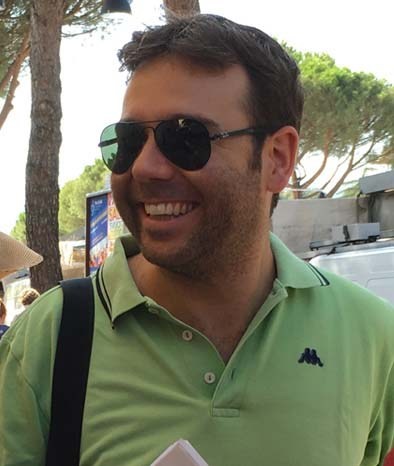 Pici al fumo, La musica che si sente sempre da piazza grande ad Arezzo, Libri antichi della fiera antiquaria. Bravo! Roberto ti piace leggere davvero!
E adesso c'è Monica Brizzi, anche un'insegnante alla scuola Cultura Italiana. Lei dice che le piacciono le notti d'estate: le passeggiate per Corso Italia, le risate, il gelato, il cielo stellato visto dal Prato… le chiese, in particolare il Duomo, come si impone, la sua bellezza da qualunque angolo si raggiunga.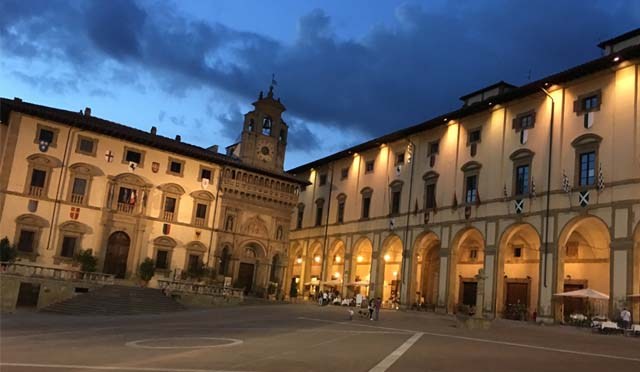 Le piace anche la Piazza Grande baciata dal sole, la forma e i palazzi che la contengono, la storia che racconta a ogni passo.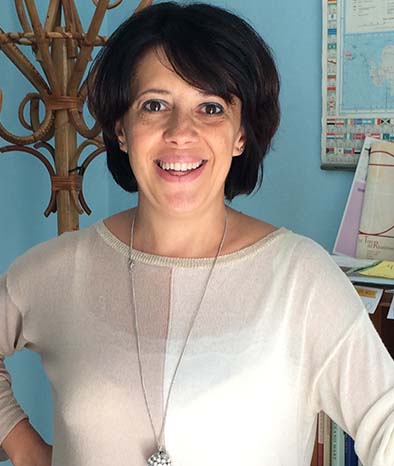 Paola Testi – la mia collaboratrice e la direttrice di Cultura Italiana mi dice che le piace molto la via San Niccolò della Minerva vicino a piazza Grande. Pensa che sia bellissima in primavera con i glicini in fiore. Le piace anche la vista che si gode dalla torre dell'orologio del palazzo della fraternita dei laici e fare passeggiate nelle colline di San Fabiano piene di olivi e vigneti e chi può resistere magiare un gelato alla gelateria artigianale Sunflower in piazza San Francesco?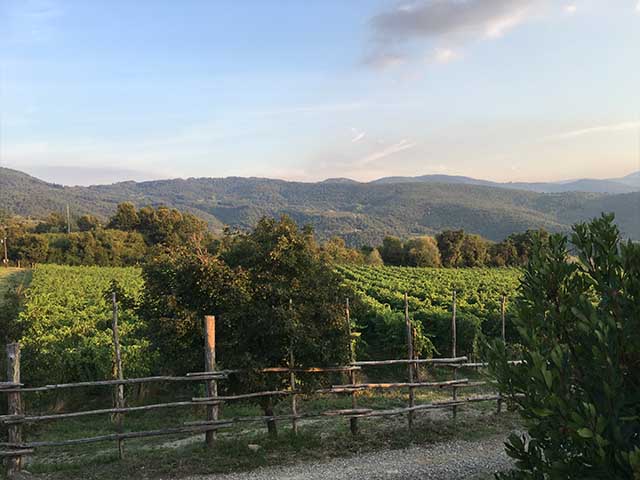 Bello tutte queste cose, no?
Concludiamo con le persipicace parole di Debora
Quando si pensa e si parla della Toscana tutti ne restano affascinati di Arezzo. Chi viene ci ritorna perché ne rimane piacevolmente sorpreso!!
These are just a few of the things that are so intriguing about Arezzo. Vi invito a conoscere Arezzo quest'autunno con noi a settembre. Let's learn Italian together at Cultura Italiana and learn Arezzo's charms first hand.
Io, Paola, Roberto, Debora and Monica… vi aspettiamo in piazza per bere un buon bicchiere di vino o un buon cappuccino.
For more information and to enroll in the program visit the Studentessa Matta website links for the Arezzo Program and the Lucca Program.
On the website, you can also schedule an informal chat with me to discuss the Italian study programs.
Siete pronti di tornare in Italia? Bene! Fino ad allora…
stammi bene! Ci sentiamo! Ciao!