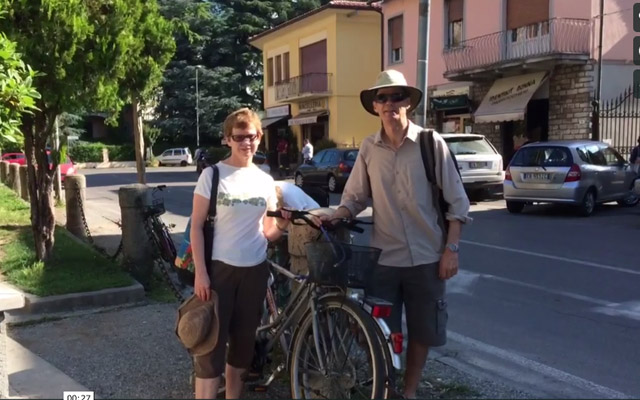 Ciao ragazzi! Oggi sul blog ho un ospite speciale. Voglio farvi conoscere Mark dalla Nuova Zelanda! Un anno fa Mark ha iniziato ad imparare l'italiano. Ha trovato l'apprendimento della bella lingua così piacevole che lui e sua moglie hanno deciso di andare in vacanza in Italia per cinque settimane! Quando sono arrivati nel bel paese, attraverso internet hanno scoperto che Lucca Italian School offriva un corso per studenti per praticare le loro abilità linguistiche, facendo escursioni nei dintorni di Lucca. Il corso si chiama "Speak & Walk". Mark, sapendo che io sono appena tornata da Lucca, mi ha scritto per condividere con me le sue esperienza presso la scuola e anche per condividere con me alcuni video che ha fatto durante la vacanza. Ho chiesto a Mark se lui vorrebbe scrivere un guest post per il Matta Blog e lui ha accettato volentieri la mia proposta! Penso quello che hai scritto è estremamente impressionante per qualcuno che studio la lingua da solo un anno! Bravissimo Mark!
Hi guys! Today on the blog I have a special guest. I want to introduce you to Mark from New Zealand! A year ago Mark started to learn Italian. He found learning "la bella lingua" so enjoyable that he and his wife decided to take a five-week holiday in Italy! When they arrived nel bel paese, through the internet they discovered that Lucca Italian School was offering a course for students to practice their language skills while making excursions in and around Lucca. The course is called "Speak & Walk". Mark, knowing that I had just returned from Lucca, wrote to me to share with me his experience at the school, as well as to share with me a video he made during his vacation. I asked Mark if he would be interested in writing a guest post for the Matta Blog and he readily agreed to my proposal! I think what he has written is extremely impressive for someone who has only studied the language for one year! Bravissimo Mark!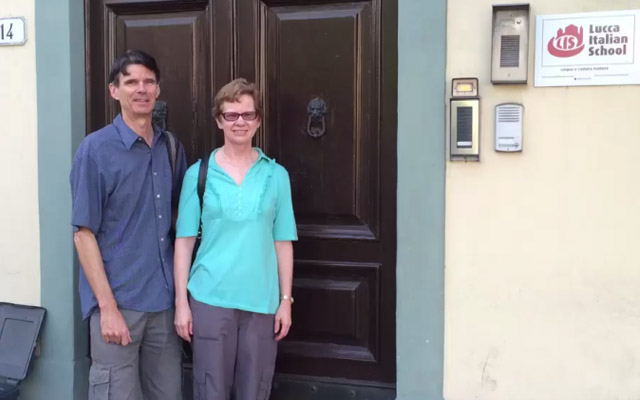 Guest Post by Mark: A giugno mia moglie Pat ed io siamo andati in Italia per la prima volta. Cinque settimane a Lucca, Firenze,Siena,Venezia,Verona e i Dolomiti (e poi una settimana a Zermatt in Svizzera fare orienteering). Che vacanza magnifica!
L'anno scorsa Pat me ha dato un libro per il mio compleanno – "Italian in fifteen minutes a day". Certo, lo provo. Naturalmente in realtà era un po' più difficile, ma mi piace molto questa bella lingua con i verbi complicati e la grammatica sottosopra!
Una scoperta su internet! Il primo lunedì della nostra vacanza abbiamo saputo che c'è un corso a Lucca Italian School, "Speak and Walk". Perfetto!
La prima settimana a Lucca sono stata veramente perfetta. La città non è troppo grande o occupata. Il centro storico, dentro le vecchie mura enorme, è tranquillo e affascinante. Le strade e i vicoli senza macchine, le belle chiese, le campanelle, le piazze. Dietro l'angolo c'è sempre una sorpresa e non ci sono troppi turisti! Si può abituarsi dolcemente alla vita italiana, la lingua, il cibo e la cultura.
Il nostro appartamento era fuori le mura. Era molto tranquillo, con una vista su orti, campi e montagne. Quindici minuti a piede o cinque in bicicletta. Siamo andati a scuola in bicicletta come i Lucchesi. Abbiamo attraversato la ferrovia (mi sembra che viene sempre un treno e dobbiamo aspettarlo), per arrivare al panificio o al macelleria.
Lucca Italian School ci piace molto. La mia classe era piccola. Abbiamo parlato solo in Italiano e l'insegnante Eva era gentilissima. Può rispondere a qualunque domanda in italiano e tutti capiscono! Dopo un po' non eravamo più nervosi a provare a parlare in italiano.
Nei pomeriggi facevamo le passeggiata con Angelo. Lunedì c'era un giro sulle mura. Angelo ci raccontava le storie interessanti. Conosce bene il venditore di gelato sulle mura! Più tardi veniamo a sapere che Angelo ama molto camminare sulle colline e montagne come tra i villaggi delle Cinque Terre. Lui ha sempre lo zaino pieno di attrezzature per ogni bisogno!
Dopo Lucca ci siamo divertiti molto in altre città italiane. A Firenze siamo andati ai musei. A Siena abbiamo seguito la Via Francigena tra San Gimignano e Siena. Abbiamo anche visto lo spettacolo incredibile del palio a Siena. Abbiamo visto la strana e bella città Venezia. Abbiamo fatto bellissime passeggiate nel magnifici Dolomiti. A Verona, un giorno speciale, abbiamo visto l'opera Aida nell'anfiteatro romano.
Che vacanza! Bellissimi posti: Viaggi in treno (solo uno sciopero!), fiori alpini, chiese dorate, torri, canali, pasta, vino e quadri! Come andava il mio Italiano? Mmm, forse, è andato bene… ma adesso non sono sicuro che gli italiani parlano Italiano!
Che bello Mark! Sembra che abbiato avuto una vacanza meravigliosa in Italia e Lucca! Se volete più informazione su di prossimo Matta e Lucca Italian School Language & Cultural Immersion vacanza che abbiamo in programma per settembre 2015, seguite questo link.
Really lovely Mark! It seems that you had an amazing vacation in Italy and Lucca! Check out these videos that Mark has put together. If you would like more information about the next Matta and Lucca Italian School Language & Cultural Immersion vacation that we have planned for 2015, follow this link.