Here are some tips for improving your Italian. These are things that I do on a daily basis to practice and work with the language. Even if you don't live in Italy, it is possible to create your own immersion program following the tips below. Click on the pull down links under the LEARNING! tab to discover schools and materials that are available to you through this site at discounted rates. Buoni studi!!!
Here are some posts I have written on how to practice and learn Italian on your own.
• 10 Things Learning Italian has taught me
• "10 Ways to Practice Pronunciation – Serious Commitment Required" I was invited by the social media director at Transparent Language to write this post for their Language Learning News Blog
• "Learning a Language is like a masterpiece by Leonardo"
• "How Much Time Do You Spend on Italian Every Day?"
+++++++++++++++++++++++++++++++++++++++++++++++++++++++++++++++++++++++++++++++++++++++++++++++
1) ACTIVE LISTENING WITH ITALIAN TV, FILMS & RADIO


The first step towards figuring out how to pronounce something correctly is to hear it accurately. If you don't, you are at a constant disadvantage when attempting to speak the language. For instance, there are just some sounds in the Italian language that are quite unfamiliar to a native English speaker's ear, like pronouncing the "gn" sound as in "gnocchi". Every language features diphthongs, vowel combinations, liaisons, and so forth that create unfamiliar and frustrating sounds. If you can't hear those differences, then you're stuck trying to memorize abstract facts.
To speak a language well, it is extremely important to do some "active listening" in order to train your ear to the sounds and the rhythms of the language. Pick out a couple of TV shows to watch and listen to, or rent films on Netflix. By watching movies you will visually see their facial expressions, hand gestures, and body language, that are all a part of active communication in a language. You will also pick up how words are said, where the emphasis is placed on syllables, as well as slang, idioms, and colloquial speech.
Rai.TVItalian TV Line (Don Matteo, Dr. Who, Donna Detective, Guerra e Pace, La prova del cuoco, Nero Wolf, Orgoglio, Un medico in famiglia)
"Un posto al sole" on Rai.TV" Italian Soap Drama set in Napoli
Italian Radio recommendations:
RaiRADIO3 (Portale for Radio Stations and Podcasts)
Italia.FM (Portal for Radio Stations)
Listenlive.eu (Portal for Talk Radio Shows)
Radio Capital (Italian Talk Radio)
LatteMiele (An Italian Radio Station that features all Italian music – with the occasional American song every hour)
Amazon Films & Audio Books (Check out my Italian film & Audio book selections in my Amazon Matta Italian Store)
Netflix: Rent or Stream Movies Netflix has a surprisingly large selection of Italian films for viewin
Maxmondo Audio Magazine/Rivista Intermediate Italian Audio Magazine / News Articles
Tutto Italiano Published six times a year, Tutto italiano will not only significantly improve your fluency, it will also help you understand this beautiful and diverse country and what it is to be Italian. Magazine with Audio CD Put together by a team of professional narrators, each 60-minute CD provides well-paced readings of the key articles from the magazine.
Yabla Language Immersion Through Online Video
+++++++++++++++++++++++++++++++++++++++++++++++++++++++++++++++++++++++++++++++++++++++++++++++
2) LEARNING PODCASTS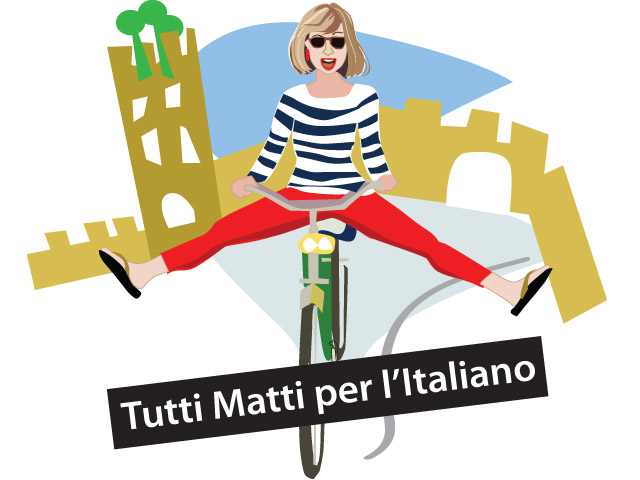 Tutti Matti per l'Italiano: hosted by Melissa Muldoon – la Studentessa Matta . Improve Italian language learning skills with this podcast by listening to short clips of native Italian speakers. Introduction & commentary provided by yours truly – "la studentessa matta" in English & Italian. Parliamo e ascoltiamo la lingua poetica with Melissa la studentessa matta.  You can now find the "Tutti Matti per l'Italiano" podcast also on itunes!(Free)
News in Slow Italian Weekly Language Learning News Podcast in two speeds: Slow & Fast (Paid subscription)
Pod Club : Al Dente Pod cast service (Free) Exercise your knowledge of English, French, German, Italian & Spanish. New episodes every 14 days. Alessandra Pasqui, alias Francesca è toscana ma vive in Svizzera. Vi parlerà della sua vita di ogni giorno, dei suoi buffi amici italiani 
Dylan Dog Mystery Pod Cast Rai 2 a Fumetti  (Free) Post I wrote on Dylan Dog 
+++++++++++++++++++++++++++++++++++++++++++++++++++++++++++++++++++++++++++++++++++++++++++++++
3) READ BOOKS, BLOGS, MAGAZINES, COMIC BOOKS IN ITALIAN
Reading improves your vocabulary and grammar. Try to read without stopping to look up every word you don't know, but rather glean the meaning from the context of the paragraph. If you are constantly stopping and starting to check the dictionary you will soon become frustrated by the lack of progress you are making. I suggest selecting books you might already be familiar with in English. Harry Potter books are great, as well as mystery novels that have plots that keep you engaged and interested. Don't pick something boring by all means, and don't choose a heavy tome that functions better as a door stop! And beginners, don't feel that you must jump right into Dante's Inferno. Pick something light and fun. Mi raccomando!
Reading out loud is also another way to improve your pronunciation. When you read someone else's words you are free to concentrate on style and inflection and not worry about relaying your own thoughts or ideas. When I read aloud I will often repeat passages, slowly waving my hand as I would a baton to modulate my delivery and create a fluid speech pattern. Remember, you don't have to speak fast to sound fluent, you just need to enunciate clearly and speak smoothly. As in all things, practice makes perfect and the repetition of spoken sounds will be more effectively retained in your long-term memory. 
Amazon Books: Hard copies & downloadable to ipad (Shop my collection of Italian book suggestions)
IBS On-line Italian Book Store (IBS is an Italian on-line store & books are shipped to you directly from Italy)
Italian Easy Readers Here is a great little find! Beautifully designed and illustrated easy reader books complete with grammar and comprehension exercises. The text includes an introduction in accessible Italian containing interesting facts that place the story into context as well as a glossary at the bottom of the page which explains difficult terms. The audio CD contains both a complete reading of the text by a professional narrator and a set of pronunciation exercises. The combined package of book and CD work brilliantly together to create a wonderful, captivating learning resource for intermediate level learners of Italian.
Fumetti/Comic Books – Fotoromanzo/Photo Romance:  Comic books and Photo Romances are easy reads! Try "Topolino", "Tex", "Diabolik", "Dylan Dog", "Julia", "Sogno". You can buy these in any newspaper stand in Italy or on-line. There are even a few Italian magazines you can subscribe to on your ipad.
+++++++++++++++++++++++++++++++++++++++++++++++++++++++++++++++++++++++++++++++++++++++++++++++
4) WEBSITES & YOUTUBE CHANNELS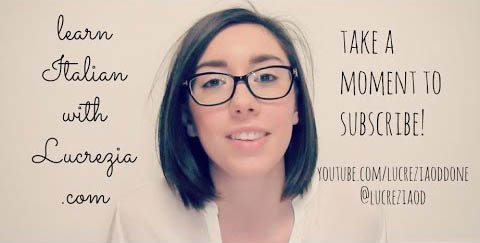 Learn Italian with Lucrezia YouTube Channel Lucrezia is an Italian native who records short, fun weekly videos to help you learn Italian. In English & Italian
Grammatica caffè great little videos that are presented on Alma.tv that written and produced by Roberto Tartaglione, director of Scudit, scuola d'italiano in Rome. In the time it takes to brew and espresso in his Moka caffettiera Roberto doles at an interesting and amusing language lesson. Two thumbs up!
Sgrammaticando: Grammatica Italiana YouTube Channel These videos made by an Italian communications major focus on Italian Grammar. The project was started with focus audience being Italians, but it is a great site for Italian students as well!
Italiano Automatico Learn Italian with Alberto! Podcasts and e-book: "Il mio nome è Alberto e vivo a Brescia, una città che si trova vicino a Milano.
Ho deciso di aprire questa sito per offrire a tutti coloro che vogliono imparare a parlare italiano la possibilità di farlo imparando sempre cose nuove!"
Girls4teaching.com Girls4teaching is a project that wants to unify people all over the world providing reliable foreign
language lessons with mother tongue teachers through smart video lessons, try it out now!
Parlate Mirella, a native Italian shares her passion for languages and teaching in learning blog
Italian StackExchange Italian Language Stack Exchange is a question and answer site for students, teachers, and linguists wanting to discuss the finer points of the Italian language. It's 100% free, no registration required.
Repubblica TV Watch short news videos and current events in Italian, streaming live on web, accompanied by short written descriptions. Great way to practice audio and reading skills! 
Cher Hale – Iceberg Project On-line learning community helps you dive deeper into Italian language and culture
La Bella Lingua Dianne Hales author of "The Bella Lingua", writes a blog in English that highlights Italian culture and vocabulary
+++++++++++++++++++++++++++++++++++++++++++++++++++++++++++++++++++++++++++++++++++++++++++++++
5) ON-LINE FREE ITALIAN TRAINING

DuoLingo is a free language-learning website and crowd sourced text translation platform. It works somewhat like a video game as you you work your way up a "tree of learning" gaining points and "lingots" and mastering up to 25 skill levels. Climbing each branch of your language tree improves your language skills and simultaneously helps to translate websites and other documents. BE FOREWARNED…it can be quite addictive! As of July 2013, the site offers Spanish (Latin American), French, German, Portuguese (Brazilian), and Italian courses for English speakers, as well as English (American) for Spanish, French, Portuguese, and Italian speakers. Post I wrote about Duolingo: Addicted to Duolingo
italki.com! is an educational technology website that helps foreign language learners connect with online teachers and native-speaking language partners. italki users are able to search for a freelance teacher, schedule and pay for language lessons. italki teachers are able to create a profile, and build a personal reputation.
Memrise Memrise is an online learning tool with courses for many languages created by its community. Memrise uses flashcards augmented with mnemonics—partly gathered through crowdsourcing—and the spacing effect to boost the speed and ease of learning. Post I wrote about Memrise: It's raining Mems!
Anki is a program which makes remembering things easy. Anki is a spaced repetition flashcard program. You can create your own mnemonic cards adding images found on Google image search and sound bites using FORVO (see below) to enhance your audio retention. Because it's a lot more efficient than traditional study methods, you can either greatly decrease your time spent studying, or greatly increase the amount you learn. 
Lang-8.com FREE! Language exchange social networking website geared towards learners. Users are able to post in the language(s) they are learning and that post will appear to native speakers of that language for correction.
HiNative.com FREE! HiNative is the place where you can ask all your language and culture questions directly to native speakers. Can a dictionary or web search give you more examples? Answer your follow-up questions? There's no better source than a native speaker. And as a native speaker yourself, you can also help others! Read a post I wrote about HiNative
Lingua.ly FREE! Put away your textbooks! Collect new words from across the web with Lingua.ly's smart dictionary. Use your new vocab to surf foreign websites, social media or your own Gmail, Twitter and Facebook feeds while you learn new language. Immersion is the ultimate way to learn a language. Read a post I wrote about Lingua.ly
Italian Verbs Conjugator type a verb and have it instantly conjugated! 
Bliu Bliu Read real articles from the internet. Bliu Bliu highlights all the words you don't understand. Click on any word to change the status. Bliu Bliu adapts showing you better texts and videos you understand and you are interested in. Post I wrote about Bliu Bliu: The Beautiful Simple Story of Bliu Bliu
Babbel Babbel has some introductory free lessons but is also a fee-based, online language learning software and e-learning platform available in various languages. Interactive courses offered on the babbel.com web page can be completed online without installation. There are beginner and grammar courses, vocabulary lessons, as well as courses with tongue-twisters, sayings and songs.

+++++++++++++++++++++++++++++++++++++++++++++++++++++++++++++++++++++++++++++++++++++++++++++++
6) ITALIAN LANGUAGE REFERENCES & TOOLS: Dictionaries and Pronunciation Guides
Word Reference: Online dictionary
Word Reference Forum: A great place to ask scholarly questions about the language, inquire about words and grammar nuances, as well as inquire about how to properly translate something obscure
Dizionario Italiano Italian On-Line Dictionary

UltraLingua Dictionary  Dictionary / Conjugation App for ipod/iphone
Google Translate ATTENZIONE!!! The Google Translator should be used with caution! It is not accurate and should be used by those who already have a reasonable understanding of grammar and idioms and can determine when a translation comes back a false friend.
Forvo is a great little site where you can listen to native speakers pronouncing words in their own language. You can even hear speakers from different parts of the same country pronounce the same word so you can make regional distinctions. So the next time you get tongue tied trying to pronounce words like "sfogliatella" or "arzigoglato", go to the Forvo site to listen to the word a couple of times until you finally make the connection between tongue and brain.
Typeit.org Handy Italian keyboard with shortcuts that take zero time to learn; Switch between character sets while typing
+++++++++++++++++++++++++++++++++++++++++++++++++++++++++++++++++++++++++++++++++++++++++++++++
7) ITALIAN GAMES
Aworded (Apalabrados) Scrabble game app for ipad, computer, phone. Play with Italians and other language learners
On-line Word Game Puzzles Beginner level
Barzellette (Italian jokes)

The Game of Taboo is a word guessing party game published by Hasbro. The objective of the game is for a player to have their partners guess the word on the player's card without using the word itself or five additional words listed on the card. Play this game in Italian, NO ENGLISH to enhance your ITALIAN Vocabulary
+++++++++++++++++++++++++++++++++++++++++++++++++++++++++++++++++++++++++++++++++++++++++++++++
8) TALK TO YOURSELF OR SING OUT LOUD IN ITALIAN


Sometimes the presence of others can make you self-conscious and seriously dampen your desire to practice. But, there are places you can escape to where you can unleash your inner language thespian. The car is a great place to pop in a language CD and repeat dialogues or phrases spoken by native speakers. Somehow traffic and stop lights don't seem so annoying when you are working on your pronunciation and responding to language exercises. You can find musical artists from your target country on iTunes and give your pipes a workout.
YouTube You will find all your favorite Italian singers on Youtube and can listen and watch music videos to sing along to
Amazon (shop my music suggestions)
 On itunes you will find streaming Italian radio and all your favorite Italian artists, here is a short playlist of artists that I like:
Learn in your Car Language Grammar CDs by Penton Overseas
Transparent Language Grammar CDs
+++++++++++++++++++++++++++++++++++++++++++++++++++++++++++++++++++++++++++++++++++++++++++++++
9) RECORD YOUR VOICE


Let's face it. No one likes the sound of their own voice! Horrors of horrors if you record your own voice in another language! But seriously, making a recording of yourself speaking in the target language can be quite effective and illuminating as you learn to self-correct your own speech. You can simply use your iPhone or iPad to record yourself reading from a book or newspaper. Or record a daily "to do" list in Italian on your mobile phone.
Transparent Language EveryVoice™ Language program that also features voice recording practice & comparison to native voice
News in Slow Italian Weekly News Podcast in two speeds: Slow & Fast – Has the option to also record your voice and compare to a Native Speaker
Rocket Italian Online Language Language program that also features voice recording practice & comparison to native voice
iPhone App Voice Memo Record your voice where ever you are, practice speaking, reading from a book and evaluate your own pronunciation
Sound Studio Free program for your computer to make live recordings
+++++++++++++++++++++++++++++++++++++++++++++++++++++++++++++++++++++++++++++++++++++++++++++++110) WORK WITH A VOICE COACH OR A TUTOR
One set back for language learners is that when they speak, instead of sounding lyrical and lilting they sound stilted and disjointed. This is a dead giveaway to a native speaker that you are not fluent causing him to respond in English (instead of the language you dearly want use instead). Also, language learners can be shy or embarrassed about their newly acquired language skills, and sometimes they will end their statements as questions, or let their voices trail away in a mumble to mask the lack of linguistic confidence. By learning good breath control, proper posture, and how to project from your diaphragm you will improve your vocal power and feel more confident. To help with these things, I suggest that you work with a voice coach or private language tutor. A private tutor will also help with enunciation, word emphasis, and phonic recognition.
Do a Google Search for "Italian Tutors" in your area
Omniglot Search for a Language Tutor on the site the is "the online encyclopedia of writing systems and languages"
WyzAnt Helps you find expert tutors at affordable prices in your area
Craigs List Services Section Search the "Craigs list service" section for tutors in your area
+++++++++++++++++++++++++++++++++++++++++++++++++++++++++++++++++++++++++++++++++++++++++++++++111) CHAT WITH ITALIAN FRIENDS ON SKYPE

Learning a language is all about making conversation. So go out there and find a language partner. Trust me. It is the best way you can break through inhibitions and start feeling comfortable with speaking. You can make friend connections through these social media sites
Skype set a FREE Skype account and find some friends to chat with. In California there is a 9 hour time difference between me and il bel paese. I find the best time to connect with my Italian pals is between 12pm – 3pm west coast California Time (In Italy it is their 9pm -12am)
Impariamo on this site you can meet people from all over the world, at all levels. Very social and fun. Many Italian natives are members and it is a great way to meet people and make friends with whom you can invite to Skype with.

Facebook Like & join Italian Facebook pages and find other Italiophiles like yourself. Check out the Studentessa Matta Facebook Page and join our Italian community and make some new chat pals.
Palabea The Palabea site is especially interesting as you can create your own "topic of conversation" based on your own personal interest. If you are passionate about "Baroque Art" or "Italian Movies" you create a "palabea" and invite others to have a conversation with you about that subject. My chat partners have become great friends and we have even met in person during my travels in Italy. Palabea has it's own chat software, so you don't need Skype to use Palabea.
Live Mocha Explore the world through practice and conversations with millions of people from over 190 countries. Live Mocha has it's own chat software, so you don't need Skype to use Live Mocha.
+++++++++++++++++++++++++++++++++++++++++++++++++++++++++++++++++++++++++++++++++++++++++++++++
12) WRITE IN ITALIAN


Writing in Italian on a daily basis is a great way to keep the connections and synapses in your brain alive and well. It reinforces spelling and grammar constructions. Start by simply writing a sentence a day. Record your mood, the weather or a news event of the day. Don't be afraid to use a dictionary and look up words or hunt down synonyms. Writing is a wonderful way to increase and retain your vocabulary.
Twitter Start tweeting in Italian! It is a great way to practice writing a short sentence in Italian. Find me on Twitter @italiamelissa and send a tweet to me: Follow @italiamelissa

Facebook Like & join Italian Facebook pages and comment in Italian. Check out the Studentessa Matta Facebook Page where I am post daily news and special interest stories, language tips, expressions, fun photo, recipes and current events. This is a great launching point to articles in Italian to read and keep up with all things Italian. For an EXTRA good time, you can even change your Facebook language settings to "Italian". Practice by responding to posts! Mi piacerebbe!!!!!
Texting Send messages on your mobile phone to friends in Italy and other countries for free!  To make message sending in Italian even easier activate the Italian keyboard/spell check on your phone.
Here are two free apps:
• Viber
• WhatsApp
Word Press Blog Take a page out of my book and start your own Italian language blog! Let me know and I will come and be a fan!
Creative Writing Exercises
• Keep an old fashioned journal Maintain a handwritten or digital diary of your daily activities. Great way to catalogue  all the new words you learn each day.
• Unleash you inner expository writing skills Make up your own short stories in Italian. Write a review of a movie. Read an article in an Italian newspaper and write an editorial. Compose a poem.
• Write your grocery lists & your "to do" lists in Italian 
+++++++++++++++++++++++++++++++++++++++++++++++++++++++++++++++++++++++++++++++++++++++++++++++
13) KEEP YOUR ITALIAN RADAR ACTIVE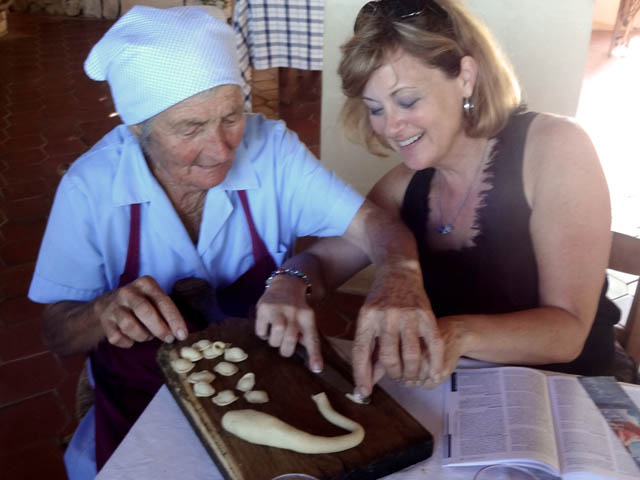 Wherever I go, my Italian radar is always active and functioning. Whether I am at the park, watching my son's soccer game, or shopping at the supermarket, I am tuned in and listening for spoken Italian around me, ready to introduce myself and have a conversation. If I learn through the grapevine that an Italian family lives in my community, I will introduce myself and invite them out for coffee. Keep your language radar up and running every day. It takes a little bit of courage but the payoff is wonderful. You will make friends with natives in your own town who are more than happy to speak to you in their own language. They might even invite to make pasta with them!
+++++++++++++++++++++++++++++++++++++++++++++++++++++++++++++++++++++++++++++++++++++++++++++++
14) JOIN A MEETUP GROUP OR START YOUR OWN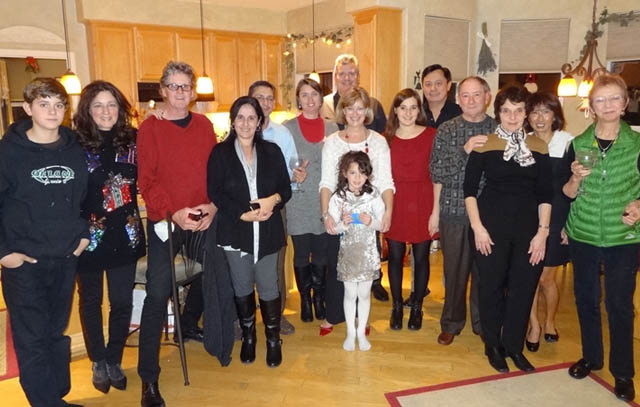 Cities across the country have language-related Meetup groups that meet on on a weekly or monthly basis. Simply visit the site and search for a location nearest you. If the Meetup is too far away, do what I did. Take the reins and start your own. Send invitations out to expats in your community. Reach out to language students at the local high school or community college. Advertise the group on Facebook targeting people in your area who are interested in the language. There's a million ways to get the word out there. Once a group is established, meet for discussions, movie nights, etc.—all in the target language!
Meetup A site that helps groups of people with shared interests plan meetings and form offline clubs in local cmmunities around the world

+++++++++++++++++++++++++++++++++++++++++++++++++++++++++++++++++++++++++++++++++++++++++++++++
15) HOST AN EXCHANGE STUDENT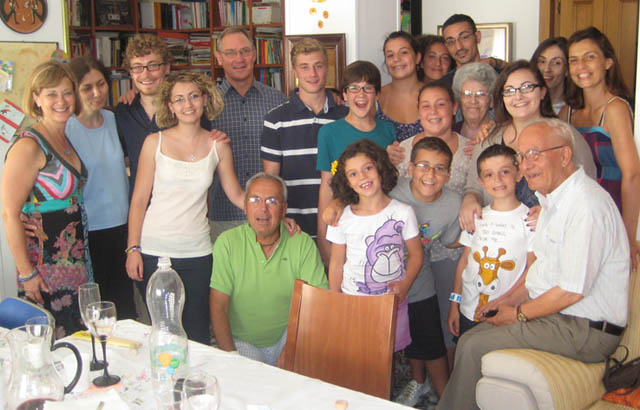 If you're serious about practicing the language, hosting an exchange student is the way to go. You will have no excuse not to engage with a native speaker on a daily basis, and you get the added benefit of helping him or her improve in English as well. I hosted an Italian AFS high school exchange student in my home for a year, and in turn she invited my family and I to spend several weeks with her family in Italy. It is the most personalized, profound way I have been able to practice my pronunciation. AFS arranges exchanges with students from more than 90 countries, and countless other exchange organizations exist, so you're bound to find a speaker of your language of interest!
AFS Study Abroad Intercultural Programs Learn more about how you can be a host family to a high school student from another country
+++++++++++++++++++++++++++++++++++++++++++++++++++++++++++++++++++++++++++++++++++++++++++++++
16) TRAVEL TO ITALY ON AN ARRANGED LANGUAGE IMMERSION TRIP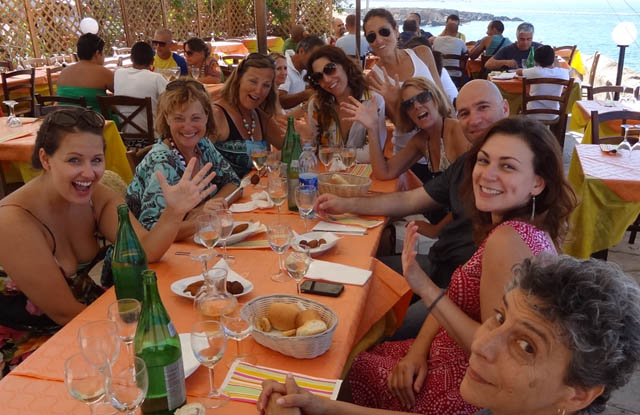 This is another suggestion that requires some serious commitment, but it's worth it if you're truly dedicated to perfecting your pronunciation. Traveling to the target country is always a great way to get some practice in speaking the language. But think of the rewards of traveling with someone who has connections to locals and can get you off the beaten path. It's on those adventures that you'll get some authentic face time with native speakers who aren't brushing you off in English. Since 2012, I have led four trips to Italy via Matta language and cultural immersion trips to Italy. I partner with Italian schools and event planners to create unique learning experiences, including working with local pastry makers, olive oil producers, and wine makers (because for us Italian learners, it's all about the cuisine!) You will be amazed how much your pronunciation will improve when you are traveling with like-minded language learners. Laughter, wine, and camaraderie are wonderful catalysts for loosening up tongues, starting conversations and improving fluency.
Studentessa Matta Italian Language Immersion Trips Over view of past present and future trips with pictures and descriptions of trips
+++++++++++++++++++++++++++++++++++++++++++++++++++++++++++++++++++++++++++++++++++++++++++++++
17) ITALIAN LANGUAGE SCHOOLS Italian schools that I have had great success with

Cyber Italian – CyberItalian offers varying types of instruction: Self-Study Courses, Tutored Courses, Private Lessons & Italian Coaching Programs.
Lucca Italian School Study Italian in Lucca Italy

Sunflower Florence Study Italian in Florence Italy
Lucia's HomeStay Vacation near Lago Maggiore Live & Study in the home of an Italian teacher near Lago Maggiore
Monica's Home Stay Study in Venezia Live & Study in the home of an Italian teacher in Venice
La Scuola di Lingua e Cultura – South San Francisco (read a post I wrote about La Scuola)
Tiziana Balestra – Italian Instructor at College of San Mateo Adult School (email: t_balestra@yahoo.com)
Gloria Acerboni – Private Italian Instructor, Fremont California (email: gloria.acerboni@gmail.com)